Joined

Feb 23, 2012
Messages

635
Inspired by the recent Grand Canyon thread, here's my trip report from my 2008 hike around Fishtail Mesa.
BTW -- If you want all the minutia, check out the full
daily journal on my site
along with the video, more pictures and a
map of the route
.
In April 2008 I headed out for my first real backcountry experience in the Grand Canyon. I had hiked rim-to-rim and back along the corridor routes when I was a kid, but this was MUCH tougher (or maybe I'm just older... sure it's probably both!)
The night before I set out I drove out to Kanab Point. I got a little lost finding my way out there as I opted to get off the main road to scout my intended route via Chamberlain Canyon. But, when I finally did make it I had the amazing place to myself and camped right on the edge. This was the view from my tent:
The view the other direction featured Fishtail Mesa -- which my planned route would loop around over the next 8 days:
The pre-hike day was nearly perfect! From that point on... not so much.
I had failed to check my SAT phone rental and for the first time ever... it was faulty. Since I hadn't done a proper send-off with my itinerary to my emergency contacts, I had to drive back to Fredonia to do so. Ug! On the way back I decided I didn't want to navigate the back-roads all the way back out to Chamberlain, so instead I headed to Hack Canyon. I knew this was a shorter drive, but a longer hike -- but I thought I would be able to make up the time. Unfortunately I had a tough time finding the TH w/o proper notes -- so that wasted even more time.
Descending the cliffs into Hack Canyon:
The route down wasn't too tough once I picked up the unofficial route. It was almost dark by the time I'd gotten to the bottom of the canyon where there were several wild horses and some burros. The first part of the next day I saw a bunch of wild horses:
Day 2 was fairly uneventful. Warm, but not hot. I made my way down Kanab almost to the junction of Jumpup Canyon before making camp:
The next day I headed up Jumpup Canyon through the narrows and by a cool alcove:
Exiting Jumpup I traveled up Kwagunt Canyon. This was a nice canyon with running water through most of the middle section. There are a couple of falls which are pretty easy to bypass:
When Kwagunt got shallow, I exited and headed south. I ended up camping at this great spot:
The next day I headed toward the saddle of Fishtail Mesa. I got water along the way via Indian Spring. In this pic you can see the green foliage near the spring on the left and the saddle on the right:
Near the spring I stumbled across a bunch of cool pictographs:
Making my way up the saddle was a slow go for many reasons: It was getting warmer, I had tweaked my knee the day before, I was out of shape and carrying too much gear (a two-person tent!) and... there was no trail. I finally made it to the saddle and the view was awesome:
Getting up the saddle was tough, getting down the other side was just downright scary! At the time I said it was the scariest thing I'd done in a big pack. Since then I've learned to have more confidence in my feet, but I'd still never recommend this route to anyone afraid of exposure:
It was great to be down on solid ground, though it was still slow going w/o a real trail to follow. I camped near the top of Fishtail Canyon:
The next day was a hot one meandering about the Esplanade rock formation -- much slower than I expected. For those keeping track -- I'm about a day behind schedule at this point. I finally picked up the real trail before dropping down to the Surprise Valley overlook:
The route down here was pretty brutal on my sore knee. It was also hot and I was out of water. Luckily I knew Thunder Spring was not too far away. This is an amazing place:
The next day I headed down into Deer Creek Canyon and started to see a bunch of people for the first time since setting out. They were hiking up from their rafts to see the narrows which were awesome:
The view of the Colorado once one escaped the narrows:
Once down to the river I enjoyed socializing with the rafters for a while. I now understand why they call it a rafting party! Deer Creek Falls is a really cool place -- both figuratively and literally! I enjoyed spending a LONG lunch there despite being behind schedule. Click thumbnail for this one: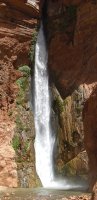 From here I headed down the Colorado River. It was an amazing feeling to be walking along the river at the bottom of the Grand Canyon! That's not saying it was easy though as it was a constant process of up over rocks and then down through sand and then back up again. And, everything is hot and prickly along the way! But, it is beautiful:
There are a few sections where one has to go high above the Tapeats Cliffs as the lower route gets cliffed out. A day later I made it to the junction of Kanab and headed up canyon. The cool pools called for a swim, but I was still way behind so a dunking here and there was all I could manage. There was one mandatory crossing up to my chest, everything else was knee-deep at the most:
Lower Kanab is really nice and I'd love to spend more time there. The rockfalls were difficult with a sore knee however:
I camped just north of Showerbath Spring -- named by John W. Powell back in the day:
Yes... I was supposed to be out by this point, but alas that wasn't meant to be. I thought I could hit it hard the next day and make it out -- but my body disagreed. It's understandable I guess when it's in the 90s and one has to hike up something like this for hours:
I finally got back to Jumpup and thus closed the loop. From here I had another 16 miles to get back to my car -- oh how I wish I hadn't entered at Hack Canyon! Unfortunately I didn't make it and had to spend another night in the canyon and hike the final 2 miles out at sunrise:
Made it out and back to a phone just in time to avoid S&R being alerted. Had to miss an extra day of work.
All-in-all a good hike -- I'd just recommend giving yourself ample time and entering at Chamberlain or "Flip-off" Canyons or one of the more established routes near Sowats or Indian Hollow.
Featured image for homepage: