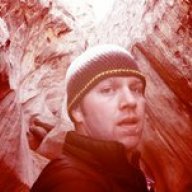 ^^^^^^^^^^^^^^^^^^^^^^^^^^^^^^^^^^^^
Joined

Jan 18, 2012
Messages

464
So, how do you all store your gear? I'm limited on space in some ways (although I'm sure it's better than others) with a single car garage. I have a nice sized shed in the back yard, but I like to keep all my gear in the garage for loading/unloading ease.

First, how many of you store your down bags as recommended (opened and hanging)? Also, for any of you that have the Big Agnes air core sleeping pads, it recommends storing fully opened, do any of you follow that? I'm running out of room for stuff like this.

I have shelves along each side of my garage and I sort my stuff into bins: Car camping gear (bigger stuff), Backpacking gear (lighter stuff), a bin for canyoneering related stuff, a bin for just my biking stuff, and a bin for misc. camping stuff (gas canisters, odds and ends, etc.). I also have a lot of hooks for helmets, rope bags, etc.

I also have sections on my shelves for all my sleeping pads, my tents, my backpacks, and my regular sleeping bags (in stuff sacks).

I think what I want to know most about is the down sleeping bag storage and other peoples opinions.