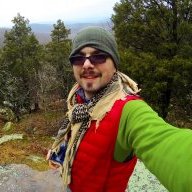 Joined

Jan 21, 2012
Messages

202
So I went to the doc today. Once again, they thought it was broken and someone must've read the previous x-ray wrong. They checked them over and wanted more angles, off to the x-ray machine again... Still nothing concrete. They think I have done a sprain+high sprain combo. It's less common than a usual sprain I guess because one of the tendons I ripped is above the ankle. So it's more R.I.C.E., physical therapy and this awesome boot!

View attachment 243

Funny side note. Everyone kept asking me at the ER and at this doc if I had previously injured this leg. I finally asked why and learned that

I broke my leg a few years ago and didn't realize it.

The x-ray shows a rather large area where they say a fracture occurred and has since healed. I remember hurting it and it being swollen and super tender for a really long time but had no idea...
Wow! Now that's hard core.