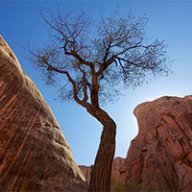 Joined

Aug 9, 2007
Messages

12,810
I rolled my ankle really bad in Moab over the past weekend. And of all the places to do it, the easy first section of the trail to Delicate Arch!

So it's been like 4 whole days now and the thing is still a swollen disfigured mess. Despite the ER doc initially diagnosing it as being broken, there were no visible fractures on my x-ray so now I'm waiting for my appointment with the ortho doctor.
Anyone have any advice on getting me back on my feet?
Always looking for an excuse to post a photo of my foot on the interwebs. This was taken just minutes after the incident. It's much larger now.
Click thumbnail to view full size.