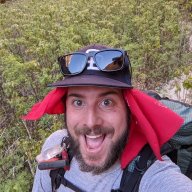 Joined

Feb 23, 2017
Messages

165
My wife and I are planning to head to the Wind Rivers this August for the week&weekend of the Solar Eclipse, and looking for some 4-5night suggestions.
We had been looking at the Teton Crest Trail but ultimately punted thinking it would be crazy crowded and definitely not because someone forgot to log on and get permits in February (
).
My wife has plenty of experience backpacking but this would be her longest trip by far to date. Mostly 2nighters for her previous. I have experience with this length of trip and am comfortable. We are both fit and capable, though we are more 10-12 mile day people. We'd be flying into SLC or Jackson and likely renting a car
. I see no other options and the trail shuttles seem too steep for my blood. Point to point or loop is fine, at this time another couple from out west will likely join us and we can spot cars if needed.
Would the Highline trail be a good fit? We want something that length where we can be a few days from a trailhead on the day of the Eclipse, and I thought it would be a good option because it seems to have some bail out points in case the wife gets cold feet after night 3. But I have never been to this area before, so very open to suggestions.
Thanks in advance and let me know if I can provide other info.
Sent from my iPhone using Tapatalk