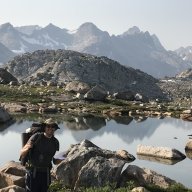 Joined

Mar 1, 2015
Messages

394
Sometimes in guidebooks or in online trip reports, authors mention the specific type of sandstone/formation/layer of a particular area (e.g., "The next mile is on Kayenta ledges"). This has kind of bugged me for a long time because I have no idea what information they are trying to convey when they do this. By mentioning the Kayenta/Navajo/Wingate/Cedar Mesa/etc., are people just trying to show off their impressive knowledge of the geology, or are there practical implications contained in these statements? When you read that a certain area consists of a given type of sandstone/layer, does that give you information about practical matters such as water availability (waterpockets/potholes), sheerness of cliffs, etc? Frankly, I'm not personally very interested in learning about the geology for geology sake (maybe I should be), but I am very interested in learning practical skills that will help me better plan backpacking routes. Can you glean any practical info such as the following from a knowledge of the sandstone/formation type?
Easier to traverse from Point A to Point B on a map
Easier to find weak points to climb into or out of canyons (as opposed to sheer cliffs)
Better water availability
Sorry if the question is confusing. It just reflects my complete ignorance/confusion in this area---I get this vague feeling that I may be missing out on some important insights that I'm not even aware of. Thanks in advance for any input!