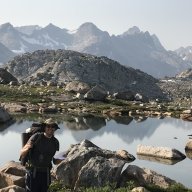 Joined

Mar 1, 2015
Messages

487
I would love to someday hike from Coyote Gulch to Halls Creek (or vice versa) via Steven's Canyon and the Baker route (no, not anytime soon during the pandemic; next Spring would likely be the earliest this happens). My main concern with this route is the level of exposure and scrambling. If anyone has done this route, could you please help me figure out if I would be in over my head or not?
I've done most of the trails in the Needles District and some of the ascents/descents in the Maze District, and felt comfortable doing them all with my heavy pack (maybe I handed the pack to my partner once or twice in the Maze, but I never used my rope to haul it).
I recently did the Beehive Traverse solo in Capitol Reef; one particular pour-off in that trip pushed me to about my limit---I was fine doing that trip, but would not want to do anything much harder from an exposure/scrambling perspective
I haven't done the Maze Overlook trail; from what I've read, I'm not sure if I'd be able to do it with a heavy pack or not.
I think I would be fine doing the Halls Creek "airport" shortcut route with a pack
I think I would be fine doing the Crack-in-the-Wall route with a pack.
I think I would NOT be fine doing the Jacob Hamblin Arch exit from Coyote Gulch (even without the pack).
I'm not as scared of the route finding (I'll give myself plenty of time), the poison ivy (I'll just deal with it), or the water availability (I'll be picky with the timing of my trip). I've done a number of backpacking trips in Southern UT (Zion, Grand Gulch, Canyonlands, Escalante, etc) and more in the mountains... I just don't have tons of experience on steep slickrock.
From what I've read, the route has several challenging spots:
Getting down to the Escalante river from Coyote Gulch requires either traversing/descending a sketchy slope, finding a possible "rabbit hole" alternative right there that may or may not exist (has anyone taken that recently?), or taking a longer alternate route that drops down to the river a little further North (how hard is that alternate route?).
There is a "stack of rocks" climb that sounds pretty hard
There are a couple of Class 3-ish spots in Steven's Canyon; I've read varying reports on how hard they are. Some say that Allen overestimated the difficulty of Steven's Canyon.
Please let me know if this route is out of my league, or if you have any other comparisons of difficulty from an exposure/scrambling perspective. Also, if a particular direction is much easier or preferable, please let me know as well.
Thanks!
Ryan