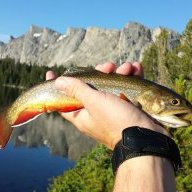 Joined

Jul 25, 2013
Messages

73
Hey guys,
I'm finally going to bite the bullet and buy myself a GPS. I've made it this far without one, but I think its finally time. I'll be taking a trip in the Boundary Waters this spring, and from what I have heard, it can be hard to find the portages at times without a GPS. So with that in mind and also wanting to track my hikes, I think its time.
So far, I have been looking at mainly Garmin options as I might be able to get a deal from a friend on them. However, I am still open to others. The GPS's I have been considering are the Garmin Oregon 600, Garmin eTrex 30x, and the Garmin GPSMAP 64s.
And here are some questions I have for all of you on these:
Does anyone have an opinion on these 3 GPS's?
How reliable are the touch screens? I'm always a little wary of the screens not working.
Any other GPS's that I should be considering that you might like?
Thanks in advance for your help,
Kyle