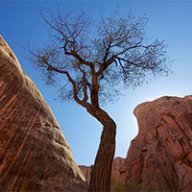 Joined

Aug 9, 2007
Messages

12,940
Well, it's December. Just like our previous threads like this in
2017
,
2016
,
2015
,
2014
,
2013
and 2012's
best of
and
best trips threads
, this thread is for looking back on the year and sharing your favorite moments and experiences. Post photos, videos, stories, accomplishments and whatever else made 2018 awesome for you.
For me, this year was probably the best year of outdoor exploration in all of the 39.5 of my life. Or maybe just the best year of my life period. I've been slacking on trip reports, but I'll catch up soon. First off, I crushed my previous bag night record of 55 nights. I'm up to 66 right now and I will hit 70 before the year ends. In river trips alone I did more than I would normally hope to do in a few years, including huge bucket list items like Gates of Lodore, The San Juan, Cataract Canyon and The Middle Fork of The Salmon. On top of that I pulled off a 10-night trip through the Pacific Northwest that I'd been dreaming about for years. And I finally finished the Uinta Highline and mixed in some other desert backpacking and Zion canyoneering. It was EPIC! One of the best things that happened that helped make it all easier was that I lost 100 pounds and my knee replacement started feeling a lot better. Good enough to hike 15+ miles a day, day after day. And I forged some new friendships that have truly been life changing. The bar has been set for me. It's hard to imagine having a better year. If I get hit by a bus tomorrow, I will have no regrets.
Here are the first of many of my highlights. I'll definitely be breaking this into several posts and adding more later. First off, some people around here that I spent time with this year and really appreciate. Because this would all kind of suck without them. Now let's hear about (and see) your 2018!
I finally got to spend a few days in the wilderness with
@Jammer
. Here he is in an unusual position for him: laying on a boat in Cataract Canyon in June.
That was not long after running into him in the middle of nowhere just a month or so after we'd had lunch before he left for his big hike. So glad we could give him a lift.
Meeting
@Ben
and doing some Zion canyoneering with him was awesome. He does make me feel a little inadequate though.
And it seems like a trip without
@CJonesey
just wouldn't be complete after all of the adventures we've been on together this year. Here he is in Cataract in June.
And where would I be without
@Dave
? Here he is in WFA training acting ouchy.
And a few from that time I tried to kill him on the Highline. Or did he try to kill me? Trip report to come...
And
@Jen
, who's smile is contagious and who makes me feel like I don't even come close to getting out enough. I can only imagine that Collin was debating whether that cairn should live or die.
And
@Artemus
! My only complaint is that I didn't get to see him more this year.
And how about this flattering photo of
@lostlandscapes
while we were seeing how long we could take the heat in the camper before escaping back into the cold?
It was so awesome to get to know
@George_Washington_Hayduke
and
@Adventure monkey
on the river. Looking forward to more trips with these guys.
And while I still haven't met him, I sure do appreciate
@Vegan.Hiker
and this awesome piece of art that he made and sent to me.
Okay, that's too many pictures. Many more later...
Last edited: