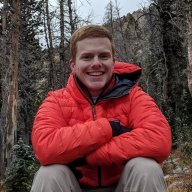 Joined

May 31, 2015
Messages

2,285
Bears, moose and bison! C'mon, you can do better than that. What about the scariest animal in the backcountry today? That's right, The Scatman! Slow afoot, permanent scowl, electric hair, mumbles to himself, irresistible white legs, and a bit ripe if you approach too close to him. He is every backpackers worst nightmare.

If you see him facedown next to the trail, be sure and give him a wide berth. If not, he will reach out and grab you by the ankle, throw you to the ground and make off with your food bag (and any appealing water bottles).

He tends to be hungry, really hungry and angry too. Hangry as they say! You know the kind of angry, like

@Bob

rolling him through a patch of prickly pear cacti in one of the canyons of the Wind Rivers.

Not impressed you say. Well, imagine the scat rolling into your campsite and stomping out your campfire while wearing his fireproof kilt! Or perhaps, at sloth speed, shimmying up the bear pole to make off with all your goodies (He's not smart enough to untie the knots of your chords). Don't try and hide in your tent either. He'll just saunter on over to it, and with his weak left knee, lean over then collapse on top of you. With his portly body, you'll never get him off. A slow and agonizing death to be sure. You'd be wishing you'd pitched that tent/tarp next to a widowmaker instead.

I know what you're thinking, "I've got my bear spray, let's see how he handle this." Well let me tell you right now, he's sprayed himself in the face before, and taken a windblown puff from someone else practicing on an expired can. Bear spray, Phffft! That's no deterrent. He's got bear spray antibodies flowing throw his system at this very moment. You'll have to do better than that to escape with your life.

If you are on your toes though, you might point and tell him the pit toilet is that way. This will buy you a few minutes for sure, but he will just be angrier when he returns realizing he he forgot his toilet paper. At this point, he would probably force the group into a session of Scatman yoga. Believe me you, nobody wants to see or participate in that.

Not even the rye wit of the elusive

@Rockskipper

will save you. Oh sure, she might have something interesting to say, a joke to tell, some sarcasm to float his way, but the Scatman will have a retort in a couple of days or weeks.

This will just prolong your agony I'm afraid.

And

@Outdoor_Fool

, why isn't the Scatman on your chart?

He is clearly above your drowning category. And that is in Yellowstone alone. Geeze, do I have to supply you with the numbers? I thought they were common knowledge.

So everyone, just ask yourselves, do you know anyone who has seen the Scatman in the wild and lived to tell the story? I didn't think so. (

@Jackson

may pipe in here, but that is only because he hikes faster than the Scatman.)

And I do believe that those are

@TractorDoc

's bones you can see at the bottom of Rustic Geyser, all because he didn't have enough circus peanuts!

So, are you thinking of changing your upcoming backcountry plans for this spring, summer and fall to avoid the perils of the kilted one?

I'd be interested to hear how you all would handle such a nasty adversary.

--------------------------------------------------------------------------------------------

Truth be told, I'm enjoying reading this thread.
I think the only approach is to habituate him to humans and hope he becomes less threatening. Legend has it no one has been able to achieve that yet.
Also, I'm expecting a full Scatman yoga routine on our next trip.