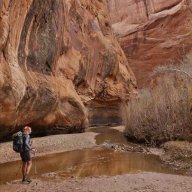 Joined

Jan 4, 2015
Messages

2,420
Obviously the whole point is to avoid negative encounters but I suggest you read a couple journal articles by Tom Smith and Stephen Herrero regarding the record of bears being deterred by bear spray. A pretty strong track record thus far, and growing every year.

And

@LarryBoy

Yes, we can certainly agree to disagree but it's definitely NOT the Alaskan in me talking, more likely being the parent of 2 kids raised in the wilds, as well as 25 years of teaching bear safety classes. I think most of us realize the extremely low chance of suffering a bear attack, but if carrying an extra 12 ounces or so seems like a lot, just carry a cup less of water and you'll nearly make up the difference.

Meanwhile, I'll continue to carry bear spray, use my seatbelt, and wear a mask in public.
Let's drill down a bit, if you don't mind. The point isn't to challenge (though you and I do have slightly different risk tolerances when it comes to the issue), but to hopefully productive dialogue where we all come away a little wiser. I apologize that my post came off as a little flippant. I'd like that cycle to end before it gains steam.
How do you personally make the decision whether or not to carry bear spray in a particular environment? Is it anytime a nearby land manager has a canister requirement? How about areas that are black bear habitat, but pretty marginal? Examples in my mind include the Gila Wilderness, the Superstitions, Ocala NF, the middle Paria, or the Uintas? How about the deep woods of the Midwest (Michigan, Wisconsin, Minnesota)? Heck, a black bear wandered into a school in Bozeman a few years ago, yet I assume you don't walk around developed areas of Bozeman with a can of UDAP. Therefore, I assume that there's some point for you where you consider the risk so low as to justify not carrying bear spray. How would you characterize that risk calculus, in your mind?