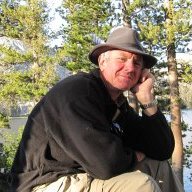 Joined

Sep 30, 2014
Messages

703
45 nights now...
A week+ in Arizona at Saguaro, Chricachua, Organ Pipe etc.
A second week+ in Death Valley and the Grand Canyon
Three days on the Central Coast in Cerro Alto:
Four days in Sequoia National Park.
Five days in Kings Canyon,
A four day trip into Buckeye Canyon in the Hoover Wilderness, complete with daily thunderstorms, lots of ticks, and amazing views
Three weeks in Yellowstone, Tetons, Rocky Mountain NP and the Rubies...
And now a short two day trip to Gibbs Lake, east of Yosemite in the Sierra
Here's a trip report with photos: (posted the text on these boards as well)
A trip report of our recent trip to Gibbs Lake. DAY ONE: With the smoke issues very much still up in the air (sorry!) but with the summer coming to a close, we decided to take a quick trip up to Gibbs Lake (east side, on the slopes of Mt. Gibbs—the boundary of Yosemite) for a few days of...
www.backpackthesierra.com
And a couple of shots for now: