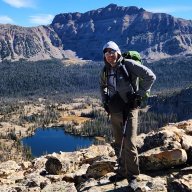 Joined

Aug 6, 2019
Messages

344
1. Virgin Falls, TN
2. Sipsey Wilderness, AL
3. Big South Fork, KY
4. Savage Gulf, TN
5. Fiery Gizzard, TN
6. Big South Fork, TN
7-9. Canyonlands NP, UT
10. Black Ridge Canyons Wilderness, CO
11. Walls of Jericho, AL
12. Sipsey Wilderness, AL
13. Cheaha Wilderness, AL
14. Cohutta Wilderness, GA
15. Big South Fork, TN
16. Panthertown Valley, NC
17. Mountain Bridge Wilderness, SC
18. Daniel Boone NF, KY
Guess I'm done for June, unless I talk myself into making another 5hr drive to hunt arches at ~90F come Tuesday.
That's a definite possibilty, as overnight hikes may soon end, at least 'til I head out West in September, because July and August are hot and miserable here in the South.
June has been pretty grand, though, with new trails, new arches, and back to back trips to North and South Carolina to visit places I hadn't been in 8yrs.
Sshhh, be vewy quiet, I'm hunting arches
Panthertown for waterfalls...
Rim of the Gap for feeling offtrail on the trail...
"Pretty sure that's an" Arch(found where water apparently runs behind it) in TN...
Right when I started a video to chronicle looking for Dead Deer Arch, I realized I was standing on top of it!
Wrapped up June with Buffalo Arch in Ky:
4 off nights, 4 road trips to hike in 4 different states. What a fun month!