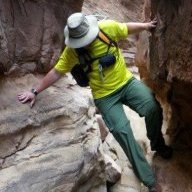 Joined

Jan 17, 2012
Messages

1,677
Alright. Start! Same rules as always. You are

supposed to

post your status and count to date and post one or two pictures for each status report. Thus if you are reporting out your status update with three trips put up one or two pics for the most recent camp. If you don't post a pic you won't be eligible for the prize drawing at the end of the year

There are no official rules, but a bag night in the tread is typically defined by a night out camping in some form. It doesn't matter if you sleep on a tarp, in a tent, or in the back of your car. It is more of an attitude thing. If you are outside to enjoy nature, if it's camping baby, it's a Bag Night.
Okay, I'll start off this year's thread.