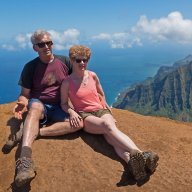 Joined

Sep 22, 2016
Messages

762
Better late than never, I guess. This dates back to mid July, and the culmination of a week long camping, biking and hiking trip in the east Kootenays of BC and then in Waterton on the Alberta side of the divide. On the morning of July 14, we met up with some of the usual suspects at the Akamina Pass trailhead in Waterton National Park to do the 20 km circuit across Akamina Ridge. After a
superb ridge walk
a few days earlier near Invermere, could it get any better? Lets see...
Although Akamina Ridge is often thought of as a Waterton hike, only the first 1.5 km is in the national park. The rest, accessed via the old road to Akamina Pass- is in BC's Akamina-Kishenina provincial park.
Good to see plenty of beargrass thriving in the aftermath of the devastating 2017 fire.
Lots of arnica too, adding color to the burnt forest.
A short side trip to Forum Falls
Cascades on the trail to Forum Lake.
Forum Lake below Akamina Ridge.
Buttercup meadows, flooded a bit by high water from the late snowmelt. No lingering here as the mosquitos were swarming.
The trail is under there somewhere! We are aiming for the saddle at right.
Out of the trees and into winds keeping the bugs at bay. Looking back here at Forum Lake.
A view of Wall Lake, which we will get to later in the day after traversing the ridge above.
Snack break, with the upcoming scramble section up the ridge above.
It's mostly just steep hiking, grovelling up loose beaten in trails.
Exiting to the ridgeline via a short hands-on rock pitch.
Wall Lake, far below.
But first- lunch. For once- the Waterton winds are appreciated, for both keeping the bugs away, and for cooling on a hot afternoon.
Our route will pretty much traverse the skyline.
Onwards to the next of several bumps along the undulating ridge, via the right hand side of the pyramid.
Flower gardens everywhere!
Typical Akamina ridgewalking.
Direct route up the ridge, as the trail below at left is still blocked by a cornice.
Philip, topping out.
Panorama looking south into Glacier National Park, Montana. The border is less than a km away here.
Jacob's Ladder sways in the wind.
Heading towards the highpoint, with Upper Kintla lake far below in Glacier. From here to the end of the ridge several km away, there's not a lot to say except that it was a great afternoon of strolling at a relaxed pace- taking it all in.
One of hundreds of colonies of low lying alpine wildflowers.
Up and down along the easygoing crest of the ridge.
Heading for another break in meadows before the final significant hump.
Wall Lake comes into view again.
A look back at where we came from, just before dropping into some intact forest above Wall Lake.
But there's still more ridge to go.
Glacier lilies enliven the larch forest.
Descending to Wall Lake.
Easy travel on firm avalanche debris.
Wall Lake!
Akamina Ridge skyline.
Nature's cycle underway in the vast burnt area...
Closing the loop by returning to Akamina Pass on the Wall Lake trail.
One final beargrass shot, because. What an amazing day- it may well be prove to be the pinnacle of our 2022 hiking season in the Rockies!
Last edited: