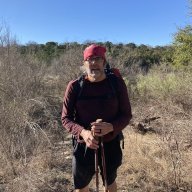 Joined

Jan 18, 2014
Messages

344
Yep,
I'll admit that I've got a couple of go to dishes in th backcountry, but after that…
Soooooooo, how bout a tad bit of help from all y'all in here regardin' backpacking meals for breakfast, lunch, supper, desserts and snacks That are usin' ingredients that ya can get at th grocery story or online(got some freeze dried ground beef to use on my upcoming' trip myself).
Figure with my tendency ta procrastinate( or so my wife says) this'll gimme time to get all th fixuns so I can mesmerize th gang with my whippin' up some good vittles !
Cause it's always fun ta have yer buds envyin th food yer eatin( or it will be fer this flatlander(897 above sea level here) since I'll likely be eatin' their trail dust( unless they take pity on me..hint, hint).
Thanks ta all th backcountry chefs out there in advance,
The Trout Whisperer
Pic of my food set up in those thrilling days of yesteryear!8