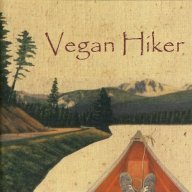 Joined

Jul 5, 2014
Messages

2,090
This Sunday I day hiked with my wife and dog along a section of the Shawangunk ridge in Minnewaska State Park, NY which is about an hour from my house. The Shawangunk ridge, referred to as the "gunks" by hikers and climbers, is a bedrock ridge connecting the Kittatinny Mountains of NJ to the Catskill Mountains of NY. The area is much more popular with climbers than hikers because of the many vertical rock faces. The parking lot was full when we got there but it appeared we were the only ones without climbing gear. I normally would hesitate to take my dog Joey on a 13 mile hike, but the gunks have very little elevation gain/loss, it wasn't too hot, and I knew there would be plenty of water for him to splash around and cool off in along the way. We took our time letting him rest often, kept him well fed and hydrated, and he did just fine. According to my Gaia tracks, we only gained 1,700 ft cumulatively over 13.25 miles. It's mostly flat, very easy ridge walking, with just a few steep boulder scrambles interspersed.
The trailhead is pretty high up the ridge, so it was only a 20 minute climb to get up top, then you walk along the ridge for the next 7 or 8 miles.
The ridge is flat and very easy to hike along.
This rocky outcrop is at the summit of Millbrook Mountain. It took some coaxing to get Tyne out there for a picture.
A few more miles down the ridge.
Some NY farmland down below.
The ridge isn't straight, it meanders in and out like a winding river.
This spot is called Gertrude's Nose.
Wouldn't be a bad camp spot as long as you don't sleep walk.
Lake Minnewaska along an easy walk back on a fire road.
Featured image for home page: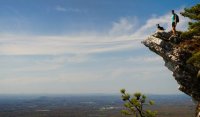 Last edited: