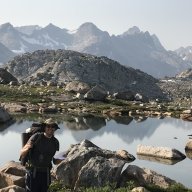 Joined

Mar 1, 2015
Messages

524
I am hoping to do a 5-day backpacking trip in early September; therefore, I am considering heading to the Winds. I don't know what route to do though! Does anyone have any suggestions that satisfy these criteria:
Maybe 8-13 miles per day if on-trail, 4-9 miles per day or so if off-trail. Less than 3k ft gain/loss per day or so. These limits depend entirely on how rough the terrain is.
I love easy off-trail travel (meadows/valleys, gentle slopes/passes with mix of grass and granite slabs, etc---think East Fork, South Fork, Macon Lakes, Cook Lakes to Wall Lake, etc.---but I've already been to those places). The more of this kind of terrain, the better!
I hate boulder fields and steep/loose talus/scree.
I like consistent scenery and a variety of scenery (I value the journey more than the destination); I'm impatient and don't want to trudge through boring or unchanging terrain for a long time just to get to the spectacular place.
I like to avoid crowds. I've already been to Titcomb and the Cirque, so I'll probably avoid those this time.
I don't care about fishing or climbing any peaks (although I would be up for climbing a peak if it's particularly recommended and not too hard). I probably prefer a traditional backpacking route where I move to a different camp each day, rather than setting up base camp and doing day-hikes.
A loop would be ideal. I would be willing to pay for a shuttle to enable a one-way traverse. I could also do a mountain bike shuttle if the two trailheads are less than 15-20 miles apart or so.
I wouldn't mind doing a route requiring crampons/axe, as long as it is beginner-friendly (as in, I've only practiced with them once before and then used them on a single hike---this was last year. I would go practice again here in CO before going to the Winds, but probably just once).
Basically, I just want to see as many spectacular basins as possible, while avoiding talus and people. Please let me know if you have any suggestions!