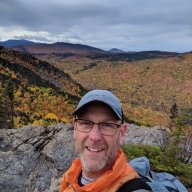 Joined

May 15, 2019
Messages

90
After a whirlwind week of dropping off my oldest at college, I jumped on the plane to SLC from DCA with my gear, while the rest of my family headed back to Maine. As I drove to Big Sandy on Friday I could see lots of lightning that was nearby. I was afraid that I'd be waiting it out in the car for a few hours but it all pushed off southeast and the weather turned, and stayed,
nearly
perfect for the rest of the trip.
First view of the goods.
I had grandiose plans of heading up and around Lee lake and back over PITA pass, but as time drew closer I moderated my plans to focus more on the area over the divide towards Baptiste lake and that area, and I'm glad I did. If I had stuck to my original plan I would have missed a bunch of things I'm glad I saw. Day one was still a big one. I put in 15 miles to get to East Fork valley.
Day one, the goods.
Camp was pretty solid
The next morning I was up and out heading for Baptiste lake via Hailey Pass. I was going to try the cut over behind Pyramid lake to the pass that Mark P did but I couldn't summon the will to scramble up it, so I just went up the usual way from the bottom.
Kitty tracks by Pyramid lake?
View East from Hailey pass
Baptiste lake
Caught 13 Cutts between 15 -20 inches. It was nuts.
Next morning sunrise was spectacular on Mt. Hooker
Time to move out, one last look back. This was my favorite spot of the trip.
Went down to Grave lake where I hooked up with three nice Mackinaws in the first five casts, then I got shut out. They aren't much for holding still for pictures. Wind was an issue and it would become a bigger issue later.
Looking North on Grave lake.
Here is where things went sideways for me. I made the relatively easy bushwack from Bears Ear trail up to Spearpoint lake. Finding
any
campsite was a challenge. Finally I found something compatible and went about setting it up, although it was closer to the lake than I should have been. Again, it was this or go full retreat down low. The problem was it was now late afternoon, the winds started to gust in to the 60's, and I was afraid if I bailed that I would still be out of luck. I guyed it out as best I could and went in to hunker down mode. Fishing would have to wait until tomorrow. I was seeing waterspouts on the lake, it was something. Overnight the winds abated but then a coyote (I believe) decided to post up about 50 yds away and yip all night. Good times, good times....
My first and only Goldbow
Rainbow
Time to pack up and ship out again, this time another big day back down the hill and up across the Lizard Head plateau. The trail that never seems to end. That descent was a morale killer at the end of the day after no sleep the night before.
Finally to camp at lower Bear lake under the Lizard. I was spent.
The next morning I went over to the Monolith and Papoose lake. Caught two dozen small cutts. Why I took no pictures closer is beyond me.
You know where this goes from here. I had to see the Cirque up close at least once. It lived up to the hype despite the crowds, which weren't very crowded. However, I live in NE and hike in NH, you haven't seen crowds like that, trust me.
I met a couple from Syracuse at Lonesome lake and we joined forces to head up to climbers camp for the evening. They were even kind enough to share libations with me. A very happy, unexpected treat.
Morning light on Warbonnet and Warrior
One last harrowing moment before the great escape down to Big Sandy. We descended to the right of Arrowhead lake. As we were still negotiating the talus a climber on the cliffs above kicked off several rocks, one being well in excess of 100 lbs. They sped at terminal velocity over the trail, luckily not close enough to us to be a huge concern. He did at least yell rock. Dying at the end of the trip was not on my radar.
This was far and away my best trip yet. Yes there are very cool isolated places to see in the Winds, and I hope to get to more of them, I have seen some. This trip had a lot of
WOW
factor plus 90% perfect weather. I was stoked every day to be out there and I felt great the whole trip despite having a really poor appetite. That happens to me a lot hiking, why I don't know? As soon as I hit the Boulder store I got an apple danish and a root beer. It was heavenly. Then after cleaning up I went to the brewery in Pinedale and threw down.
Before heading to the airport I had breakfast with Moose.
Children will wear you out.....fact.
Last edited: