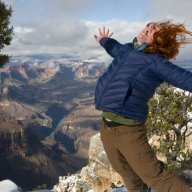 Backcountry and Remote Locations Imagery
Joined

Dec 27, 2012
Messages

5
Last week I had my yearly cross canyon hike, and as I baked in the sun, sweated out the humidity, moving slowly along the trails, soaking all the sights in. I watched the storms move in and out every afternoon, building each day, winds would pick up and swirling clouds would rush in, pelting down rain, kicking up dirt, and draining the canyons in massive flash floods. I hoped that when I climbed out the Bright Angel Trail from the Colorado River, that the storms would build again when I would have the chance to get right out in the middle of it all, Plateau Point. This is one of my favorite locations; 1,300 ft. above the Colorado River with big views in all directions, a fine place to find oneself in the Grand Canyon.
Come to find out, luck was with me. I was out on the porch at Indian Gardens writing a letter when I looked up and saw the most dramatic, magnificent light out on the North Rim, with storms heading my way. I ran, almost all the way out to Plateau Point (1.5 miles) and plopped down at the very edge, ready for action! As I held myself steady, finger tight on the shutter and ready to click, I begged for the lighting, tempted the storm, "Come on, Zoro, BOOM, Brahma, BOOM, Come on, let me catch you, BOOM!"
I shot until the storm blocked out the golden afternoon light, and I got up and ran back, all lit up, lightning, rainstorm on my heels.
Feature image for home page: