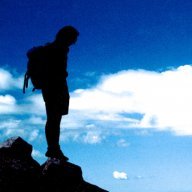 Joined

Jun 25, 2012
Messages

4,415
Disappointment
Many of our treasured mountain ranges are again this year very dry meaning low in snowpack for this time of year. This is disappointing from the standpoint not only of our drinking water supply but also from the standpoint of the health of the ecosystem and the wellbeing of the plants and animals that depend on runoff and soil moisture for health. Much of the lower than average snowpack - especially at low and mid elevations like my house at 7K' is due to much warmer than normal temperatures. This means much of the autumn, early winter, late winter and spring precipitation falls as rain and is not captured and stored in the snowpack. You can bemoan the bad luck of the situation or work to reduce man-induced climate change the choice being based on your belief system.
Opportunity
This is the main point of my post. I want to point out that again this year there is an opportunity for a very early start of the backpacking season. I have started traveling in the high country months early last year and I will again this year. You will probably be able, depending on the continuation of this trend the rest of the snow season, go in to the mountains, to go high in the mountains and to traverse high country that is normally snow-locked for the majority of the season much earlier than normal. So, heads up - plan away! For instance, I will be able to drive to the north rim of the Grand Canyon, on the Kaibab plateau, in March instead of in June again this year because it is already essentially snow free.
Data
Here is the data. This data is from the
NOHRSC Snow Data site
. I have referenced this source before. I consider this data authoritative and trustworthy. It is assembled from models, satellite data, Snowtels and boots on the ground.
The key is that yellow means less snow on the ground than average for this time of year. Orange and red are much less snow than normal on the ground compared to average. Red I'm talking like 3 feet less than normal. Go to the site and do your own investigation.
Notice:
The central and Southern Wind Rivers
The Tetons
Southern and Western Jellystone
The Wyoming Salt Range
The High Uintahs
Not shown – the North Rim of the Grand Canyon
Last edited: