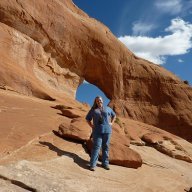 Desperately Seeking Sandstone
Joined

Jan 21, 2012
Messages

1,692
I've been meaning to start writing trip reports for some time now. What better way to pop my TR cherry than with my first trip of the New Year on my new favorite forum.
I decided this year I wanted to start the New Year off right. For me that meant fun in the desert sun sans hangover and sleep deprivation. My parents agreed to take my son for the weekend, so Rick and I headed out bright and early the morning of New Year's Eve. Our destination: sunny St. George. Our first stop was the East Side of Zion National Park.
The trip started out with a bang. We pulled over to start our first hike and were treated to a sighting of a family of bighorns.
I am all that is ram
After watching the bighorns for a while, we threw on our packs and dropped down the other side of the road into Clear Creek to hike a section of the narrows between the large and small tunnels.
Classic Zion slickrock.
Sandstone patterns.
Rick next to a deeply sculpted section.
Clear Creeks alternates between wide open wash and tall narrows.
A neat section with an overhanging wall, giving it a subterranean feel.
The deepest narrows we encountered were short, but sweet, and the icicles added a nice touch.
After exploring Clear Creek, we drove down to the main canyon so I could hike the Watchman trail. Rick was feeling tired, so he decided to take a nap in the car while I hiked.
Near the start of the Watchman trail.
This trail was great! Easy hiking, and lots of nice views of Zion Canyon.
View from the high point of the trail. I could see my car way below in the parking lot.
Taking the loop trail gives you some nice views of The Watchman.
Twisted tree.
When I came back down Rick was standing next to the car. As I approached he told me that he had forgotten to turn the lights off after we drove through the large tunnel, and the battery was dead. The funny thing is, the night before I was thinking about how I needed to buy jumper cables for my car. Haha, always listen to your intuition! Luckily, the first person I asked was a nice guy that had jumper cables and was willing to give us a jump. Thanks again mister!
With about 15 minutes left until sunset I asked Rick to drive me to Canyon Junction so I could get a shot of the sun setting over the Watchman. Instead of setting up at the bridge, I walked down to the river and found a spot. I got the tripod out, adjusted my settings, and waited for the sunset that wasn't.
Bummer! Trying to take sunset shots in iconic locations just isn't working out for me so far. As they say, try, try again.
We drove to our room in St. George, got some grub and a six pack, and hit the hay well before midnight.
The next day I had a nice loop trail planned for us in Snow Canyon. It comprises parts of different trails to make a nice best of trail. I really enjoy Snow Canyon, despite its small size. It's so photogenic, it keeps me coming back for more.
Happy New Year from Snow Canyon.
Red, white & blue.
Crazy concretions.
Cool arch at the high point of the Petrified Dunes.
The top is littered with moqui marbles.
Sandstone stairmaster.
Taking in the views.
Desert plants enhance the already excellent scenery.
Working our way down to West Canyon.
This formation fascinates me.
After we finished our hike we drove out to Gunlock to search for some petroglyphs near the reservoir, before returning to St. George.
We pulled over to let someone pass and were serenaded by braying asses.
We didn't find the glyphs we were looking for, but didn't leave empty handed either.
Another panel we found further down the road.
The next morning we had planned to visit a couple rock art sites and some dino tracks. We started with a visit to Bloomington Park, which is an oddity because the rock art is on a couple boulders right in the middle of a neighborhood.
This is the smaller of the two boulders.
The larger boulder is HUGE, but some of it was in shade, so I only photographed the well lit portion.
Next we drove out to see the Fort Pearce Petroglyphs and Warner Valley Dinosaur Tracks. We made it most of the way there when the road disappeared. It became a giant sand pit. I got out and walked up a ways to take a look. The road reappeared farther ahead, but there was no way my car would make it through the sand trap. It was pretty deep. Does anyone know if that's usually the case or if we just happened to go after a bunch of sand drifted over the road?
Disappointed, we turned back, while I worked on a back up plan for us. While reading some brochures I picked up from the BLM, I found out that our last rock art site was recommended for high clearance vehicles only. Double dammit! Along the way I started feeling really nauseous. Once we got back to town I tossed my cookies. Blah! I was not feeling good, but being in the car was exacerbating things. Not up to doing much, but not ready to spend four hours in the car, I suggested we go to Red Cliffs Recreation Area to hike the Nature Trail by the campground. I'd hiked it once before, but it was new to Rick. It was a pleasant diversion.
Such a nice little waterfall.
Last time I was here I didn't notice you could go around the waterfall. This is a view of the pool behind the falls.
Interesting eroded cliffs.
Red rock reflection.
After that we started the long drive home. All in all, it was a good trip, although I find it ironic that I still got sick New Year's weekend without partying.