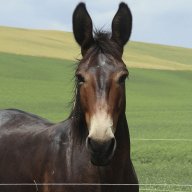 Joined

Jun 11, 2017
Messages

4,239
Words fail me...well, not really, but almost. I should be getting used to such stories, I guess. But shoots, even the group of women
@blueeyes
posted about wore proper footwear, even though they hiked it in dresses. Be careful what you wear out there,
@LarryBoy
.
http://www.stgeorgeutah.com/news/ar...rs-hiking-the-subway-unprepared/#.W2JUE7bMz4M
...
One of the groups that required a rescue had disregarded and mocked a ranger's advice when they picked up their permit to visit The Subway, according to a press release from Zion National Park.
"The ranger recommended they bring a rope and multiple harnesses for at least one of the rappels, but the leader of the group, who had been there before, said that they could cross the log and find an easier way down," reads the press release.
The ranger told them that the log had washed out last year and once again recommended the gear, but the group dismissed the information and started the 9.5-mile hike without ropes or harnesses.
When the group reached the 30-foot rappel, they attempted to make the 6- or 7-foot jump to the other side of the drop, but one person landed badly and received a knee injury.
...
Another group that officials say was wearing "inappropriate footwear," got lost several times while hiking toward The Subway.
They finally reached the famous formation late Sunday night, so they spent an unexpected night in the canyon.
Monday morning, they got lost again and missed the trail that leads out of the canyon to the trailhead, according to the press release. Instead, they continued farther downstream.
"At some point, they decided to try to climb a cliff face to reach the road," reads the press release.
Heat exhaustion started to set in, so members of the group activated their emergency locator and reported a heat-related illness. Search and rescue responders were able to locate the group, give them water and help them find their way back to the trailhead.
Last edited: