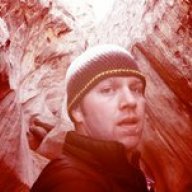 ^^^^^^^^^^^^^^^^^^^^^^^^^^^^^^^^^^^^
Joined

Jan 18, 2012
Messages

464
Alene, Caiden, and my Nephew Brady (who is 1.5 years older than Caiden) all went down to stay in St. George this weekend to get into a bit warmer climate. We spent our time in a hotel there at the Marriot, which was very nice. Alene gets great discounts there through her work as a travel agent. When we arrived we immediately hit the pool. I convinced Brady to do a belly flop for $1.
Saturday we went out to play some mini golf and then headed back to the hotel to watch the BYU-New Mexico game. BYU won 42-17 and with this win BYU has the out-right championship to the MWC and an invite to the Las Vegas bowl, which Alene and I will be attending in December. I was able to stream the game to our laptop (stupid MTN channel) and since the TV was free I figured I'd watch two games at the same time (Michigan-Ohio St). College football heaven.
After the game, we did some more swimming then went out to Cold Stone to celebrate Brady's BD (he turned 9). One thing I've noticed is that St. George does every portion much bigger than they do in Salt Lake. At Cold Stone, the portion of ice cream they gave was HUGE. At Cafe Rio, I felt like they piled on more meat and also didn't skimp on the beans and rice.
On Sunday we went to Zion National Park, which was beautiful. It could be my favorite park in Utah (at least so far). We drove to the Temple of Sinawava and hiked the riverside trail that leads to the entrance to the Narrows. I want to hike up (or down) them a someday. Alene has already done it and says it becomes kind of boring, but she said she would do it with me when we had the chance. It's so cool to see a river flowing out of the canyon with nothing but rock wall on each side. We also hiked did the Emerald Pools hike, which was beautiful.
On Monday we went to Snow Canyon and did a couple of the hikes there. We went into Jenny's Canyon, which is the only Narrows spot in snow Canyon. Not very long at all, but it was fun to explore around. We then hiked out to 3 ponds, but never found the 3 ponds. The trail map listed the hike as 3.5 miles round-trip, but we had to have gone at least 2 miles and still had not found anything. We ended up just climbing on some rocks nearby. Getting out there, we hiked through a sandy river-bed for quite a bit which was nice because the sand was really soft. We worked our way back to the car and went over to the red sand-dunes area and played around on them for a bit. I was disappointed that the dunes weren't very steep (funner to jump into), but it was still fun.
ZION NATIONAL PARK
Hiking along the Virgin River on the riverside trail
We almost lost Brady over this cliff
The virgin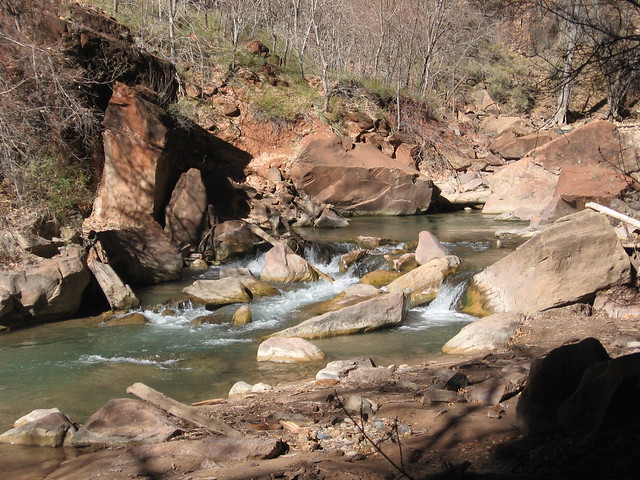 The only tree with golden leaves still on it
At the narrows
Wading around in the virgin river at the beginning of the Narrows
Looking back down canyon
Caiden and Brady hanging out on the trail
Alene and I on the trail
Ran across a deer on the Emerald Pools trail
The lower emerald pools
It was still more colorful up here than below
At the middle pools
The boys at the middle pool. They were much further from the edge than they look
A little narrow section on the trail down
SNOW CANYON
Jenny Canyon narrows section
Alene doing a little stemming
Up in a little side part of the canyon
Barefoot Brady hanging out on the slickrock
Caiden and Brady
Brady jumping over a bush at Snow Canyon near 3 Ponds
Me, up in another side canyon
In another side canyon near 3 Ponds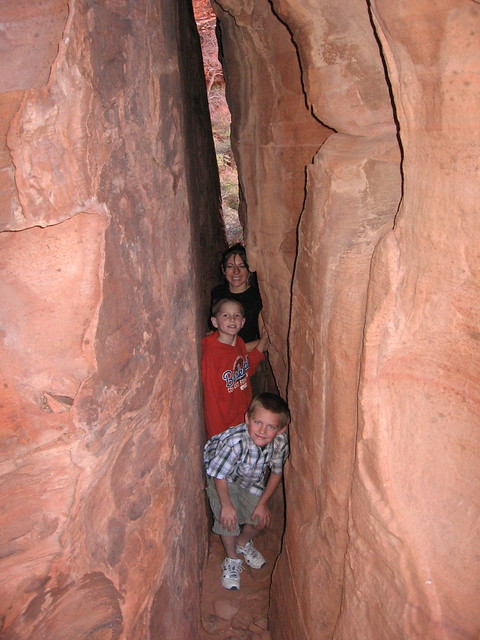 "3 Ponds" (where are the ponds??)
Resting along the trail (I love this picture of Alene)
Alene's sandals after a hike in Snow Canyon
At the sand dunes
Sand Angel