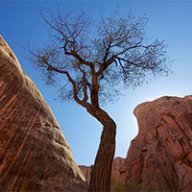 Joined

Aug 9, 2007
Messages

12,940
Time again for some best of the year! Post your best/favorite photos you took in 2013 here. They don't have to be wall hangers, they just have to be
your
favorites! Post as many as you'd like but tell us a bit about them!
Here's a few of my favs to kick it off...
Some killer light in Fat Man's Misery. May 2013 - Zion

One of the best car camp spots I've ever had the pleasure to sleep at. June 2013 - Escalante.

What will most likely end up being Nikita's last backpacking trip (she can't really do the stairs lately)
. June 2013 - Uintas.
Some seriously idyllic alpine wandering in the Wind Rivers. July 2013 - Wind Rivers.
One of the coolest little spots I've ever had the pleasure to lay down and just stare up at the sky in. Seen while on the hunt for the cheemicowbra in some crazy mystical place that really doesn't exist - October 2013.

Rim walking Halls Creek with some fine backpacking compadres. Capitol Reef - April 2013.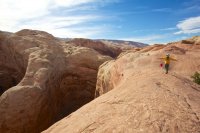 I'm sure I've got a few more that I'd call faves - let's see yours!