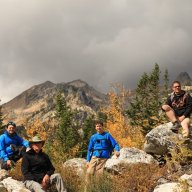 Joined

Aug 21, 2018
Messages

527
Not long after
@scatman
and I left Yellowstone in September of 2021 we began planning a trip for September 2022. He must have been desperate for company to let me follow him thru the wilderness again. . . I tend to pull him off course when we travel off-trail, but I like to think my charming wit and personality make up for my lack of compass. I've also been known to bribe my trail mates with tasty snacks so he may had taken that into consideration as well.
We bounced several ideas back and forth in terms of which region of the park to visit as well as what areas we'd like to explore. Hugh has probably been to Yellowstone over 500 times so it can be a challenge to find a place in the park he has not been to. For 2022 we focused on an area East of Canyon that held a lot of unknowns for the both of us. We reserved campsites for four nights: Night one at 4W1 -- Wrangler Lake. Night two at 4B1 -- Joseph's Coat Springs. Nights three and four at 4W2 --Wapiti Lake. My spot in the backcountry lottery was not very early, luckily for us no one else seems to want to visit these areas of the park and I had no problems reserving our campsites.
I made things even more interesting for Hugh this year as I'd be bringing along my brother-in-law (Patrick) and good friend (Cody). They have experience with hiking and camping but I think it is safe to say few people truly know what to expect when they accompany Hugh and I into the backcountry. It is also safe to say Hugh had no idea what he was getting into when it came to travelling with Patrick. I hate to spoil the ending but will let everyone know that we made it out alive. Perhaps mentally scarred, but alive.
Here is our story in pictures. I've divided the report up into two parts because of the number of photos taken (and I've only resized half the pictures so far). Our trip began on Monday, September 12, 2022 and concluded on Friday, September 16, 2022.
Day One: Monday September 12, 2022.
The goal today was to hike to backcountry campsite 4W1 at Wrangler Lake. This day was designed to be easy so that we might recover a bit from the prior day's 17 mile backcountry hike:
https://backcountrypost.com/threads...arnica-creek-meadows-september-11-2022.10486/
After an Old Faithful buffet breakfast and a somewhat time-consuming car shuttle the four of us found ourselves gearing up at the Wapiti Lake Trailhead. Because Hugh is one with nature a small butterfly (I think it might be a type of Fritillary) used his hand as a perch.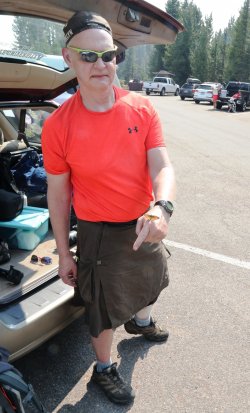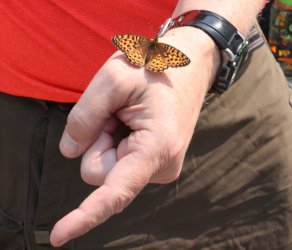 We took the encounter as a good omen for things to come. . . of course it could have been nothing more than Hugh having some leftover syrup on his thumb from breakfast.
Wapiti Lake Trailhead Map. Because we did not want the day to be too easy we followed the Sour Creek Trail down to Sour Creek. There is a small waterfall just to the East of where the trail meets the creek. After checking it out we crossed the sage flat until reconnecting with the Wapiti Lake Trail.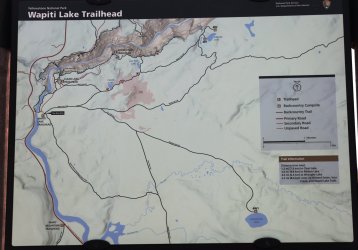 An optimistic group at the Wapiti Lake Trailhead. From left to right:
@scatman
, Cody,
@TractorDoc
,
@CajunPoncho
(Patrick).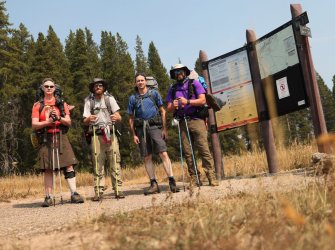 Cody and Patrick getting off to a good start.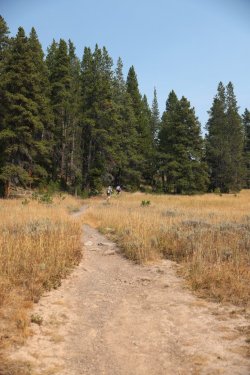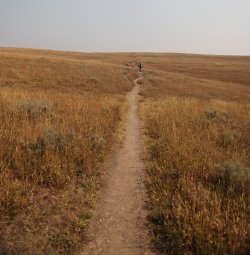 Hugh made sure we did not wander off the trail.
A little haze hovered over the valley this afternoon.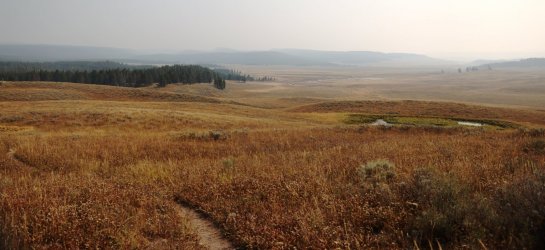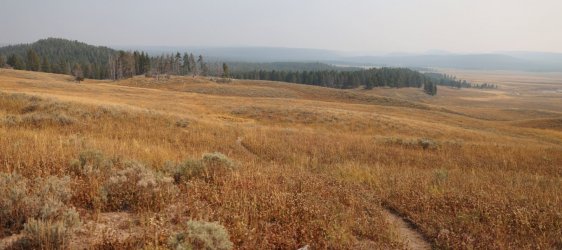 Patrick and Cody's lead eventually disappeared. Something about me having the map/directions caused them to fall back.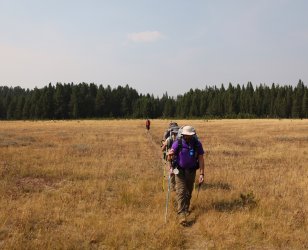 GoPro Pic on the trail while waiting for Hugh to catch up. Look how everyone is smiling!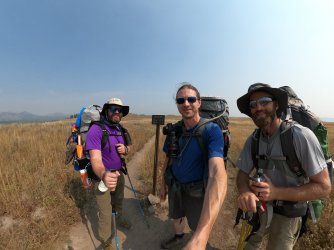 Normal people would follow the Wrangler Lake Trail to get to Wrangler Lake. We took a right (went straight) instead.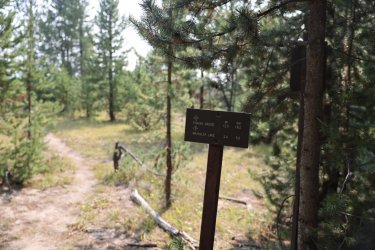 Our destination was somewhere in those distant trees.

After a slightly hot hike we encountered Sour Creek.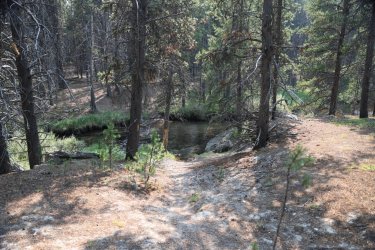 Instead of crossing the creek we followed the trees to the left. The ground suggested the waterfall is no secret and that many others had made their way to it before us.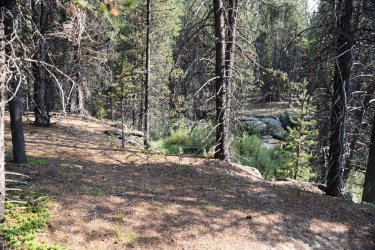 A few minutes later a break in the trees revealed a refreshing oasis.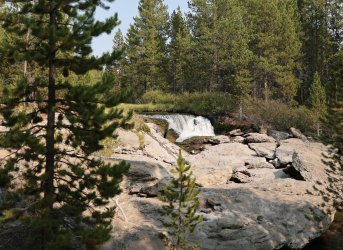 We were only a couple miles in but the walk thru Hayden Valley was open, exposed, and hot. The surroundings of the waterfall were much more comfortable -- even if it was just psychological.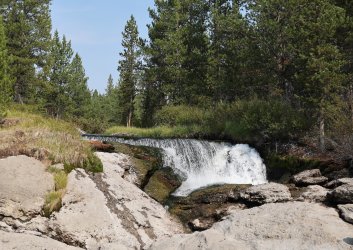 Patrick thinking of taking a swim.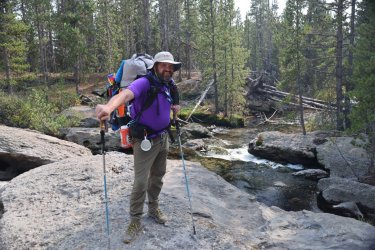 Group Shot.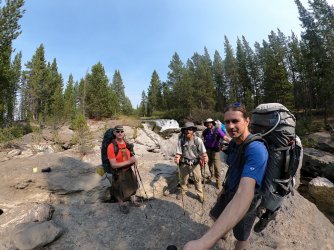 Hugh told us we could not go swimming; he said something about us contaminating the park's water supply
so it was off to Wrangler Lake instead.
Heading East and up the sage flat towards the Wrangler Lake Trail.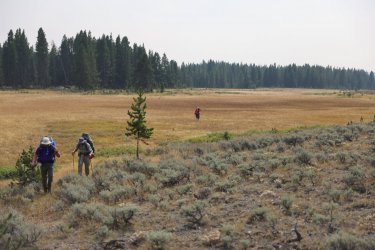 Sour Creek meandered to our right.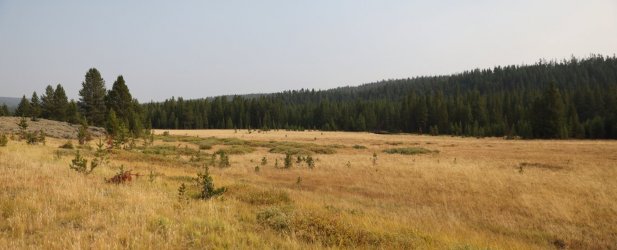 Walking the line between sage and marshy meadow.

We followed the low ridge you can see working its way in from the left.

Bones.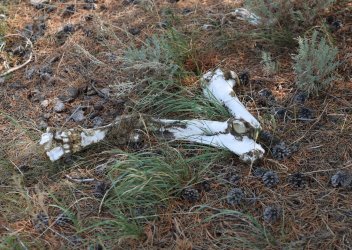 After about three quarters of a mile of off trail travel we were back on the Wrangler Lake Trail and encountered a small stream crossing.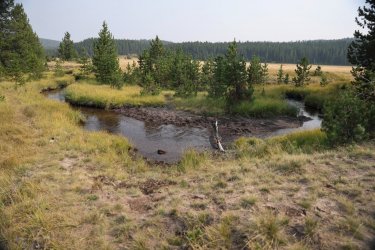 It was early in the trip, so pictures were taken of the water crossing. This would be good practice for the days to come.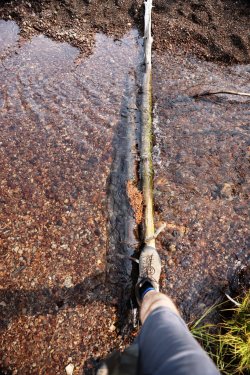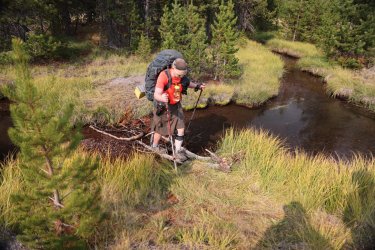 Next, a more significant crossing of Sour Creek was necessary to reach Wrangler Lake. This crossing involved a change of footwear.
Considering our options.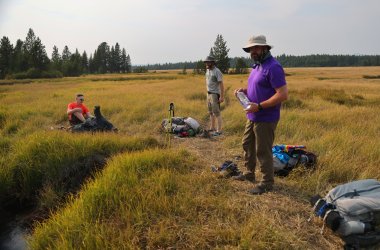 Chilly water felt good on the feet.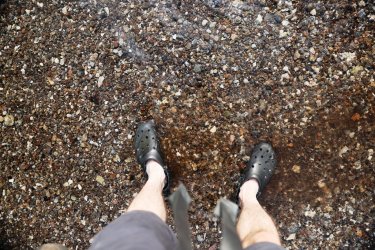 Its deeper than it looks.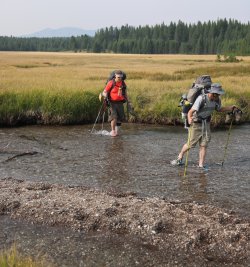 Ahhh, Nature. I don't know why, but all I can think of is Cousin Eddy's toilet emptying scene from "Christmas Vacation" when I see Patrick standing across Sour Creek in this picture. Good thing he is not holding a hose.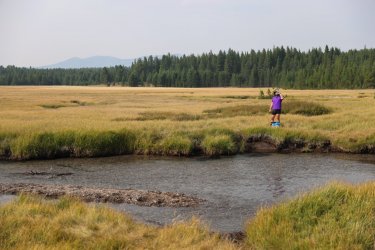 Looking West towards the Yellowstone River.

After a short break to let our feet dry we were back on the trail.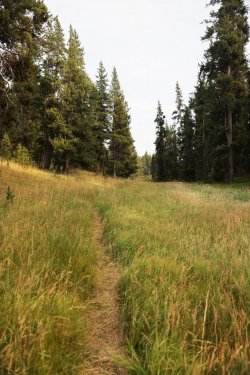 Another interesting butterfly. I do not know if it chose to visit Hugh's sticky fingers.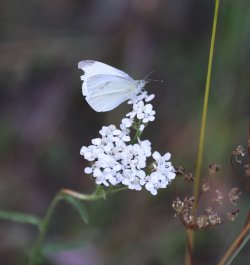 Patrick and I hiked this trail several years ago and we saw a coyote hunting for ground vermin in this meadow. No coyote today.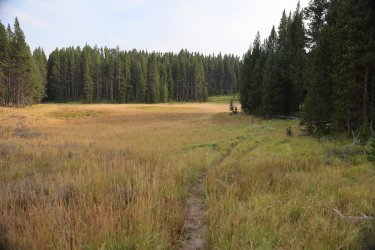 Wrangler Lake!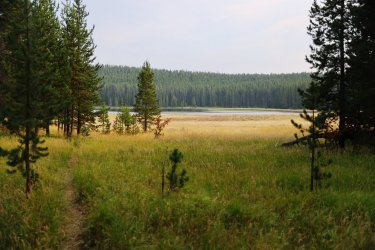 Campsite 4W1 is nestled in the trees on the shore of the lake.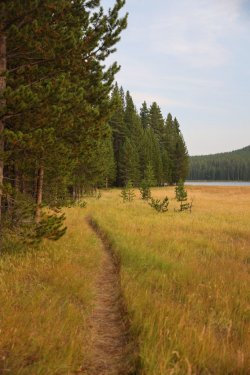 4W1's marker could use some new fasteners.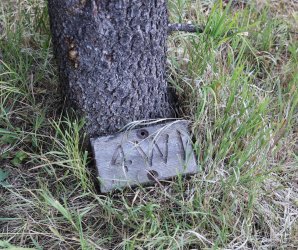 Camp was set up quickly. This would be the closest Hugh would ever place his tent to mine (foreground). The sounds of me rolling around on a crinkly air mattress may have caused him to choose more distant sites for the rest of the trip.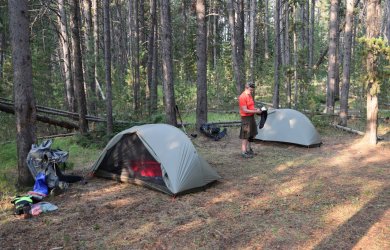 Cody investigating Patrick's setup. Patrick claimed that he was going to be Mr. Ultralight during the planning stages of this trip. He even went so far as to cut the handle off his toothbrush. As you can imagine it was quite a surprise to us when we heard a small fan inflating his air mattress. . . I suppose one can only sacrifice so much.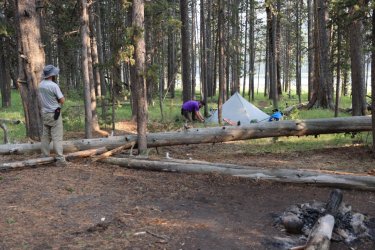 Sun getting low in the sky over lily-pad covered Wrangler Lake. There was no temptation to take a swim here as the muck covered bottom would have been knee deep at a minimum.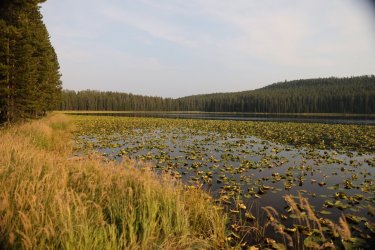 Group photo from supper at Wrangler Lake. It is difficult not to notice the giant utensil in Hugh's right hand. . . that is the infamous "Heavy Spoon" that has had mention in some of the other topics on this forum. For those that do not know, Hugh claims he forgot his titanium spoon when he wedged it in a log during lunch at the headwaters of Alum Creek on our epic day hike. Personally, I feel he planted the spoon in the log the way an explorer plants his flag in a new territory -- claiming it as his own and leaving it for future travelers to find. Whatever his reasoning he was out some cutlery so that evening we stopped at the Old Faithful gift shop to find a replacement. All he could find was a short, plastic spoon or this longer handled metal one. I recommended he borrow a spoon from the Old Faithful buffet the next morning, but if he was set on purchasing one I thought the long handle model would be better. With the short, plastic spoon his fingers would get covered in food bits when eating from the freeze-dried bags. He took my advice, or maybe he flipped a coin. . . either way Hugh ended up taking ownership of the long-handled metal spoon and would bemoan the burden of having to carry it for the remainder of the trip.
You can see how thrilled Hugh is holding the spoon in this picture. Especially while Patrick taunts him by twirling his titanium spoon with minimal effort.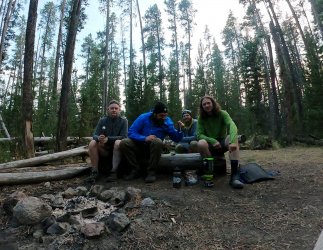 That concludes day one. Day two is where things start to get a little crazy.
Day Two: Tuesday, September 13, 2022.
Today's goal was to navigate our way from Wrangler Lake to campsite 4B1 at Joseph's Coat Hot Springs. As you can see from the map below there is no official NPS trail that directly connects these two areas. . . so we chose to blaze our own. Hugh and I had originally intended to make a side trip to Dewdrop Lake, but we had to cut that part out in order to make it to Joseph's Coat before nightfall. There is always next year. Or the year after.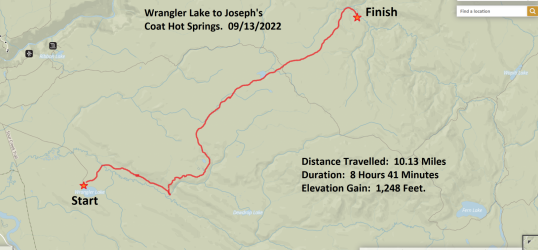 A hint of color at Sunrise over Wrangler Lake.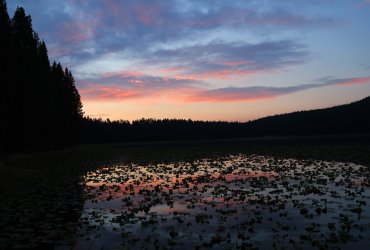 Luckily all of our food did not snap the bear pole in half overnight. The height of the pole at Wapiti is taller than others I've used. . . I had just enough rope to hang my food bag.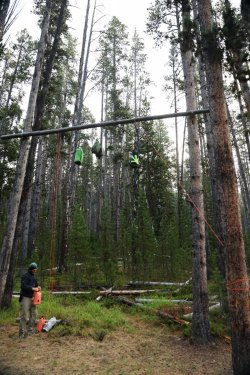 I knew I was having biscuits and gravy this morning. . . but what to drink?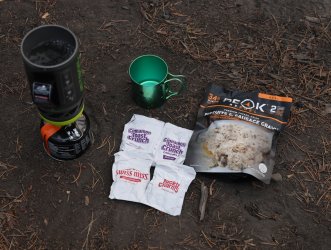 I opted for the Hot Chocolate with Marshmallows.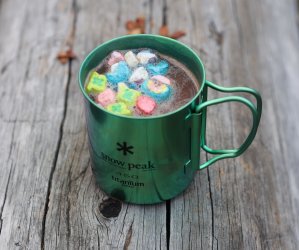 After breakfast/breaking camp we set off into the woods with a heading towards Sour Creek.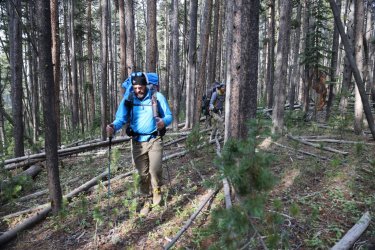 We quickly ran into our first obstacle. You can see the path of least resistance leads us directly to this large bison. The bison was giving Hugh the eye so we went around him vs. making him go around us. Smart move on our part I'd say.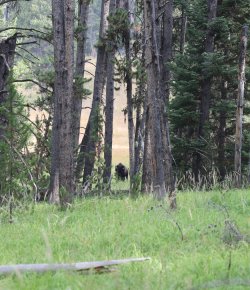 We emerged from the trees to find ourselves having a "Gladiator" walking thru the wheat field moment.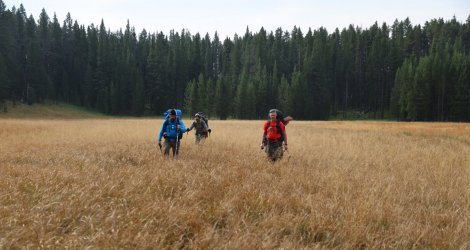 Sour Creek straight ahead!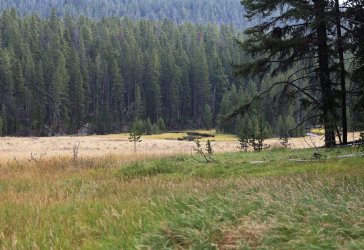 Another crossing of Sour Creek was needed. I chose the direct route while Hugh, Cody, and Patrick crossed a log downstream.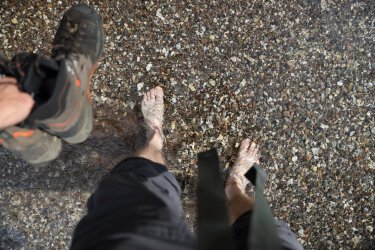 Sour Creek winds thru trees and meadows at the base of a large hill that was to our right.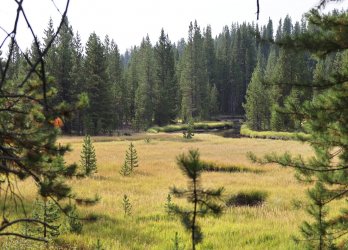 Hugh capturing the moment.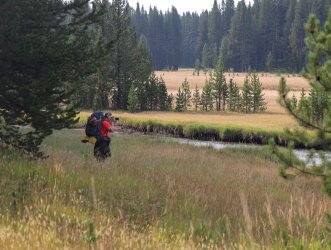 The creek banked right up to the forest in many areas and a bushwack thru the trees was necessary.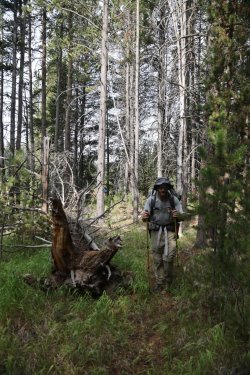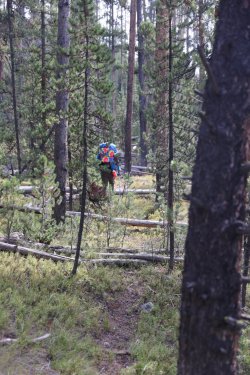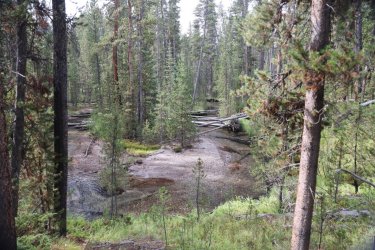 Other areas were open and much more forgiving to the foot.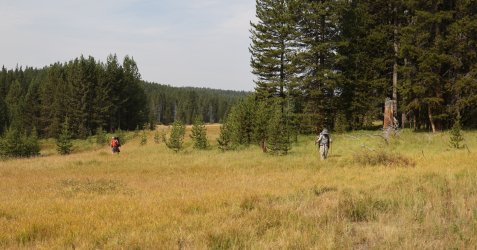 After a morning of steady hiking we reached our first landmark: Bog Creek. We stopped just upstream of where Bog Creek and Sour Creek meet for a rest. I was impressed with the amount of downfall in Bog Creek -- no easy walk up the stream bed here.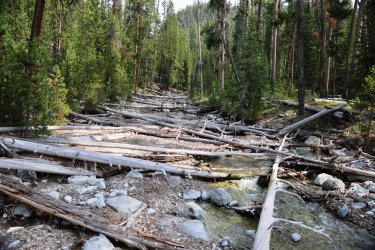 Part of this year's report will include some video links. Here is a quick one from our arrival at Bog Creek.
Bog Creek holds the honor of hosting one of my favorite pictures from this year's trip. Patrick was in protection mode. . . the question is who is he protecting Cody and I from. . . bears or Hugh?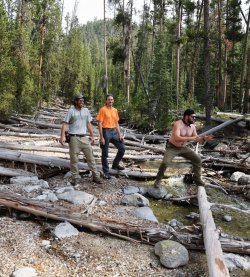 For the record that is not a heavy spoon in his mouth.
Sufficiently rested, we hoisted our packs and kept moving. It was at this juncture that the terrain would dictate our path forward. Bog Creek was littered with downfall, so there was no way to navigate up the creek bed. Steep hillsides flanked both sides of Bog Creek and our only choice was to go up, so up we went on the Western side of the creek.
The pictures do not convey just how steep the terrain was. Or at least how steep it seemed to be.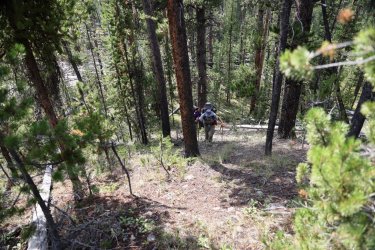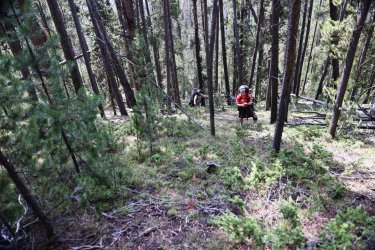 It did not take long for me to start huffing and puffing to try and extract as much oxygen as I could out of the thin air. We climbed into the 8000 feet range -- a bit of a difference from the 1000 feet I was used to back home. I would look up, focus on a tree, rock, etc. and give it all I had to get to that point. Then I would stop for 10 seconds or so to catch my breath. This was all while still climbing over down trees and doing my best not to tumble down the hillside.
A hazy view down into the valley that holds Sour Creek.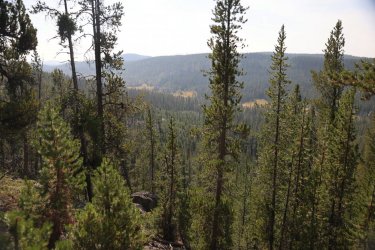 The terrain did level out eventually. . .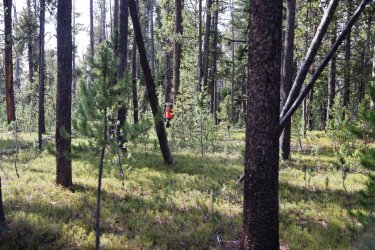 But the number of down trees never decreased.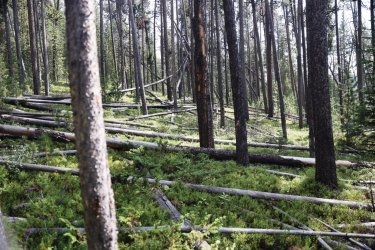 Bog Creek flows thru a nice little canyon. I don't like heights, so I did not dare get close to the edge to look down.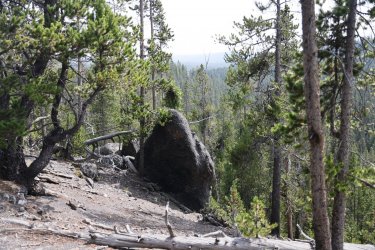 The canyon edge did have fewer trees and that allowed for some easier walking.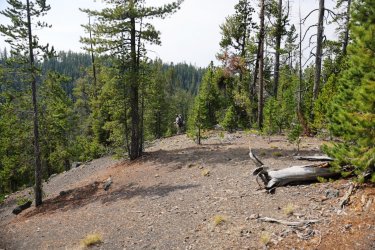 A cool piece of obsidian on the ground.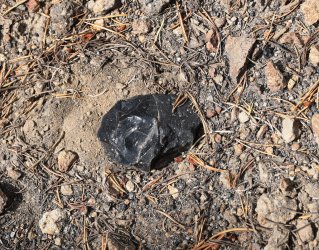 Eventually we saw light at the end of the tunnel of trees in the form of bleached ground along the banks of Bog Creek.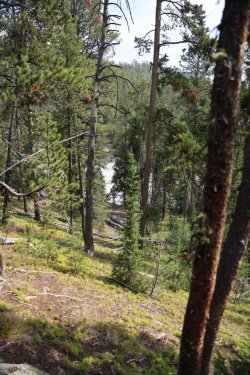 The next portion of our day's hike -- as we walked along Bog Creek -- was one of the things I enjoyed most about this year's trip. I had contemplated visiting this area for a number of years and was quite pleased to see the area in person. The overcast sky gave way to a little sunshine as we progressed and that helped put some blue back on the horizon.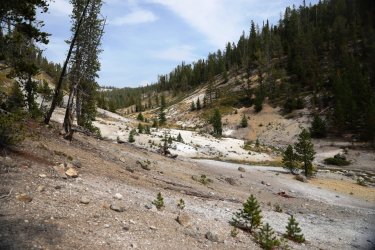 Looking upstream.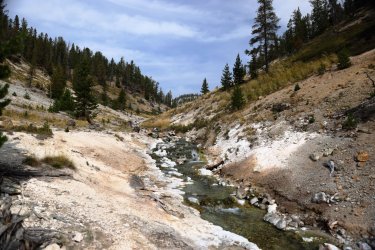 Looking downstream to Hugh, Cody, and Patrick. In hindsight we probably should have wandered downstream a bit to see what was around that corner, but we were burning daylight so upstream we went. There is always next year. Or the year after.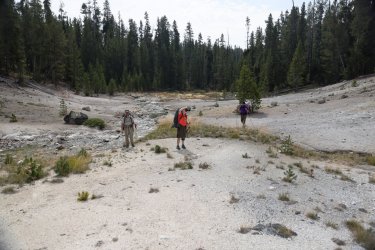 As one progresses up Bog Creek hot springs become more numerous along the banks.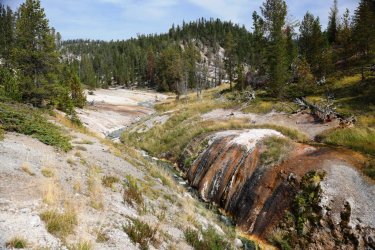 A look back downstream.
The main channel of Bog Creek continues to the right of the central clump of trees. We followed what looked like thermal runoff up to the left.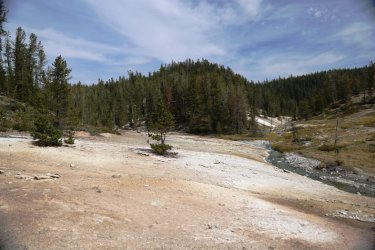 The volume of water on this tributary was much less, but much more colorful.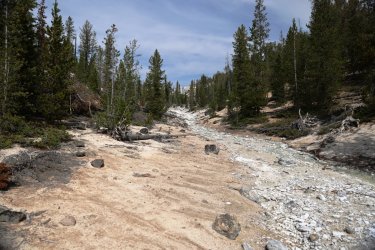 The water put off a good amount of heat as well!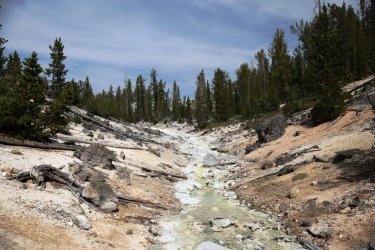 A closer look at the thermal creek bed.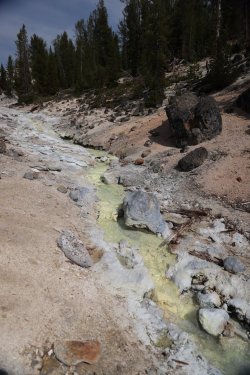 An even closer look. Hot water was bubbling from the hole in the ground just above the dark brown streak.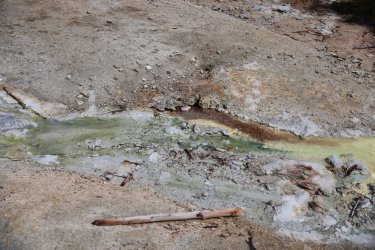 A lot of the next group of pictures will look very similar. . . but I like thermal stuff so I'm posting them.
More thermal creek bed.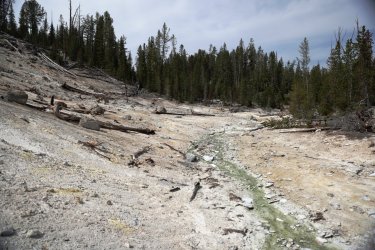 The thermal regions eventually take over the hillsides along the little creek.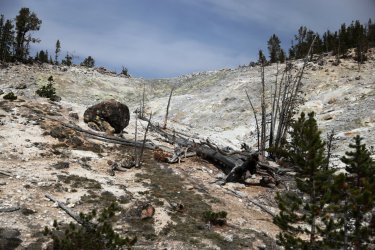 This area looked dormant but still had plenty of yellow sulfur vents gently letting off steam.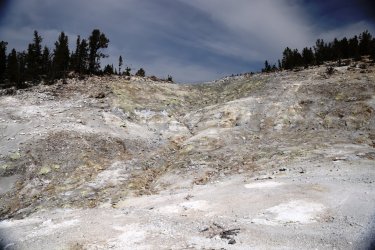 The colors of the earth and pines complement each other nicely.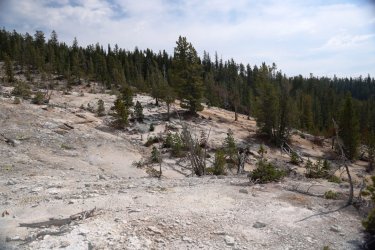 Zoomed in on several of the sulfur caves.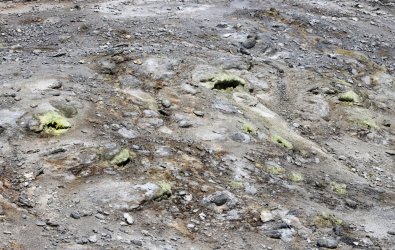 These guys don't look too impressed. . . but how could they not be?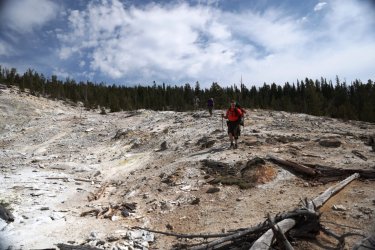 This appeared to be the most active area in terms of thermal features. I've read that the features around Bog Creek are very acid with a potential pH of 1 so I kept my distance even though I was eager to get a closer look.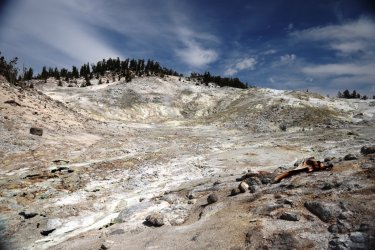 Look at that steam. . . so tempting to see where it is coming from!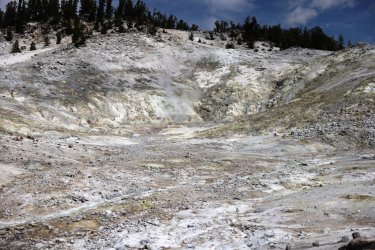 Wide view of the thermal hillside.

We would work our way up a hill opposite the thermal area for a lunch break.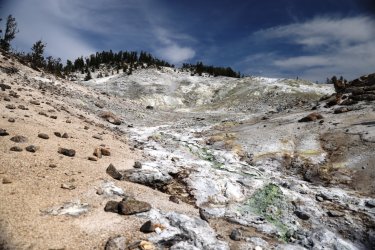 As we climbed the hill a better view was available of the thermal "bowl" below us.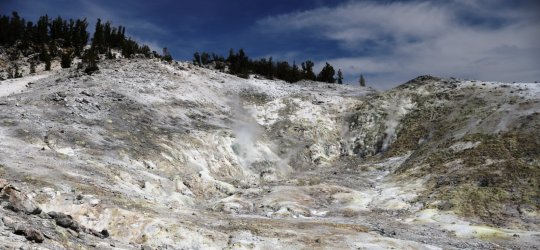 Still climbing.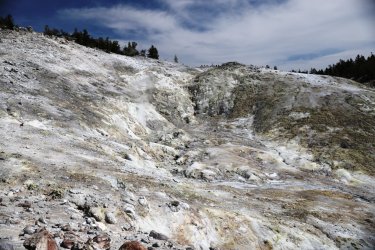 A look back down the thermal valley.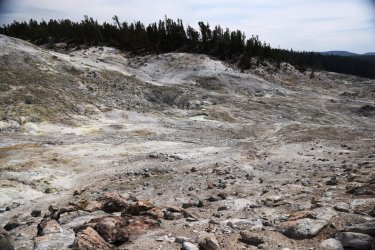 In case you did not get enough of Bog Creek from the pictures, here is a video of the creek and thermal areas that I pieced together. Don't judge me on my cinematography and editing skills. . . I'm a novice at this sort of stuff.
So that brings us to lunch. I know I was a little tired by this time and I bet Patrick and Cody were too. Hugh never gets tired, but he does need to stop and apply sunscreen now and again, so it was a win for everyone. We found ourselves a nice sitting area and took a well-deserved rest. This is what the scene looked like. I did not realize Hugh's legs were sprouting out of my ear.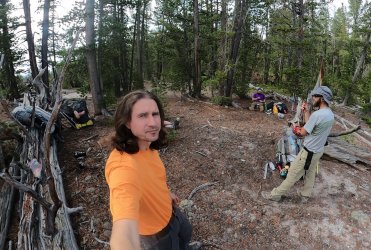 Luckily, I always take a second picture for good measure.
You'll notice Patrick looking a little uneasy in that previous image. His appearance is not without just cause. You see, by this time all of us were beginning to feel the weight of the extra food we had packed with us, and everyone was offering up to the group some of the denser items from their pantry to try and lighten the load going forward. Except for Hugh that is. He has hiked with me long enough now to know that I always pack extra, so he compensates by packing less and takes advantage of my overindulgence.
Patrick decided to make himself a burrito. A little bit of everything went into that burrito, and before long it was larger than anything coming out of a Chipotle. Here he is eagerly taking his first bite.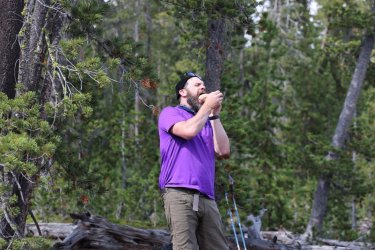 Patrick kept biting and chewing. I think Hugh was starting to feel uneasy.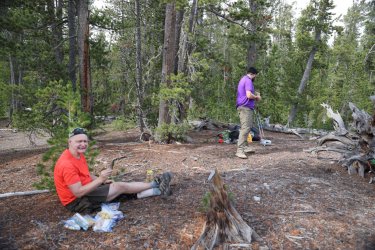 A close up of the contents of the burrito.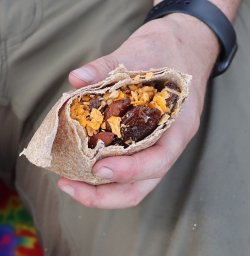 I believe at this moment Patrick is rethinking his choices. Either that or he is wishing he had some sauce.
Cody was still trying to peddle his energy bars at this time, so I ate one.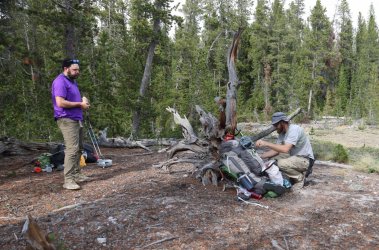 Patrick, feeling the grit of smashed up Cheeze-its and almonds as they scratched their way down his esophagus.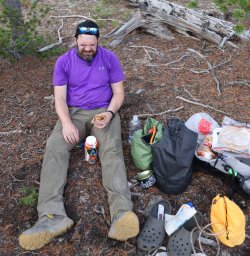 I would have liked to hang out at the thermal area the rest of the afternoon, but there was a long way to go to get to our camp for the night. Once everyone had sufficiently snacked and hydrated themselves, we headed off into the trees once more. There was another small thermal region Northwest of Bog Creek I had noticed on Google Earth and Hugh was gracious enough to plot us a path to it. It did not take long to reach; we emerged from the trees to find this bubbling hot spring. You had a preview of it on the little video from earlier. If you managed to watch the entire video that is.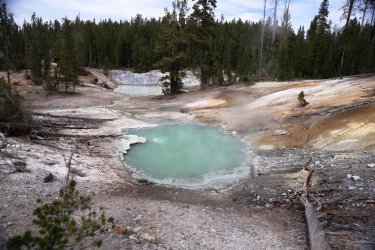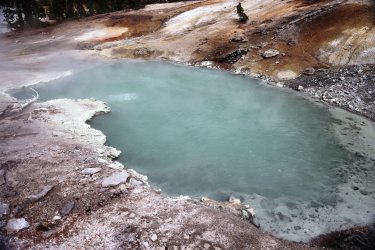 The hot spring had a much cooler neighbor.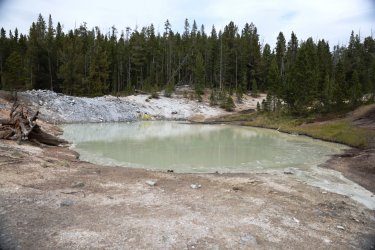 Hugh's course took us past several areas of somewhat dormant thermal ground.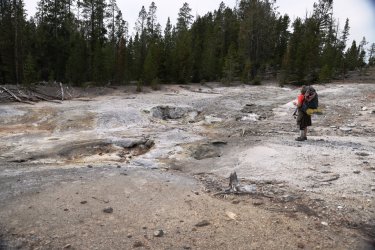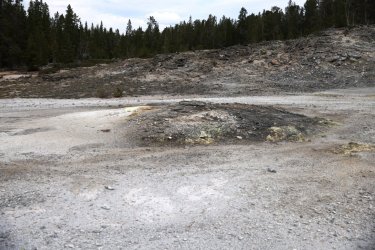 Then it was back into the trees towards the large pond South of the Moss Creek backcountry campsite.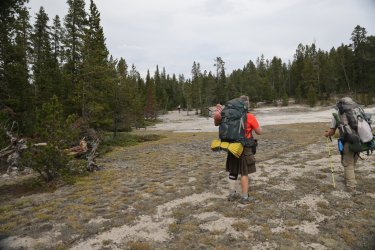 The next couple of miles were rather woodsy, so I did not take many pictures. We did come across this interesting small hillside spring.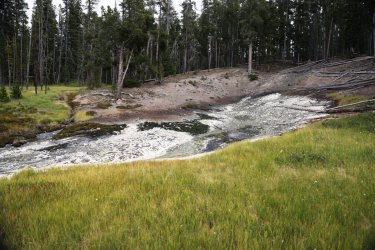 Not much of a view going forward. No offense Hugh and Cody.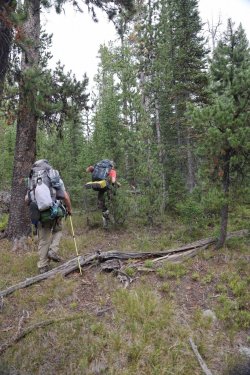 A little open relief as we neared the pond.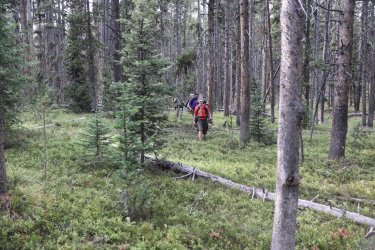 Small pond visible thru the trees. Hugh had planned this as a potential water filling point, but the shore was too mucky to allow access to good water.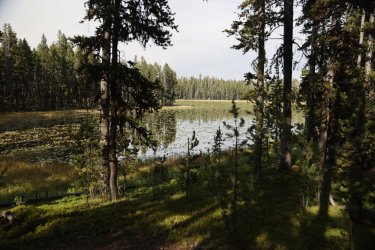 Hugh liked this pond enough to have his picture taken by it. It had everything he looked for in a stagnant body of water.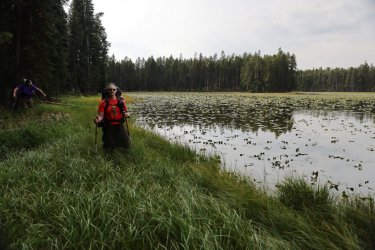 The next landmark after the pond was actually the Wapiti Lake Trail. Psychologically it was nice to encounter the trail even though we simply crossed over it -- at least we knew we were travelling in the correct direction. The trail has its own burden of downfall to deal with it seems.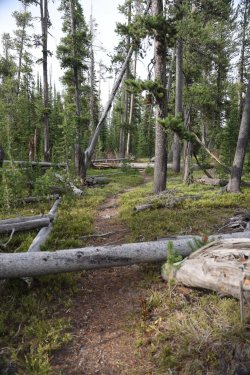 The campsite at Joseph's Coat Hot Springs has no official trail leading to it. Lucky for us Hugh has his trusty GPS to lead the way. An
@scatman
adventure cannot be labeled as "epic" unless there is the occasional incidence of hemorrhage.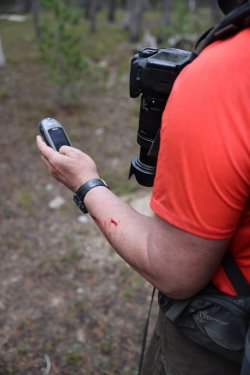 I'd say that Hugh led us back into the trees. . . but we never really left the forest since leaving the thermal areas.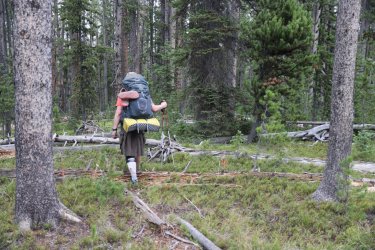 The occasional grassy patch was a walking treat.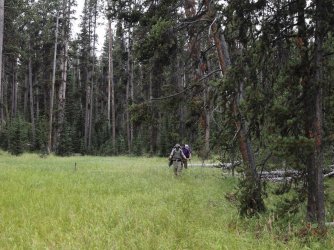 I could not tell if Hugh was just tired or if he was working on his macrophotography here. We just kept kicking him until he got up.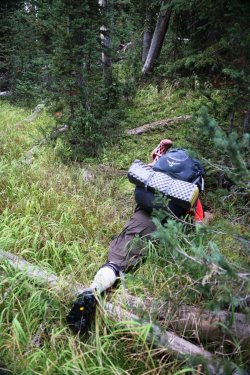 When we did emerge from the forest our group found ourselves at a small tributary that drains into Broad Creek. Hugh's route took us North of our campsite so that we might get a look at Joseph's Coat this evening. Tomorrow's weather forecast called for rain and he was not sure what visibility would be like.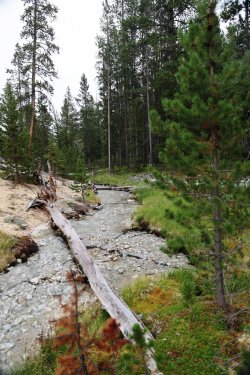 The tributary had many small waterfalls. . .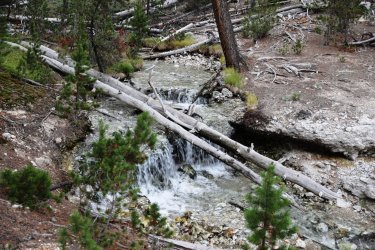 And thermal features associated with it.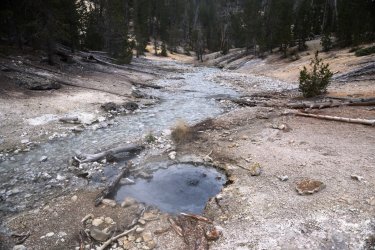 The trees gave way to open hillsides painted with color.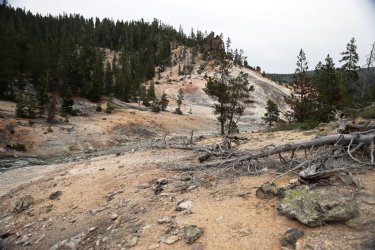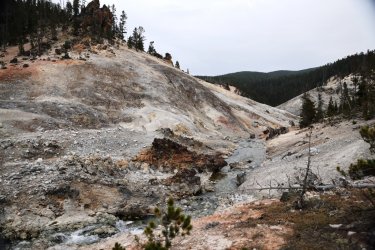 That is not a trail marker you see back there!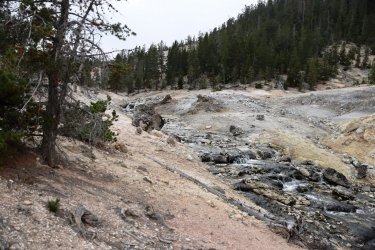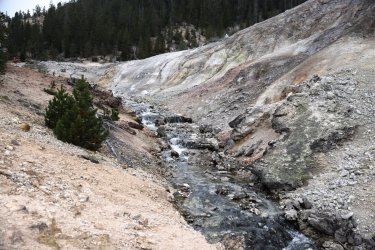 As the tributary approached Broad Creek the hillsides became even more colorful.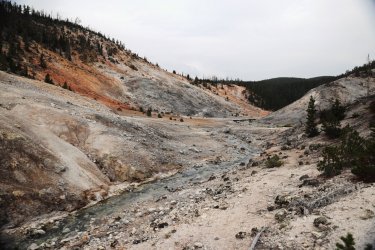 Broad Creek on the right. The steam is rising from a vigorous hot spring. I think it is simply called "Spring Number 2."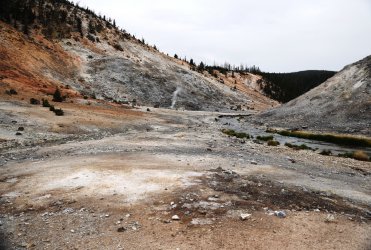 Our campsite is on the other side of those trees on top of the hill. I believe Patrick thought I was joking when I told him we had to climb the hill to get to camp.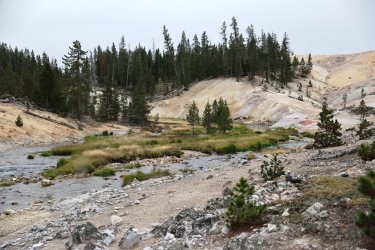 Patrick still not believing me at this point.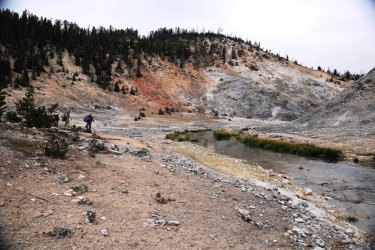 Making my approach. Broad Creek is quite scenic here.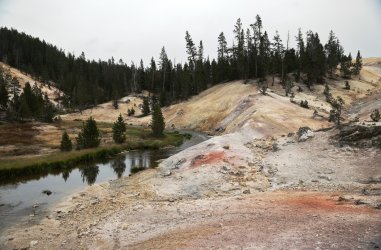 Reality is setting in for Patrick. Cody is following me up the hill.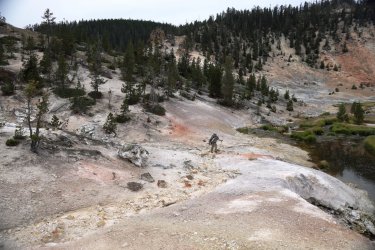 A pleasant backdrop for
@scatman
in Mosey Mode.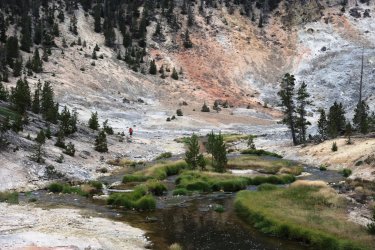 Almost there Patrick!
Campsite 4B1 is not very well designated with signage. Luckily there is a large bison skull at the fire pit to guide you in.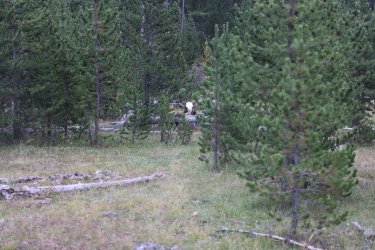 We quickly set up camp and by supper time it was dark. Hugh asked us why we set our tents up so close to the eating area. We told him that we thought it would be a better spot than near the elk carcass we passed on the way in. Hugh had not seen the carcass and had set his tent up not far from it. As far as I know he never did move his tent any closer to us. I guess he'd rather smell elk carcass than listen to me roll around on my sleeping pad all night.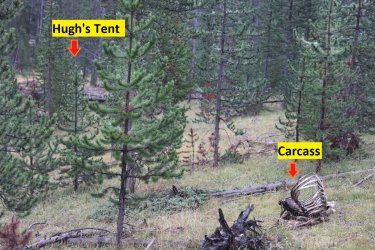 Day Two was an exhausting but enjoyable (for me!) day. Hugh and I were able to see some new-to-us territory. I already have a strong desire to go back and revisit some of the areas along Bog Creek -- perhaps in a way that is less intense that allows more time to take in the surroundings. I think Patrick and Cody were still happy to be along for the trip. They put in a good effort thus far and did very well considering what was asked of them. As Hugh would say, I believe Morale was still high at this point in the journey.
With that we will end Part One of this grand adventure. There are still three days to go, but one or two of those days have slightly less pictures due to events I have yet to disclose. I'll leave you with one last view of Joseph's Coat and Broad Creek. . . hope you've enjoyed what you have seen so far.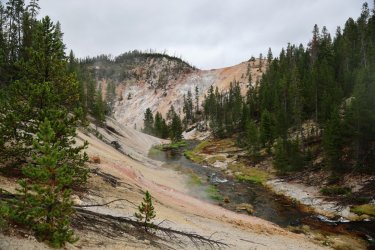 Last edited: