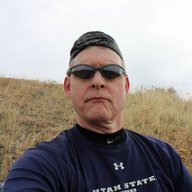 Joined

Dec 23, 2013
Messages

1,464
I've been looking forward to your version of events Hugh -- its always rewarding (or eye opening) to learn how the same story is told from a different perspective. I suppose it was a good thing that I unpacked my bear bells to save weight when I returned to/locked the rental car!

I had packed and offered Hugh a variety of snack foods to try and win over his good graces (and also hope they would clear the grasshopper legs from his teeth) -- he seemed indifferent to the Reese's Pieces, freeze dried strawberries, and StroopWafels. . . but I could tell I hit a homerun with the Circus Peanuts when Hugh declared he wanted to take one to the top of Mount Sheridan. Those peanuts would always be in Grandma's cabinet when I would go to visit her and I always looked forward to them. . . as long as they were the orange ones. The multi-color packs with white and yellow flavors just don't compare. I have never ordered anything from Amazon but a 20lb. box could be tempting. . .

Hugh your pictures are fantastic! I'm sorry I kept calling every red plant "fireweed" and that I ever expressed even the slightest doubt about your scat-trail -- you may just have to contact National Geographic to have them update their topo maps.

I'd love to make Aster Lake up to you in the future Hugh. . . and I'd be all in for a BCP member Yellowstone get together sometime in the future. I'm thinking I'd like to put Dunanda Falls or Joseph's Coat/Hot Springs Basin area on a future location wish list. Then there is also/always the Belcher region with Mr. Bubbles and the Pitchstone Plateau. . .

This trip would not have been the same or had the half the appeal without you Hugh and it was a privilege and an honor to have met.

I have yet to go thru all my pictures from this year's trip, but here are a few from the times when the Scatman was absent.
I liked all the food you offered, I've just had them relatively recently. The circus peanuts on the other hand........ well it's been at least 46 years. My wife's ancestors hail from the Netherlands so I've had plenty of StrropWafels, usually from Sheila's mom.
Um, you didn't hear this from me, but I think you might be right about the huckleberry.
Nat Geo is not getting their hands on the Scat Trail.