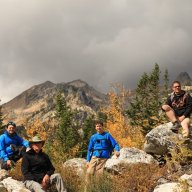 Joined

Aug 21, 2018
Messages

527
After hiking out and back to Yellowstone's Shoshone Geyser Basin last year I decided to try and make the jump from day hikes to once again spending some overnight time in the backcountry. I was striking out on finding someone to go with me locally so I decided to take a chance at PMing a BCP member with my thoughts/intentions. The guy here that seems to post a Yellowstone trip report about every other week is of course
@scatman
-- his TRs always have a good bit of humor in them too and I'm someone that likes to laugh. Familiar with Yellowstone Backcountry? Check. Suspect good sense of humor? Check. With those credentials how could I not message him?
I did just that in late 2019 -- a cold call PM introducing myself and throwing out a trip proposal for September of 2020. Not only did he reply but Hugh also expressed some interest in making such a trip happen. Over the next couple months I would send him a PM now and again to get the latest on gear, hear more about his experiences, and just get to know each other in general.
Before long the family back home learned that I would be spending several nights in the woods with a guy I met on the internet named "Scatman." When I say it that way I suppose I can understand some of their concern. . .
Somehow my brother found a guy (Josh) that he works with that wanted to take on such a trip as well. My brother's friend approached me about coming along and Hugh was good with it so now three of us would be heading off in the woods. As September approached life threw challenges at us that threatened to cancel our plans, but somehow we made it and hopefully I can lay out some of what happened here. Once this report gets posted
@scatman
can post his version of things to tell you what really happened!
Hugh and I decided that our destination would be Heart Lake. We met on Sunday the 13th at the Old Faithful area. I had booked a Old Faithful Lodge Cabin and made sure Hugh had a chance to take a shower/get a nights rest on a bed before our trip -- he had just finished several nights in the backcountry at Cache Creek. We had a designated meeting place and time but I happened to run into him an hour ahead of schedule. . . he was easy to recognize and looks just like he does in his pictures.
Monday morning we packed up and headed out to the Heart Lake Trailhead. . . this is where the picture part of the story begins.
I made everyone stop at the trailhead for a picture. Hugh is the one in the kilt and I'm wearing pants.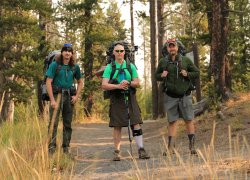 Trailhead Sign. Our day's destination would be Campsite 8H6 about 8 miles in.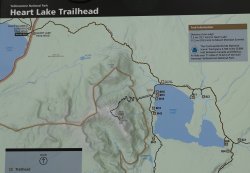 The trail out mostly runs thru forest growing back from the '88 fires with several old growth sections mixed in.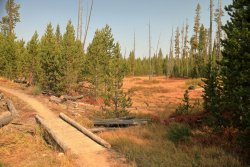 About 1/5 to 1/4 mile in I realized I had forgotten to lock the rental car so I went back to correct my mistake while Hugh and Josh moved on. Once I returned to the trail I noticed this vintage Budweiser can along side the trail. I set it up on a log to pickup on the way out but someone else must have grabbed it for me (it was gone on the way back).
Hugh and Josh were making good time as I did not catch them until the five mile mark or so -- that is when you start to come out of the woods and the view becomes more interesting. First view of Factory Hill in the distance: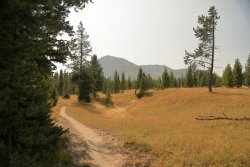 Before descending down to Heart Lake the view opens up to the valley below. Smoke from the wildfires was definitely present.
I'll admit that I'm a bit of an over packer and was starting to feel the weight of my extra luxury items at this point. Maybe I should have just packed Gatorade powder instead of the actual bottles of liquid. . .
Luckily most of the next 2.5 miles were mostly downhill. Crossing Witch Creek: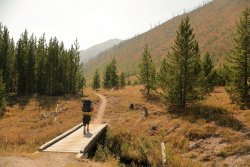 Interesting Thermal Features along the trail: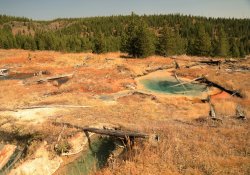 Trail marker once we passed the Ranger Cabin (no one home) at the Lake Shore.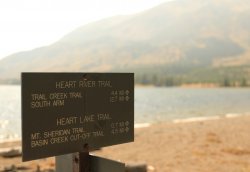 Another 1/2 mile later and we arrived at our new home.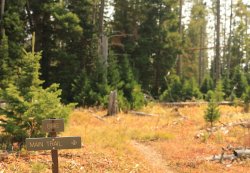 Am I wrong to be excited that our site has a pit toilet?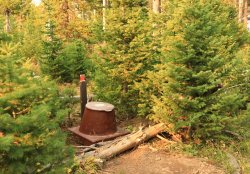 Settling in. I selfishly chose the tent site with a view of the water. I had slept on the floor the night prior after all (another story for another time). This site was perfect except for the very minor downhill grade that found me sliding towards the lake on occasion at night. Gravity be darned I was going to stick with this view and enjoy it!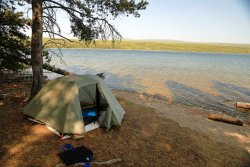 An evening walk before turning in rustled up a lone deer.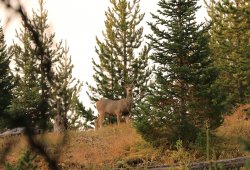 After supper Hugh wandered off looking for bear but came back with elk/deer sightings instead.
I'll admit that I woke up numerous times during this first night. . . but it was not because I was gliding across my tent floor. It was the Elk. Just as the sun would set the bugling would begin and it carried thru the entire night. Bugles were coming from all directions and it felt like an elk choir had gathered right outside our campsite. Good reasons to lay awake at night.
Sunrise the next morning confirmed I had chosen my tent site wisely.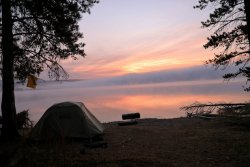 I tend to be an early riser and watched the colors grow on the lakeshore. A small flock of ducks would hang around our site during our stay and seemed to enjoy getting their picture taken.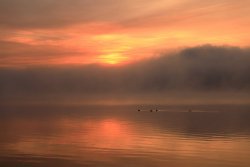 Monday's goal was to hike to the top of Mount Sheridan with a little off trail section to visit the Geyser Basin on the way down.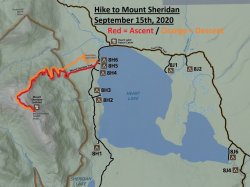 Josh was nursing some foot trouble today after the hike in so it would just be Hugh and I heading towards the top. I made sure to pack the essentials -- Jerky, Yogurt Cranberries, Reese's Pieces, and a taste or two of Buffalo Trace Whisky. There are also a couple of Circus Peanuts in the Reese's bag -- when I offered some to Hugh they seemed to bring him great joy. In fact I've heard that since he has been home he has gone shopping for them but has come up empty. I will let him elaborate more on the peanuts in his report.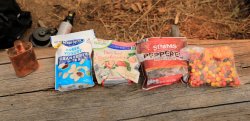 Trail Marker. Only 3.9 miles? No Problem!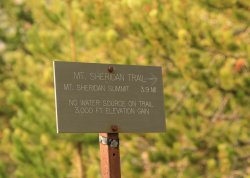 We begin the ascent. Hugh was a machine climbing up the switchbacks. Sadly I probably scared away any chance of him seeing a bear or other wildlife as I sounded like a freight train moving air in and out of my lungs. Hugh did stop for the occasional sunscreen application break and was always kind enough to wait for me to catch up.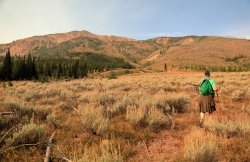 The lookout is just barely visible at the top.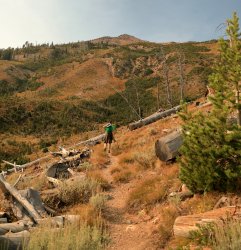 Looking back towards the lake and trail below.
Colorful drainage channel.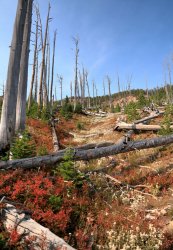 Almost all of Heart Lake is visible.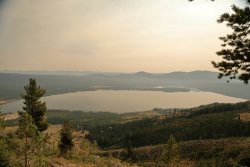 Patches of snow at the top -- probably left over from last Monday's storm.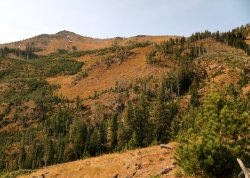 Ever wonder how Scatman captures all those great pictures for his trip reports? Wonder no more as here he is in action.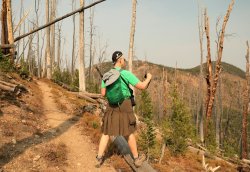 At least the smoke was light enough to get a good view of the lake.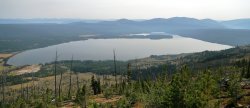 Every now and again I'd look up to see Hugh taking my picture. I told him to at least give some warning so I could suck in my gut!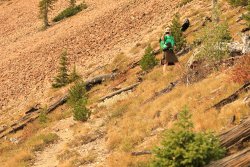 Around 9000ish feet the switchbacks really steepened as we entered a forested area. I would stop and rest a bit more often so as not to hear the heartbeat in my ears so loudly.
This little sign next to the trail (lower left) did not appear to have anything written on it. . . I wonder what information it once provided?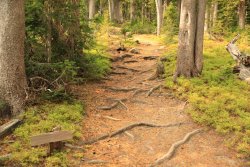 Looking back towards Factory Hill -- I believe that is West Thumb / Yellowstone Lake off in the distance.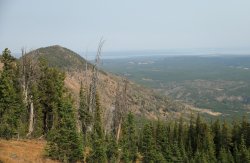 Taking a sunscreen application break.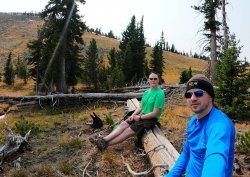 Making an impression.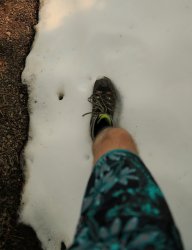 A spooky forest of deceased White Bark Pines stands just below the summit.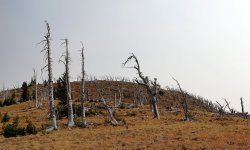 Hugh says the Tetons are out there somewhere. If I tilt my head and squint my eyes I think I could see them. Darn Smoke.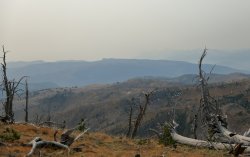 Final Push to the Top. Somewhere around here I think I told Hugh about my fear of heights.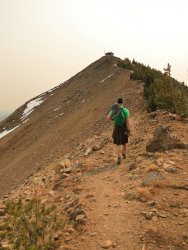 We made it! This was a great place to have lunch. Don't worry, the lookout is not tilted -- the log I found to sit my camera on is!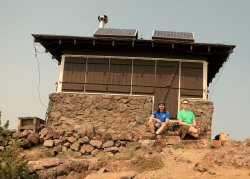 An image that will be etched in my mind for some time.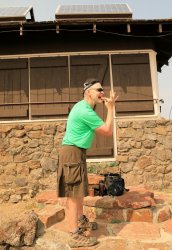 Heart Lake as viewed from the top of Mount Sheridan.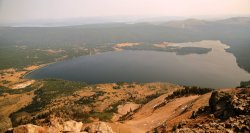 A goal of our descent was to eventually leave the trail and approach this portion of the Heart Lake Geyser Basin from the back. Columbia Pool is the blue water feature in the basin.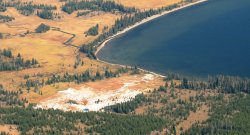 View on the way down.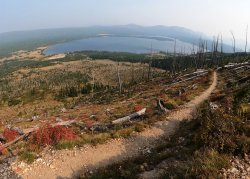 Hiking down was much easier on my lungs that going up. I also had a bit of and advantage as my knees are still fairly sturdy. This is the point where we left the trail and headed for the geyser basin down by the lake battling deadfall, boggy areas, and scratchy grasses to get there.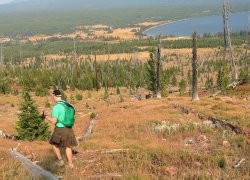 When we emerged from the trees the geyser basin lay below. Rustic Geyser is the small greyish blue pool at the far left -- just to the left of the group of trees.

Hot spring at the base of the hill.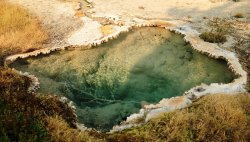 We were able to catch several eruptions from Rustic Geyser. It lasted about a minute with an interval of about 20 minutes.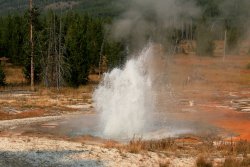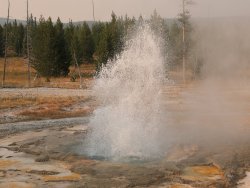 Colombia Pool holds some grim contents. . .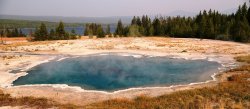 The bones of hikers that got too close. . . . ok, they are probably animal bones.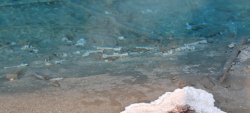 After geyser gazing we headed back to camp.
I washed up and made another Mountain House Meal for supper -- I believe this evening's selection was Chicken Teriyaki. Normally I sort of wing it when I cook and had been feeling the effects of incompletely rehydrated food from the days before. I made sure to get things right this evening and had a much more comfortable nights sleep. The elk were bugling again this evening but seemed to be more sparse than the night before. The elk would not keep me awake on this night but another critter would. . . sometime in the early morning hours a Coyote let out a number of howls for what seemed like a good minute. The awakening part was the fact that it seemed to be right outside my tent -- I was hoping that Josh or Hugh had not snuck one of those peanuts in my area so as to try and steal my tent site should I move.
The others heard the Coyote as well. . . Hugh agreed that he must have been feet away from me.
Wednesday's goal was to hike around Heart Lake. Hugh knew of a super secret Scat-trail that cut across the south side of the lake. I drew that portion on the map below. . . but I do not believe my rendition is accurate.
I'll leave Hugh to divulge his secrets in his report should he want to. Josh's feet were feeling better so it was nice that all three of us would be heading out together.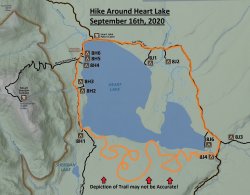 Before heading out I was up early as usual. This morning a heavy fog had set in over the lake and our campsite.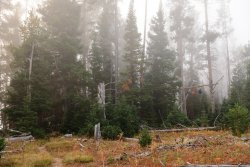 I started my breakfast while Josh and Hugh were out wandering around in the fog. Today's offering -- Biscuits and Gravy.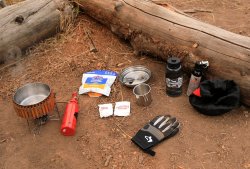 I woke up like this. . .
Anyone need any extra paracord?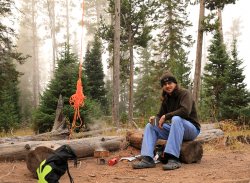 Hugh and Josh contemplating the big questions in life. . . like where did the lake go?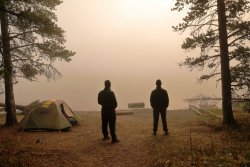 After breakfast the fog started to burn off and we began our hike heading South along the base of Mount Sheridan.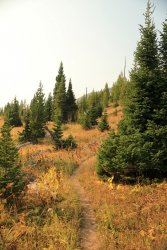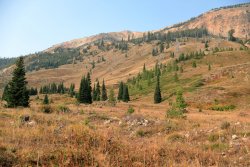 One thing I learned about Hugh is that he loves a good drainage. His Scatty-Senses always started tingling when we would pass by one and he would always ask: "Where does this drainage go?" to which I would usually reply "Up." or "To the South."
I will admit the little waterfall in the upper reaches of this one caught my curiosity and I was wanting to go up there and check it out myself!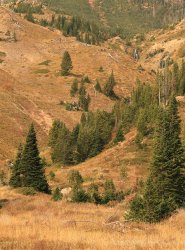 Hugh also kept mentioning he smelled a pungent odor along the trail and proceeded to sniff nearby plants to determine the source. I'm just glad he thought it was the plants and not me!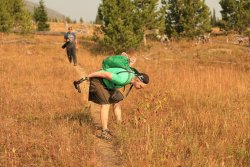 Heart Lake was very still this morning and provided for some nice reflections.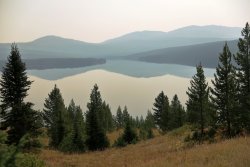 Continuing to head South.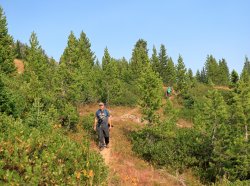 Mule Deer stopped to pose for a photograph.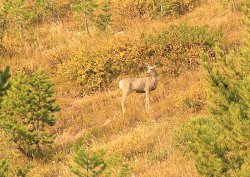 This was the beginning of the super secret Scat-Trail. I was slightly skeptical but had full confidence Hugh knew where he was going.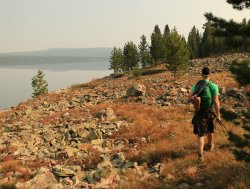 What do you know? There appears to be a trail out here after all!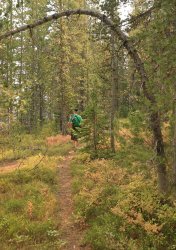 The scat-trail delivers. Unfortunately this scat would be all that we would see of a bear today.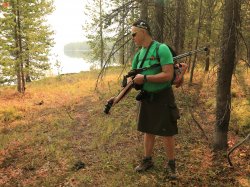 Loon watching us from the lake.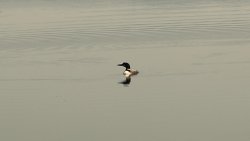 The stony beach would occasionally be our path.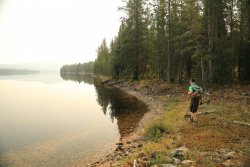 But we spent a good amount of time amongst the trees.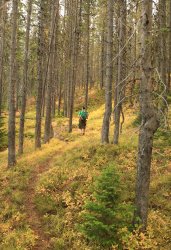 Approaching the narrowest area of the lake -- lunch was planned for the little peninsula in the distance.

Looking back at reflections of Mount Sheridan in Heart Lake.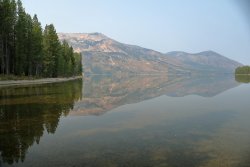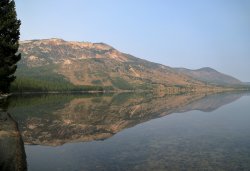 Just before stopping for lunch I found this Banquet Beer Can on the Southern Shore. Before crunching it down to pack it out I couldn't help but notice it appeared to have a critter chomp on the side of the can.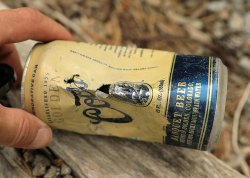 Small blue flower on the lakeshore.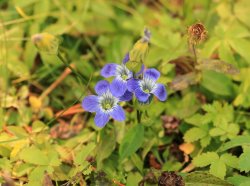 Lunch on the South Shore of Heart Lake. Don't we just look like a bunch of happy campers?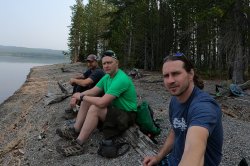 Its officially a good hike when the Scatman starts bleeding!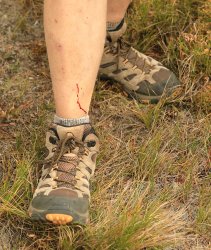 Soon Hugh's trail ran out and we found ourselves looking at the Heart River. No where to go but across!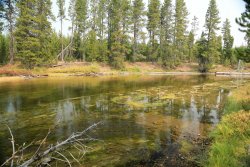 Josh and I sent Hugh across first to find any big holes on the river bottom.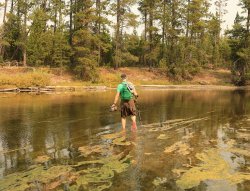 Self portrait of sorts.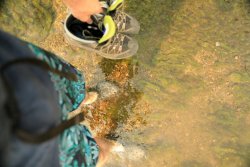 Josh following closely behind.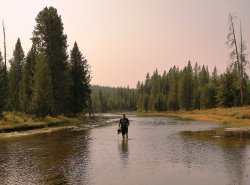 Once on the other side we needed to find a way to get back to the Trail Creek Trail and head north. While Hugh consulted the map I climbed the river bank. . . found it!
Trail Marker telling us we were on the right track.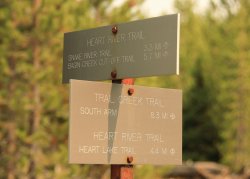 The Trail Creek Trail along the Eastern coast of Heart Lake is mostly new growth forest growing up around a lot of deadfall. A LOT of deadfall. I feel sorry for the crew that had to come in here and cut the path back through.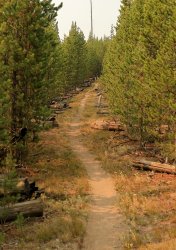 After several miles of walking, one snack break, and passing several hikers later we made it to the Northern part of the trail and crossed Beaver Creek.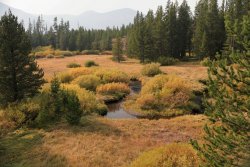 Eventually the trail turned to lakeshore the rest of the way back to camp.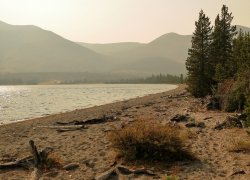 After supper the elk seemed to return in greater numbers this evening but were still not as close as they were on the first night. I actually slept in till 7AM or so with no new animal sounds (other than a Loon) to wake me up.
Our original plan for the hike out was to make a side trip off trail to visit Aster Lake. There were various factors involved but I will take the responsibility of crushing Hugh's dream to visit the lake. . . I was not sure that trying to maneuver off trail and over all that deadfall was a good idea with my full pack on. I was already wobbly on occasion and could just see myself falling over and looking like an upside down turtle trying to get up. Put a day pack on me and I'm good to go -- should you want to try a revisit in the future Hugh I'm willing and (hopefully) ready.
Instead we took the boring, regular trail back out to the trailhead.
One last picture near the Ranger Cabin before heading out.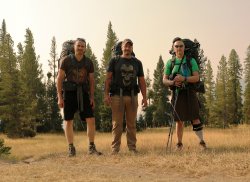 Along the trail we noticed these paw prints. We thought we may have heard the howls/cries of wolves. . .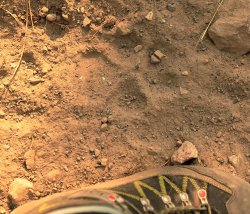 Desperate for a wildlife sighting along the trail. . .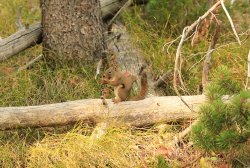 This was the point where we would have emerged from the woods after visiting Aster Lake (according to High's GPS). I can see the disappointment on the Scatman's face. I drew a line across the trail with my foot so we knew where to start from next time.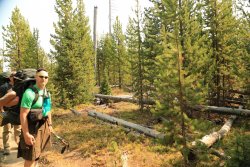 One last shot from the trail.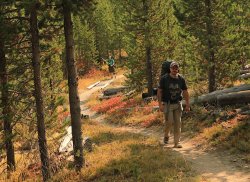 Our last group shot as we returned to the trail head.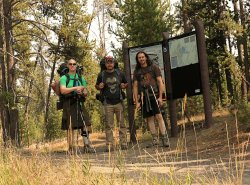 Before we parted ways at the trail head (Hugh headed home, Josh and I had a couple more days in the park) Hugh presented me with an honorary water bottle to commemorate our trip. I will have to provide a picture of it in a later post. . . right now I have it on display with all my other collectables. He somehow found a bottle with my favorite colors and has a map on the outside with our hikes hi-lighted. Its almost too nice to use! It sure outshines the new pairs of Wool Socks I presented to Josh and Hugh earlier on as a trail-warming gift!
All in all I hope Hugh and Josh had a good time because I know I did. Several purchases that I made for this trip that I do not regret are a pair of crocs to use as camp shoes (and for water crossings) and my roll up Crazy Creek Camp Chair that kept my bum off the ground when relaxing. I could have left my solar panel in the car. . . but that was only because I forgot the cable to connect it to my phone/camera/etc.
Thank you
@scatman
for replying to my initial PM and taking a chance on spending a couple days with two flat-landers from out East. I hope we did not slow you down too much and I'm glad we were able to offer you a variety of culinary delights to tempt your palate beyond the basics of "average" camp food. I do hope our paths can cross again some day!