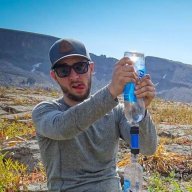 Joined

Mar 10, 2015
Messages

96
Very strangely, exactly one year ago today,I came on here asking for help with a trip to either Yellowstone or Glacier. I ended up going with Glacier and it was an incredible trip, absolutely amazing! Did 50 miles over the North Fork area over 5 days and loved, just about, every minute of it.
Now I'm once again looking for help with another trip. I would love to be able to do a trip to both Yellowstone and the Tetons later this year, perhaps late June again but preferably mid September. My main problem is I cannot find any good trail maps that have mileage included on them, so I'm struggling to figure out what my options are for a 3 or 4 day hike in each park.
You guys all helped me out last year so lets see if you can come to the rescue once again!
I guess I'm looking for a map that would help me or other people's itineraries that could also help. Thanks!