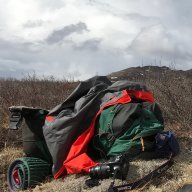 Joined

Dec 11, 2015
Messages

1,604
Since the trips with my in-laws have been mentioned in this thread I thought I would provide an update. We did end up meeting my in-laws in Yellowstone in mid October, unfortunately no camping because Madison campground was closed early. We had received assurances from Kim's mom that they had been taking precautions to stay covid free, even avoiding the grandkids.

We stayed in a hotel in separate rooms, ate in our rooms with food we brought. Our hikes were on trails where we saw almost no one, and I also spent time fishing and that was fairly secluded as well. We had a really good time, but towards the end of our trip Kim's dad wasn't looking so hot. He was trying to suppress a cough, and was freezing all time time. We decided at that point to call it a trip, unfortunately it was too late. Kim encouraged them to go get tested for Covid when they got home and they both tested positive. Shortly after arriving home both Kim and I ended up sick. We both ended up with Covid. Kim had a fairly mild bought but I was flattened for about a week with my fever spiking at over 103. I also still have the remnants of a cough almost a month later.

We found out that Kim's dad had gone hunting with some random guy he knew from their gym. While he wears masks at the gym we found out he didn't wear a mask while driving to the hunt or while hunting.

While we thought we were being careful our one slip up was enough for us to get infected.
Wow, sorry to read of the Covid news for you all. Hope you all have a successful recovery with no long-term effects.