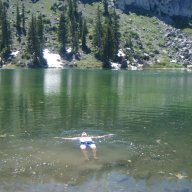 Joined

Apr 27, 2016
Messages

483
Finally, something we planned that actually worked out. I made the reservation for the Grant campsite in January. We have had to change or cancel a lot of plans, just like everyone else. We decided that as long as we stuck to our plans for Yellowstone and took precautions that we would take the trip.
Day 1
We headed up through West Yellowstone on the 18th. As we entered the park we could tell it was going to be crowded. As we drove past boardwalks on the way to our campsite all of the overflow parking spots were filled with cars lining the roads. Throngs of people packed shoulder to shoulder walking boardwalks, with mask usage at less than 50%.
We checked in at the Grant Campsite and set up camp.
After setting up camp we took the short drive to the Riddle Lake trailhead. On the way in we passed 3 groups of people and everyone pulled up a mask as we approached each other on the trail.
We reached the lake and continued finding our way to the inlet where Solution Creek enters the lake. I was trying to fish but with the wind and the large amount of lily pads it was a bit difficult.
On the hike back my wife kept noticing these little frogs right along the waters edge.
We saw no other groups on the way out, but started getting swarmed by mosquitoes, and quickly realized that the repellant was left in the truck.
We got back to our campsite and finished setting up camp while I grilled a couple of steaks. We played a game of cribbage and I finally defeated my wife. She was't very happy about that, I have never won before. We went to bed and were woken up at around 11:30 by people arriving in the campsite next to us.
Day 2
The neighbors being so loud when they arrived and for a couple of hours after made me not feel so bad about the noises I made being up cooking breakfast and preparing for the day at 6 a.m.
We drove to the Lewis Channel/Dogshead trailhead. There were a couple of cars in the parking area and while we were getting ready to head out a couple more pulled in but quickly left. The day started out a little drizzly but it was a light rain and a very pleasant temperature. We decided to do the look clockwise heading toward the Lewis Channel and returning via the Dogshead trail.
It was a nice forested trail with lots of chipmunks and squirrels running around. While we were hiking I caught something out of the corner of my eye and we noticed a very curious weasel that was running over, under, and around a downed tree to keep and eye on us. We watched it for a little while and then decided to move on.
There is a nice spot where the channel starting at Lewis Lake looks amazing. We were moving to take some photos and discovered a pair of skittish marmots on the rocks. We decided to just snap a couple of pictures and not disturb them.
We started heading up toward Shoshone Lake. I pulled out the fly rod and decided to try my luck at various areas along the channel. We saw a few people kayaking and canoeing the channel and my wife and I both thought that it looked fun. It is something we will check into for another trip.




I had no luck fishing. I had been told that the channel doesn't really have a population of resident trout and that the prime fishing in the area is in October when brown trout move into the channel. We ran into a couple of day hikers and a small group of backpackers, again if we were passing close on the trail everyone pulled up a mask.

We arrived at Shoshone Lake and ate lunch sitting on a log before heading back on the Dogshead trail.




As we headed back on the Dogshead trail we started to feel the weight of the dayspacks a bit. With the wandering around fishing we had been out for quite a while. The Dogshead trail is back through forest, but the sun had come out and there were a lot of open spots so it was pretty warm. By the time we got back to the truck we were beat and with all of the wandering around fishing we had gone almost 13 miles.

We returned to camp and relaxed a bit and then had dinner. It started to rain and we headed into the tent. It was nice to have all of the space of the REI Basecamp 4. We played cribbage again and my wife made up for her previous night's loss by skunking me. This trip was the first since breaking my back last year that I had slept in a tent. We had some low cots with our sleeping pads on them and it was very comfortable. I slept great the second night due to the combination of the long hike and wearing ear plugs.

Day 3
We slept in a little longer and woke up and started packing up while preparing breakfast. There was a lot of smoke in the air. We thought that it was from campfires, but as we drove through the park and started heading toward the Gibbon River it was still smoky and it seemed to be getting worse as the day progressed.
I wanted to try fishing a bit more so tried a few places along the Gibbon River. I am not a very talented fly fisherman and probably spend more time untangling knots than I do fishing, but I was still enjoying myself.
Kim was hanging out reading or playing with the cameras, sometimes filming me fishing. It worked out well because she got video of me catching a rainbow.



We ate lunch at the Gibbon picnic area overlooking the river and then headed out of the park towards home. The smoke in the air thickened as we drove through Idaho and arrived home in Utah. We discovered that smoke from fires in California was blowing in. We also discovered that a fire started by lightning in Yellowstone later caused the closure of the road between Old Faithful and the West Thumb due to smoke, so we had good timing in leaving via that route.
We had a great time and for the most part were able to avoid people by avoiding the boardwalks and limiting interactions wherever we went.