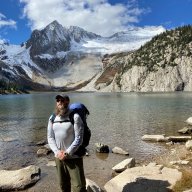 Joined

Feb 14, 2023
Messages

91
Congrats on getting your sites for your trip. You are going to have a great time. You know, it's not very difficult to follow the Yellowstone River, and then Thorofare Creek, from 6Y6 to 6T1, if you are interested in some off-trail adventure. Did you decide on popping down to Bridger Lake while you're back in there?
I've heard that people travel off trail along that general stretch of river, I might consider traveling down that way.
I definitely plan on heading down to Bridger Lake, since that will be such a short day.