Joined

Oct 30, 2016
Messages

936
This trip had become something of a backpacking white whale for me. I'd been eager to try winter backpacking and Rocky Mountain NP seemed a safe-ish destination for a first-timer. Only a couple hours from home, plenty of people milling about within a few hours of pretty much any spot I'd want to visit, and rangers and rescue relatively close at hand in case things went sideways.
Shortly after the New Year there was a nice window of weather forecast so I took a Friday off and ran up to the park. The weather looked good enough that I brought a regular 3-season tent, albeit an older 2-man that I thought would provide some extra room and stand up to conditions better than the ultralight Copper Spur.
Between confirming the pleasant forecast Thursday night and checking in with the wilderness office Friday morning, things took a radical turn. The winds were screaming when I parked at Bear Lake, and it was immediately obvious that I was under-geared. I spent a few hours messing around, but ultimately bailed out and headed back home.
This would be a recurring and utterly frustrating theme, and one that drove home all the sayings you might have heard about fickle mountain weather. With a bit of government incompetence to break the monotony, the additional planned outings went like this:
2nd attempt - the government shutdown
3rd attempt - nice weather night before, 90mph gusts forecast upon waking
4th attempt - nice weather night before, pulled off highway about 45 minutes into the drive in order to scrape the ice off my windshield/headlights and turned around
So this was my 5th attempt! Finally the forecast held (initially) and I arrived to a pleasantly warm day under Colorado bluebird skies. Temperatures were in the low 40's at the Bear Lake trailhead, and winds were forecast to stay under 40mph gusts above 10,000 feet.
Bear Lake is a zoo no matter the day or season, so I didn't bother taking any photos until I was about half way in to the hike. The route is a little over 3 miles one way, with most of the thousand feet of elevation up to 10,600ft slogged out in the first mile or so of pleasant forest hiking.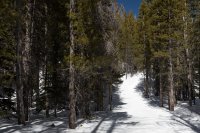 The snow was a few feet deep from the start. A narrow packed trail had been pounded out for most of the way, though stepping off it by just a few inches would result in a thigh-deep posthole.
Eventually you start moving through more open areas and the park starts delivering the views. Here Hallett Peak makes an appearance.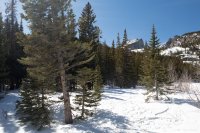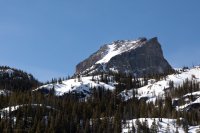 The park's map for the winter trail version of this route is dotted with 'high avalanche risk' markings. I had been told there hasn't been an avalanche in the area for as long as the park has been around. I don't know if that's true or not or if the park's lawyers had a hand in marking up the maps. Still, a number of areas that the path ran across were on or under slopes far steeper than 40 degrees, and the entire trip basically rides a north facing slope for the duration.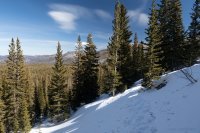 Apparently a favorite with backcountry skiers, this is Banana Bowl. The winds picked up here. I also switched to snow shoes, in large part because the winds and blowing snow made it very difficult to pick out where the hard pack would be found.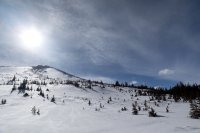 One of the interesting aspects of winter camping at RMNP is that they expressly forbid you from using the camp sites you are otherwise forced into the rest of the year. You get a permit for a drainage and are free to camp anywhere else within it. So while this trail would normally bring you past the Sourdough campsite, the winter version of it drops down in to the drainage and beelines towards the lakes beneath Notchtop and Flattop.
A couple miles in and Notchtop rises on the horizon.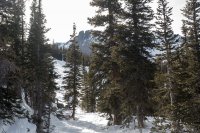 A few more sketchy slopes to cross. They look mellow in the pics, but I brought an inclinometer app (noob trying to learn) and they measured steeper than 35 degrees in spots. This one and the one past it appear to be talus fields, so maybe that makes the snow pack more secure.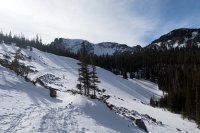 Nearing the lakes the trail follows the bottom of the drainage itself.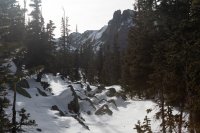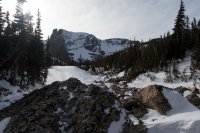 Captain Ahab cracks a grin as the whale is now within reach.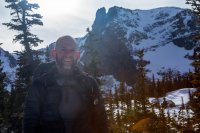 Two Rivers lake is the first of a series of lakes sitting below this area of peaks. Notchtop is in the background, Flattop is out of frame on the left. The lakes are frozen solid.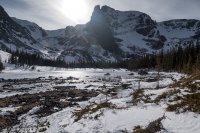 A look back across Two Rivers lake.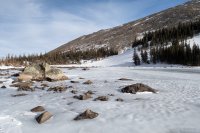 With a late start and a lot of stopping to look around, I arrived at Lake Helene with a couple hours of daylight left. Snow here was piled up in large drifts, and the low points were still over five feet deep. The wind was kicking up quite a bit and skies were clouding over, and I knew based on what I'd gone through just trying to get here that the forecast the rangers had given me for the night and the next day (mellow temps, sunny, low winds) was out the window already.
I had brought a shovel along and dug out a tent platform. After getting blown out of the park on my first attempt back in January, I'd ordered up a solution to my tent problem and purchased a Hilleberg Allak, 2-person 4-season tent. Stupidly expensive, but they have a reputation for being portable bomb shelters and I plan to get my money's worth out of it.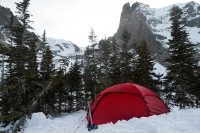 I thought I had a pretty good wall of (living) trees around me and a decent snow berm on one side.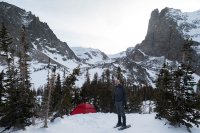 This was the big sunset moment... Unfortunately this trip didn't deliver much eye-candy as far as golden hour photos.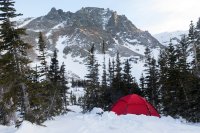 True to what I had read, everything took a lot longer than normal. Getting the camp site prep'd and the tent set up, melting snow and then waiting for what seemed an eternity for it to boil so I could make dinner and drinks - before I knew it I was sitting inside my tent in the dark.
Overnight was quite the experience. I learned that my go-to NeoAir Xlite pad was warm enough to use on snow but, unlike warmer times when dropping an elbow or a foot off the narrow pad doesn't really do much harm, falling off the thing and touching the 'ground' was immediately a very bad (cold) thing. I toss and turn a lot while sleeping so I was falling off it constantly. It won't be making another winter trip.
While that wasn't so bad, I ultimately ended up getting less than two hours sleep due to the wind. About 1:30am the winds changed. Things would be dead still, in the distance I could hear a roar growing louder and louder, and then a freight train would just pummel the tent. Over the next few hours, this would repeat two or three times a minute. The tent held up fine, I never had to go tighten guy lines or anything, but my god the racket. So, so loud.
At 5:30 I stopped pretending there'd be any sleeping that night, and got up to try and catch some sunrise photos. I cracked open one side of the tent and saw gray skies behind and snow falling in front of Notchtop. Looking east out the other vestibule, it looked like there might be some hope. So I got myself together and ventured out.
The picture below (I believe this is Little Matterhorn) is the entirety of the morning's show. For a fleeting few minutes a ray of dawn light broke through the clouds and lit the face of the mountain north of me. That's Lake Odessa sitting at its base.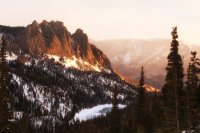 I had hoped to get a better picture of Grace Falls (the blue patch of ice seen below). Grace Falls is an accumulation of frozen seep that builds up over the winter. This winter has had so many warm days that a lot of freeze/thaw has resulted in an abnormally large 'falls'. It's a stunning cold blue in color, but probably not looking its best under the flat gray light of the coming snowstorm.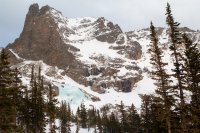 So I packed my things up. Temps had warmed to 20F, but the wind was still screaming. I was happy to get moving just to stay warm.
The hike out was a very different scene than the day before.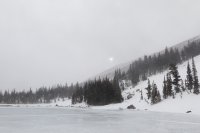 Notchtop had nearly disappeared as I turned to take a look back.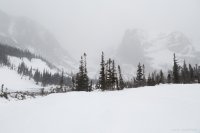 All signs of the trail had been scoured away overnight.
What a crazy day to be hiking through this winter squall in the morning, and then 4 hours later driving around in near 70 degree weather under blue skies wondering if I should pop the tops off my Jeep.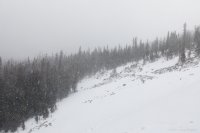 I'm very glad I finally got to do this. I hope to break in to actual mountaineering at some point, so I was happy to get some backcountry alpine experience in conditions like these.
Trip vid:
Last edited: