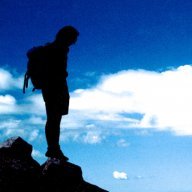 Joined

Jun 25, 2012
Messages

4,415
Winds Crossing - Part 1 - Route Finding, Grizzlies & Deadfall - Wild!
This August, 2013 saw my mates and I finally bite the bullet, pay the indian rez. fees and walk into the northeast corner of the Wind River mountains. After 25 years of Windies exploration it is the last major chunk we had not yet seen. If you examine the terrain in the Google Maps Terrain View route map below you can see that it is probably the most rugged large chunk of the Winds. Guarded by the Wind River Indian Reservation it is logistically challenging and expensive to visit from the east. The Reservation can be bypassed by tacking on a day or two's worth of mileage onto both ends of your trip, except for the last 1/3 of our route, which is solely on the Reservation. Sounds most attractive, doesn't it?
Since Nancy Pallister published "
Beyond Trails in the Wind River Mountains of Wyoming, Off Trail Routes for the Advanced Backpacker
" most of our route segments are now published but our route doesn't coincide with any of her full routes in entirety. Our route is not to be underestimated. I recount this trip with the necessary caveat that traveling this section of the Winds requires expert backpacking skills as Ms. Pallister also states. Advanced route finding, contingency planning, bear country skills and experience traversing difficult and high-angle terrain efficiently are all required in your team or in yourself. There are two places this soloist wouldn't traverse by himself: the Upper Bull Lake Creek drainage, due to grizzly bears, and Bloody Hell! Pass, due to objective hazards (more later). That said, WE did it! So it can't be all that hard. I rate the route 10/10 for the Wow! factor and 10+/10 for the grueling factor. I think that many of you BCP'ers can manage, even thrive, in this area but many backpackers couldn't and shouldn't without help and/or training. As I said in my other trip report
here, of a similar route
, Caveat Emptor, your mileage will vary.
STATISTICS
9 days, 82 miles, 4 days with no human-sighting, zero days without animal sign, 8 nights of semi-exhaustion. Food and time remaining when we got to the truck and the beer – near zero. Smiles all around.

UPDATE - Part 2 of trip report
-
http://backcountrypost.com/forum/threads/2013-winds-crossing-–-part-2.2579/#post-29113
ROUTE MAP w/GPS track
View larger map.
AND THE REPORT...
The road into the trailhead was mucho exaggerated regarding its technical difficulty by the indian "guide". It was nice to have someone drive you up to the Cold Springs trailhead however to start high at 9,500'. Our put-in truck was left at the guide's house in Crowheart north of Lander. The drive in is on beautiful open benches.
Requisite wilderness sign picture. Within a mile from the trailhead you leave the reservation and are on public land – the Fitzpatrick Wilderness – w00t! My dear friends Danny and his daughter Elizabeth pictured. One of my first memories of Liz was carrying her in my backpack part of the way into Shadow Lake in the S. Windies at the age of 4 or so. She turned 20 on this trip.
Going that way! I put my second lens down from my Loomy M4/3 here and promptly left it. I returned later that day from camp running back down in the twilight and back up to camp in the dark. A 4 mile, fooly-boy-oops, damnation!
We immediately had to start working on trail and route finding. The indian reservation and the Fitz trails are in very much disrepair. Elk were everywhere. Bear sign was relatively common. This is our first view of the first crux pass. North Indian Pass – one of three or four Indian Passes in the Winds. From this pass we could see the most famous Indian Pass above Indian Basin/Titcomb Basin about 20 miles away.
30 minutes later we got whumped on. Fellow BCP'er
Nick
was, at this exact time, nearing Titcomb Basin 30 miles to the west and got whumped on as well. We had to hole up for half a day due to weather. Camped here at Rocky Lake. The elk grazing all around us after dark were mewing in contentment.
Rocky Lake was much less threatening the next morning.
We made North Indian Pass the next morning and this is the view of the Continental Divide from about 20 miles away. The glacier in the center distance under the Divide is Knife Point and it's right side guards the famous Indian Pass. We are looking down into the North Fork of Bull Lake Creek. Grizzly country. The first crux section that I wouldn't solo due to the bear risk. Once we crossed the timbered area in the center and walk up the Knife Point creek, the classic glacially-formed valley with sparse timber, we turn left and enter "Shangri-La" if, if, we can cross the glacial rivers draining the Knife Point and many other glaciers. View direction here is west/southwest.
Looking south from the pass. The North Fork again. Bear country and mosquito country, I imagine, due to the marsh and wetlands although we didn't experience them on this trip. I never once installed DEET. Pallister reports that this drainage is one of the most difficult to descend due to bears, deadfall, cliffs and one big-as!@! Bull lake in the way. Not a route for our contingency/escape planning.
An "attitude" picture
Looking down the trail-less descent. Plenty of deer and elk traffic. As I've said before, anywhere a deer or elk can go I can go. Mountain goats, not so much, without ropes. This was actually mostly scree of the perfect size for glissading. Liz had some trouble due to the steepness but persevered and gained mountain experience at the same time. She is tough!
Looking up at the pass we just descended. Easy for a mountaineer or mountain-savvy hiker.
Looking across the N. Fork forest and up the Knife Point Creek drainage. Now the bears and the river crossings were the great unknowns.
Turned out we surprised no bears due to loud, bad, singing and the white water, well, wasn't. Crossings were easy in our crocs and were great first time training for Elizabeth.
Then, aptly named Shangri-La!
This section, Shangri-La, epitomizes the high-altitude alpine tundra that I cherish of the Wind Rivers and why I keep coming back. Travel is easy and fast in terrain that is covered by snow 9 months of the year. The plants here have to work hard to grow and reproduce with just a 3 month growing season.
Now we have climbed out of Shangri-La to Bloody Hell! Pass. This is the technical crux and the second place on the trip I wouldn't solo. It wasn't difficult due to the climbing. Rather, the objective hazards abounded with huge, 1000' talus and moraine slopes hanging above you and the need to traverse a lake shore with house size and Volkswagen sized boulders which rocked and rolled. A soloist died here in the late 90's by getting pinned. His dog walked out. He documented his 10 day demise in his journal and it was reported in an Outside magazine article that is easy to find on the web. I refused to read it before I left and have read it since my return. Message: objective hazards are not controllable. You have to minimize them and then play the cards you are dealt. Elizabeth had just a little trouble traversing the pass and the lake. She had to learn to climb this 20 degree ice slope with an inch of snow on top. She learned how to self arrest with your hands and feet. In reality it was straight-forward and the snow/ice slope was a pleasure to ascend instead of the dang boulders.
Sun cups made it easy. Natural steps in the dark spots.
We made Bloody Hell! pass and are now standing at the pass looking down at the real crux. Passing the unnamed lake on it's left in this view. Bloody Hell! The soloist perished lakeside. The beautiful ridge on the right is the Brown Cliffs. Yes there are climbing routes established on the Brown Cliffs. As you can see we had this day and one other that were badly impacted by Idaho fires. We moved very slowly through this area.
Looking up at my friends descending to that unnamed lake. Nothing too serious for climbers who spend a lot of time in these environs. Liz was a little unnerved but stayed focused and pushed through.
Made it! Now the most difficult cruxes were behind us. N. Indian Pass, grizzly country and Bloody Hell! But we were about 1.5 days behind schedule already. Fortunately we picked up our pace and the weather stayed stellar for most of the rest of the trip. Brown Cliffs in the background. Bloody Hell! out of view to the right in front of them of the Cliffs.
Taken at Bearpaw Lake (our name). Essential components of any quality wilderness trek – pepper spray, a stability-supplementing walking stick and a clavicle from Alces Alces. This was my favorite camp spot of the trip.
Bearpaw Lake sun stars at sunset.
Bearpaw Lake's views
Bearpaw again. Thanks for the wind shift to move the smoke out.
Up until now we have traveled almost completely free of human sign and human trails. The game trails we did find were essential and for the first time, for me, the GPS had been essential as well. Being able to get back to trail segments on the 7.5 minute quads loaded onto my Garmin turned out to be the dream. There were sections of trail marked on the USGS quads that were all but obliterated. In sections on the indian rez. the legacy trail was completely covered in deadfall every 100'. We referred to the GPS constantly at several stages in our trip. Without it we would not have made the truck even two days late as we finally ended up. We would have bailed to the west to Boulder Lake or Elkhart with no vehicle or resources on that side due to running out of time caused by very slow travel speeds. We found some legacy trail artifacts, like a bridge in this case, but only had a few cairns in a few sections to occasionally give us a sign we are on track. I call this type of travel "smelling" out the route.
A view of one of the larger bear scat piles. It is impossible to say for sure but I believe it to be grizzly due to the diameter of the feces. As you can see it was all vegetable matter which is a great sign. The bear has veggies to eat and isn't eating meat - possibly a fresh kill that it needs to guard.
One of many lakes and peaks we passed. We never needed to carry much water since it was so common and we were carrying the magic wand, the SteriPen. We could stop, dip, and clean a liter at any time in 90 seconds. Magic!
Fabulous walk thus far but we were well behind schedule due to the difficult route finding, rugged terrain and a weather day. We were actively planning bale routes over the divide in case we slowed further or encountered more weather. It was touch and go at this point whether we could complete the trip to our truck. We drew the route on a map before we left and found our mileage from that exercise was about 20% shorter than the GPS tracked mileage. 10% is more my rule of thumb for the delta. The weather remained fine and we decided to keep pressing on knowing we had contingency routes. We then turned the corner and encountered the world famous......
TO BE CONTINUED in Part 2
UPDATE - Part 2 -
http://backcountrypost.com/forum/threads/2013-winds-crossing-–-part-2.2579/#post-29113
Featured home page image:
Last edited: