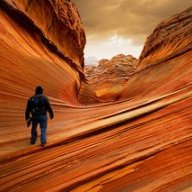 Broadcaster, formerly "ashergrey"
.
Joined

May 5, 2012
Messages

1,724
The rattling wagon crested a gentle hill on the sage-dotted badlands of western Wyoming, somewhere along the lonely 50 miles separating Evanston and Kemmerer. Ahead on the horizon, red tail lights illuminated on the backside of a black fleck. Another car, northbound, ahead of us. It slowed and pulled to the right of the faded asphalt with its surface worn by alternating extremes of long summer sun and abrasive winter snow.
My eyes flicked down to the speedometer. Its needle bounced like a hyperactive child high on a sugar rush, averaging out somewhere between 70 and 75.
Throw on another five to compensate for the over-sized tires… carry the zero… crap.
My foot eased off the throttle. Squinting, I tried to make out the tell-tale signs on the other car, still far ahead.
Don't brake, just let friction do its work.
Glancing sideways at my brother in the passenger seat, I could tell he saw it too.
"Cop," he said.
"Yep."
As if on cue, the radar detector suction-cupped to the windshield began blaring.
At least I shed some speed before he clocked me.
"Well, this isn't a good start," I said through my teeth as we passed the other car. The yellow swoosh across its door flashed by in the corner of my eye. In another second, it's rack lights lit up blue and red.
My finger punched the wagon's hazard lights button. For the first time since spotting the car, my foot tapped the brake. The speedometer needle settled down as it dropped steadily from 60 to 40 to 20. We both rolled to a stop over the far side of the rumble strip.
Window down, ignition off, keys on the dash, hands at 10 and 2.
In a moment he was at the door, standing slightly behind and above where I sat. One of his hands rested loosely on a holstered sidearm.
"Good morning," he said.
"And to you, sir."
"You were going a little fast back there."
"Was I?" In my head, I tried to remember how much velocity the car had lost before the radar detector activated.
"I'd say so. The speed limit here's 65. In fact, it's 65 on pretty much all of these highways off the interstate." He paused as if waiting for an admission of guilt that wasn't coming. "Can I see your license and registration?"
While I gathered the requested documents, the chatty trooper continued conversing.
"Where are you guys from?"
"Salt Lake."
He peered through the rear windows into the cargo area of the car, rocking back on his heels.
"Taking a little camping trip?"
"Yeah, backpacking."
"Where to?"
"The Winds."

Winds Classic
by
ashergrey
, on Flickr
It had already been a wet summer. Pushing into this late season meant we were gambling on the weather. Rain had lashed the Wind Rivers in the September days preceding our trip.
As originally conceived, this trip was to be a solo paddle/hiking adventure up to the headwaters of the Green. But when my brother became available, we decided instead to make a backpacking trip into the heart of Titcomb Basin.
We rolled into Pinedale in the early afternoon, the warning notice from the Wyoming Highway Patrol still sitting on the sun-faded dash. Thick, foaming masses of cumulus piled up against the mountains to the east just outside town. A break of clear sky sat behind them, then another band of clouds. This pattern repeated all the way to the them extending to the western horizon, making the columns look like waves on the Pacific still rolling into shore.
Delays along the drive (not limited to face time with a generous trooper) meant we didn't get to Elkhart Park until mid-afternoon. We hoped to make Baker Lake by nightfall. But as we geared up in the parking lot, rain started to fall.
Photo courtesy Mark Cawley
Conditions did not improve as we headed up the Pole Creek Trail. A steady drizzle wet the way. Only a short way into the hike we paused to don rain gear.

Photo courtesy Mark Cawley

Bridger Wilderness
by
ashergrey
, on Flickr
The rain eased as we passed Eklund Lake.

Eklund
by
ashergrey
, on Flickr
While short of our goal, it seemed a prudent place to pitch camp as the daylight started to fade.

Camp at Eklund
by
ashergrey
, on Flickr
[PARSEHTML]<iframe src="http://www.mappingsupport.com/p/gmap4.php?q=https://dl.dropboxusercontent.com/u/3847512/GPS/Eklund.kml&t=t4" frameborder="0" marginheight="0" scrolling="no" width="800" height="800"></iframe><br><br>[/PARSEHTML]Day two dawned just as gray as had closed the day prior. We broke camp after spreading out our damp gear to dry a bit. More lost time.

Contingency Planning
by
ashergrey
, on Flickr
Behind schedule and in need of making up ground, we struck out on the Seneca Lake Trail with the intention of following it to the Indian Pass Trail and ultimately Island Lake.
The weather had other ideas.

Ominous Pass
by
ashergrey
, on Flickr
Rain started mid-morning. Thick gray clouds swirled around us at times. Our waterproof layers soaked through. Hoof-worn rocks half buried in the trail were polished slick by the rain. Water gathered in boot prints and depressions, flowing from one puddle to another. We wasted energy hopping from side to side around them, then gave in to the inevitable and began trudging through the muck.
At times the sun would break through for a few tantalizing moments, only to duck again behind a veil of gray.

A Peek of Blue
by
ashergrey
, on Flickr
That fleeting sense of hope, that prayer uttered under the breath proved futile at each repetition. The rain turned inevitably heavy as lead ball bearings, sending us scrambling for cover.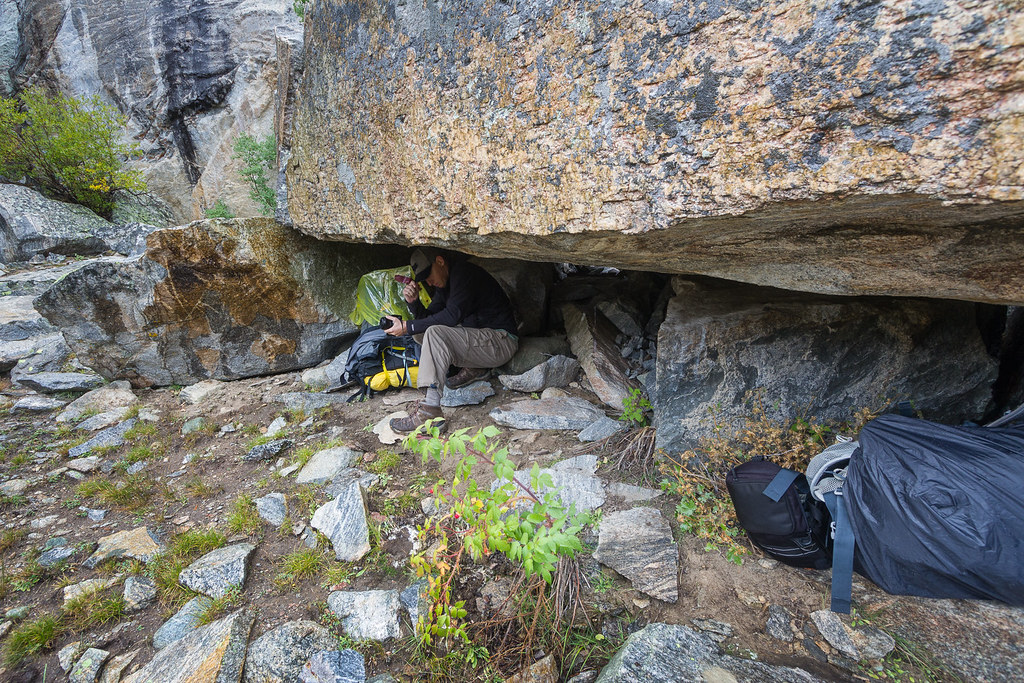 Shelter
by
ashergrey
, on Flickr
Each delay set us that much more behind schedule. We crested the pass to Seneca Lake in time to see roiling, angry clouds pouring down the range. Caught exposed, we split up in search of shelter. Finding none, I went back to find my brother. Only now he could not be seen anywhere. I called his name and heard only the rain pounding on my poncho in response.
Rain water pooled in any little divot or wrinkle in the saturated fabric. It splashed off the toes of my boots and brushed off rocks and bushes into my pant legs. The sound of nearby thunder sent my tired legs running to stunted pines, struggling to grow more than a couple feel tall there at the tree line. Backing my spine against the boughs, I struggled to find relief from the unceasing storm.
After what seemed an hour I decided to head up trail in search of my brother. I found him about a quarter mile ahead, huddled under a hastily erected tarp shelter.
There we waited.

Halfhearted Rainbow
by
ashergrey
, on Flickr
It was late afternoon before the storm eased. Under the patter of light rain we ventured out to reconnoiter. We found no usable camping spot around Seneca. Everything was soaked. Titcomb and the spine of the range were concealed by clouds thick as chowder. Wet skin prickled in the dropping temperatures.
It had then rained by my estimation for essentially eight straight hours.
We weighed our options: hoof it over the pass in the unlikely hope of finding dry shelter or at least tree cover around Island Lake, or retreat to Hobbs Lake and give up nearly all of the mileage we'd fought to gain that day.

Sullen Seneca
by
ashergrey
, on Flickr
A well-timed growl of thunder made up my mind. It was time to concede defeat.
Our heads stayed down in surrender on the stumbling walk back to Hobbs. We didn't talk much as the rain came on again in force. When we arrived at the shore famished, cold and weary we had to prioritize. I felt for the first time on the trip not just the sting of disappointment but also a tinge of fear. We were cold, soaked and disheartened. It seemed imperative to get warm food and to establish a dry shelter.
In the failing light, we hobbled together makeshift cover using two tarps and a spare poncho. Using this small area as cover from the rain we boiled water, rehydrated our dinners and attempted to stabilize our moods and body temperatures. We then pitched just one of our two tents in the narrow space between a pair of pines.
Dark had come on in full by the time we stashed our food and stripped out of our waterlogged trail clothing. We crammed together into the little tent, my back on a root and his on a rock. Just as we zipped up the flap of the rain fly, the rain stopped.
Welcome to the Winds. I hate this goddamn range.
[PARSEHTML]<iframe src="http://www.mappingsupport.com/p/gmap4.php?q=https://dl.dropboxusercontent.com/u/3847512/GPS/Seneca.kml&t=t4" frameborder="0" marginheight="0" scrolling="no" width="800" height="800"></iframe><br><br>[/PARSEHTML]Sun crept over the Wind Rivers at the outset of day three, lighting remarkably clear skies a deep blue. Crawling out of a damp and frosted sleeping bag, I pulled on wet wool pants made stiff with unseen ice crystals.

Hobbs selfie
by
ashergrey
, on Flickr
The entire earth seemed absolutely still. The lake water no longer bore the ripples of countless drops pattering across its surface. That photographer's thrill shot through me.
At last, a scene on this stupid hike worth shooting.
I pulled my camera out of its rain-soaked bag and set it up on the tripod. Then I pulled off the lens cap to see haze across 77 millimeters of UV-filtering glass.

Through the Haze
by
ashergrey
, on Flickr
So heavily had it rained that the very air itself seemed saturated with moisture. Shooting through the haze gave the scene an unpleasant softness, like looking through greasy waxed paper.
I unscrewed the filter, only to watch as condensation formed on the front element.

Hobbs
by
ashergrey
, on Flickr
Dejected, I detached the lens and looked at the rear element. It too had hazed. Now finally defeated, I left the disassembled camera in the sun to dry while we broke camp.
Photo courtesy Mark Cawley

Humid Hobbs
by
ashergrey
, on Flickr
On the hike out, we passed hordes of hikers heading to the region we were vacating. Without fail, they all asked about the weather. Some joked about it not looking so bad. Neither my brother nor I laughed. One hiker described sitting in a motel room in Pinedale the day previous watching weather radar images on the news, feeling grateful over his decision to remain in doors.
I envied him.
[PARSEHTML]<iframe src="http://www.mappingsupport.com/p/gmap4.php?q=https://dl.dropboxusercontent.com/u/3847512/GPS/Hobbs_return.kml&t=t4" frameborder="0" marginheight="0" scrolling="no" width="800" height="800"></iframe><br><br>[/PARSEHTML]
Featured image for home page: