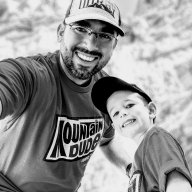 Life Elevated - Rising Higher
Joined

Feb 25, 2013
Messages

600
August 19th. 2nd day of the trip. So far we haven't been eaten by bears (haha!)
This day was a day to relax and wander. So that is what we did.
The morning was cold and beautiful. As you can see in many of the pictures, the basin was full of smoke. but that smoke made for some pretty effects. I like seeing the morning sun beam through the smoke. Yeah.... id prefer not to have the smoke, but sometime it is nice to see popular places in a different "light".
Those peaks!!

For as busy as the basin is, this campsite allowed us to feel like we had the whole place to ourselves. The other campers were hidden behind hills and such.
This was the country behind our camp, looking toward Island Lake.
This was breathtakingly beautiful. That water with those peaks are perfect.
Pretty flowers.
FREMONT PEAK! This mountain suprised me. reading about Freemont ( the little reading I did about it) left a lackluster feeling with me. all that left when saw it. It is huge and majestic. It dominate our whole trip. Everywhere we turned we has Freemont looming over us. As you walked around it, the face of the mountain changed. From this angle the peak is jagged and steep. From the east side, the peak is gentle and forgiving. The back is fridgen and icey! I must say that Fremont has my respect.
Best campsite of the trip.
Back at camp enjoying the clouds. hoping for a cool sunset.
BAM! Cool sunset!
My jaw dropped. I couldn't speak. I could just grunt. I was speechless. The beauty of the area over took me. It was sensory overload. the walk up by Mistake Lake was incredible. I'm getting butterflies right now from remembering this place.
Some neat reflections.
I think i could have spent the whole trip in Titcomb basin and been completely happy. I look forward to the day when I get to wander some more around that area. maybe take a peek at Knapsack Col, and Bonnie Pass. There is so much to do in this place. God sure does know how to orchestrate things to create pretty places!
Last edited: