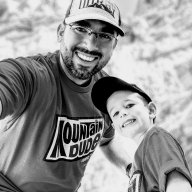 Life Elevated - Rising Higher
Joined

Feb 25, 2013
Messages

600
Tuesday, August 18th. This was one of the most highly anticipated days of the year. It was the day I set foot in the Wind River mountain range! It was a great day.
Banff. Alps. Bella Coola. These are some of the prettiest mountains ranges I have seen in my life. They were the mountain ranges I use to dream and drool over. Now, the Wind Rivers have dominated those dreams! I have enjoyed every mountain adventure I have gone on. But to have mountains like the Winds, so close, it makes me wonder what took me so long to get there!
After walking through forest for a while, I was thrilled to arrive at Photographers Point. I knew what I was getting into was wild, but when I saw this and realized that I was headed to Fremont Peak. I seriously wondered if it was even possible! That country is WiLd! I couldn't help but think of the first explorers - indians? - who wandered this land and created the first trails. What a place!
Some good views along the way. I was loving this. Could a mountain range even get any better? This stuff was GOOD!
Even though it was a bit later in the season. I was loving the wildflowers that we saw. It wasn't peak, but it was still pretty good!
Again. So good. Hard to find stuff like this near the home town.
It was nice to get to Seneca lake! It was much larger than I expected, and of course, way more beautiful too
My buddy enjoying his Sony A6000. Yes. I was Jealous.
Oh man. It does get better! What a view. To see this in person was something else! I know the pictures look cool, but being there was very special!
We spent some time just hanging out here before we headed down. Great place for a break! noh?
I didn't quite understand it before, but right off the bat the weather started doing some weird things. The forecast for the mountains this week was sunny and smokey! Someone forgot to tell the Wind Rivers that, so it made up its own. Once we got close to Titcomb, the weather and wind were cooking up a pretty cool storm.
When we got to camp, the wind was howling, and little snow pellets were pestering us. It was neat to experience. My favorite part was watching the clouts dance and swirl around the towering peaks! We got quite the light show.
After 15.2 miles of hiking we made it! WOW! I was actually feeling pretty good considering what we had just done. Even with my "massive" 36lb pack, I was pleased with the first day.
The first day was wonderful! and boy was I tired. It was nice to finally get to camp and soak in this incredible place.
Last edited: