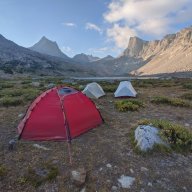 Joined

Jan 15, 2018
Messages

76
Hello all,
I'm in the process of planning a trip into the Winds next fall. This will be our first trip into the Winds. We've previously done extended trips in Yellowstone, the Tetons, and the Bob.
I reached out to
@Bob
for advice given our group's constraints, and he was kind enough to share a few options with me. I think we've settled on a loop out of the Scab Creek trailhead, over Rainbow Pass, down into Bonneville Basin, and back to the trailhead. It's the Lee Lake route that
@Bob
posted a trip report on last year (
https://backcountrypost.com/threads/wind-rivers-lee-lake-loop.9966/
).
It's only 33 miles or so, but we'll probably take our time and spend seven days out. Right now I'm looking at camping at Lightning Lakes, Dream Lake, two nights at Lee Lake (with a day trip either up to Kagevah Peak/Photo Pass or Noel Lake), Lake 10521, and the last night at South Fork Lake.
All of my planning thus far is based on
@Bob
's advice and research in Beyond Trails and on the internet. Just wondering if anyone has any experience in this region of the Winds who would like to share information on campsites or anything else that comes to mind. Thanks everyone.