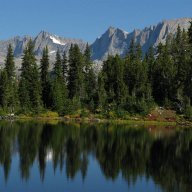 Joined

Aug 18, 2015
Messages

383
Couldn't resist adding a couple more pics. Great area. Maybe it'll be of some help. Had to bail on a planned longer trip due to some serious weather predicted. Only had a short window.
View from Hay Pass:
View from Round Mtn cutoff towards Timico. Took awhile to find the trail but it's all pretty easy going.
Heard some loud noises on top of cutoff. Sounded like rocks being struck together. I figured big horns or elk stomping on rocks not happy with us. Was my nephew's first trip -he was certain it was a griz. Had forgotten my bear spray on top on Hay Pass where we'd got hit with hail and high winds. Did 20+ miles to the car that day to get out before the storm. Both of us swore never to go that far in one day over 2 passes again. Great trip.