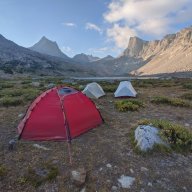 Joined

Jan 15, 2018
Messages

79
Hello all,
For the second year in a row, we have decided to take our fall trip to the Winds.
@Bob
has been kind enough to share some route ideas with me. I've decided (for now) on a loop out of Elkhart Park hitting the Mt. Baldy area (possibly Baldy Lakes), Timico Lake, Lake Victor, Europe Canyon (maybe a day trip up to Europe Pass), Lake 10683 (Long Lake), Lake 10555 (Glacier Lake), Hay Pass, the Golden Lakes Basin, Angel Pass, Spider Lake, and back to Elkhart. For any of you who have backpacked this area before, any suggestions whether Angel Pass is better and/or easier going East or West?
@Bob
has done it coming from the East, but the couple of route description in Nancy Pallister's book both tackle it coming from the West, which would be early in the trip.
The other question that has come up is whether the camping is better at Baldy Lakes or Lake Timico. Nancy Pallister says there is fair camping at the Timico Lake outlet. I've read a couple reports of decent camping at Baldy Lakes. My understanding is the trail that goes down to Baldy Lakes adds a half mile or so to the route, but is a little less up and down than the Fremont Trail through there.
Oh, and I'm always open to any suggestions for good camping anywhere along that route. We're going out for 10 days, so we'll really be able to take our time and hit whatever we want. Thanks everyone. The rough sketch of the route is below.
Click here to view on CalTopo