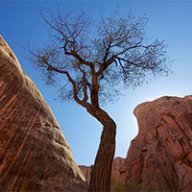 Joined

Aug 9, 2007
Messages

12,923
Another month, another trip to Glen Canyon. I've been enjoying these more than ever this year. Finally getting into the groove of things when it comes to walking the many canyons I want to see. We've also been doing great at getting away from the asshattery that comes standard with the summer crowds at Lake Powell.
This trip consisted of myself, Audra, the dogs and my friend Taylor. We drove down on a Wednesday night and camped out near Big Water before launching at the State Line ramp early the next day. It's a pretty long drive north to get away from people, but it sure is pretty. Navajo Mountain had clouds parked on top of it as we drove past.
As we passed Oak Bay, I decided to swing in there and see what the camping situation was. Oak is past the turn for Rainbow Bridge, and as a result it doesn't see as many people as areas downstream. As we pulled in, there were a few houseboats around, but nothing crazy. I've dreamt about camping in Oak because of some awesome canyons nearby, so as we rounded the bend into the back of the main canyon and saw an AMAZING empty beach campsite, I was a little caught off guard. We pulled into it immediately to survey the area. It was adorned with classic houseboater shit like blown up fireworks and a bit of trash, but it was otherwise quite nice. A cool natural bridge was perched in the drainage behind it. The beach was huge with no other beaches within sight. Almost too good...
We decided to go for a swim and let the dogs wander. I sat on the noodle with my 70-200 and took some pictures of the 'kids'. They really, really like coming here.
Sage.
Nikita. Every trip she makes it on surprises me lately. We're treating each one like it could be her last, but she keeps on pushing through.
Patina.
As we soaked in the pool, we noticed several groups of tandem kayaks as well as jet skis roll by. They were mostly friendly, but the constant flow of people made us start rethinking our campsite selection. After an hour or so, we decided to abandon the dream spot and seek better solitude. It's funny how you could camp as close as we were to that many boats and feel like you have enough space, but being at the top of the canyon means they all move slowly past your camp over and over because that's just the natural place to paddle, jet ski, etc.
We continued up the Colorado River channel checking sites along the way. I thought we might luck out with a spot in Music Temple, but no go. Next stop, Reflection and Cottonwood Canyons. We followed Cottonwood to the top and found a spot we thought would work, at least for one night. And it would enable a nice hike the next morning. After clearing out our beach, we noticed what looked like ruins in the alcove above camp.
Taylor and I took a walk to get a closer look.
I'm usually skeptical of ruins with stacked rocks and no mud or mortar. The 'boater glyphs' and proximity to the lake don't help either.
The view out from the alcove. That's our boat in the foreground.
As I poked around, I found this ancient corn cob, confirming that this indeed was an archaeological site. At full pool, the lake would be within 15 feet of it. I'm not sure if the structures are ancient, but this was definitely used long ago.
Taking a closer look. The ceiling is a little blackened, but not the typical Lake Powell boater fire type of blackening. It looks old to me. Another curious thing we noticed were all of the circular chips out of the back wall left of Taylor. They looked kind of like bullet holes.
We found a few other etching on nearby walls, but they were probably modern.
We hiked back down to the boat and decided to leave for another camp once again. As we pulled some deeply rooted dead bushes from the shore, the place became very, very stinky. I don't know if it was organic decay or what, but it was really bad. The site wasn't that great anyway, so why settle. We continued on to the mouth of the San Juan, exploring there and a little north, before giving up and finally heading up into the San Juan. We took a quick diversion into Nasja and Bald Rock Canyons. That dryfall in Nasja looks pretty hard to get around. Kelsey describes the route, backtrack and climb on the left. He also says there may be a rope in place. We looked at it from the boat and it looks pretty sketchy. I'd be interested to hear if anyone has done it and how it was.
Continuing up the San Juan, we diverted into Cha Canyon, another canyon I'd like to hike. It had some okay campsites that we could fall back on if we didn't find anything great. It also had a wild horse wandering the shore on the reservation. That's a first in this area for us.
It looked hungry.
We found a campsite near the mouth of Wilson Creek and settled in. Later that night we took advantage of having a third person and did a little tubing.
The next day was a gloriously lazy day. We slept in late and had pancakes for breakfast. We had no solid plans, so after breakfast we were soaking in the lake when we noticed a houseboat leaving the canyon. There weren't many around, so we hopped in the boat to go see if they left a nice spot behind. Indeed they did, so we dropped off Audra and a couple of the dogs and ran back to camp to retrieve our stuff. Fortunately, we hadn't utilized tents so it was just a matter of grabbing the kitchen, the shitter and the anchors.
We settled into our new campsite, ate some lunch, soaked, relaxed, etc. It was a really great site. Later that day Taylor, Sage and I hopped into the Sea Eagle and paddled up Wilson Creek to go for a hike.
The San Juan geology is very unique. It doesn't make for many sandy beaches, but it sure is beautiful.
Coming in for a landing where Lake Powell ends in Wilson Creek.
Looking back at the lake from Wilson Creek.
My jaw was on the floor for pretty much all of this hike. It was short, but SO sweet.
And so full of life. Every bit of this hike that we did that day would be under water if Lake Powell were full.
This pool had so many huge crawfish darting around in it. We probably cold have avoided it, but when it's 90-something degrees out, why bother?
Approaching a waterfall in Wilson Creek. The top of the waterfall is coincidentally the same elevation as the high water mark of Lake Powell. If it were full, this would all by underwater.
A quick clip of the waterfall. We sat at the bottom of it and drank a beer before walking back to the lake.
I couldn't stop taking pictures on the way back. The evening light was so pretty in there. This was probably the best bang for the buck Glen Canyon hike I've ever done. Every step was just incredible.
Here the canyon drops down a steep slope into a shallow pool. The canyon next door to Wilson is called Shoot the Chute. I wonder if it looks something like this.
The rock was extremely slippery, so Taylor decided to give it a slide or three on the way down.
A short video clip of Taylor sliding in Wilson Creek.
Paddling back to camp.
Another day draws to a close.
And a nice sunset too.
The next morning I slept until the sun wouldn't let me. I crawled out of bed on the floor of the boat and onto a bench. Audra woke up and sat next to me. I looked over to see Taylor a few hundred feet away hiding in the shade of a small cliff band. A minute or two later, I saw fish start to fly out of the water. Not one, not two, but dozens. And they were big ones too. It was a school of striped bass attacking a school of shad. They chase them to the surface and the result is what anglers call a 'striper boil'. Sometimes they last a minute, sometimes they last hours. We've seen them before, but they can be tricky to get close to on a boat with the motor running. They tend to get scared and stop.
As the boil started to erupt, I yelled to Taylor "BOIL!!". I had explained what they were, but this was his first experience with them. I watched as he walked down to the shore and casted as far as he could, getting just outside of the boil. He started to real and BOOM - fish on! We watched as he reeled what was probably a 4-5 pound striper to the shore. I was so stoked for him - first boil, first cast, fish on. He caught several more while we sat there and watched. Soon they went down and he came back to the boat. It turns out that they had been boiling all around the back of my boat all morning and that first fish we saw him catch was more like his 15th or 20th. He assumed that I just didn't want to get out of bed for it. Not once have we ever had a striper boil happen right behind the parked boat. I can't believe I missed it! I told him that next time he has to wake me up.
We had breakfast and loaded up the kayak and drove out to Deep Canyon, but not before stopping and having an awesome time doing a bit more fishing. Audra and I finally got into the striper action, and Taylor added more to his tally. They were big, healthy fish and they fought like champs.
We continued up Deep Canyon and found a place to anchor the boat. Audra stayed with the old dog while Taylor, Sage, Patina and I went for a hike. It was hot, but the cold beverage in my insulated Klean Kanteen was quite refreshing. Those fenders in the water mark a campsite for a cabin cruiser. Sometimes I envy the fact that they are all self contained, but then I remember I am here for the landscape, not the inside of a boat.
Not surprisingly, Deep Canyon was very beautiful.
This blew me away. Relatively large cottonwoods growing about 30 feet below the high water mark. The reservoir hasn't been this high in about 15 years.
The creek was just barely flowing. Enough to fill these large, but extremely shallow pools. It was in the mid-to-high nineties and that water was probably at least that warm.
The high water mark of Lake Powell is right about here.
Above high water mark. We hiked about one mile up from the lake but turned around when Sage started burning her paws in some deep sand where the water was inaccessible.
Another view of that relatively large cottonwood. You can see the high water mark on the wall in some places.
One of the joys of hiking here in the heat of summer is knowing that you get to jump in the lake with a beer when you get back to the boat.
And there she is.
We had lunch and went for a soak before continuing on. We ran up to Piute Wash before eventually heading back to camp for an extended final soak session for the trip. I did not get out of the water for more than three and a half hours. The water temperature that afternoon was 84 degrees.
I know, it's ridiculous, but what the hell.
We loaded up Nikita on some special shots before this trip. She still struggled a lot, but she did pretty good. The best part was during that last soak session when she finally remembered how much she loves to chase fish in the water. Or maybe they love to chase her. The blue gill come right up and nip at her and she gets so excited. Speaking of which, they nip at me too. For some reason they like to bite me, especially on my sides below my armpit (extra sensitive!). Strangely, they don't seem to bite anyone else.
Well after the sun went down, I finally got out of the water and we had a nice evening looking at the stars. We hadn't seen very many boats on this trip, maybe a half dozen per day which is nothing in August. But that night, we watched as a boat motored out into the large bay directly out from us. We couldn't figure out what they were doing until the fireworks started going off from the boat (illegal and stupid). To add to the stupidity, when another boat came out, they started launching their huge exploding fireworks directly at them. I assume they knew them. We sat and watch, half expecting to see a boat burn down, but that didn't happen and eventually they left.
The next morning we were packing up to head home when the stripers came back. Here I am bringing one in from right off the back of the beached boat. We caught several and then when we were done loading the boat, we drifted around and caught several more. It was a ton of fun.
Not even a week after this trip I was already dreaming of the next one. Last year was a little brutal to us in regard to Glen Canyon. We experienced insane weather and extreme douchebaggery and it was starting to turn us off from coming back. This year we haven't slept in a tent one night out of probably close to 20 nights out there. And all of the good canyon walks and paddles in between have been so awesome. I am so hooked on this place right now. Can't wait for September.