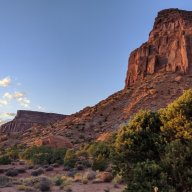 Joined

Jul 24, 2021
Messages

156
I'm planning a packrafting trip in mid-April, where I will go in via Willow Gulch, paddle over to Fifty Mile and hike back out to HITR road. I plan on doing this over 3 days.
What i'm trying to figure out is where to park so that when I come out of Fifty Mile and hit HITR, i'll not have a long road walk back to my truck.
My original thought had been to drop my pack off at the main Willow Gulch trailhead parking area (Green box) and then drive back down HITR and park near the Fifty Mile/HITR junction. Then road walk back to the trailhead, pick up my pack and hike into Willow and camp near Broken Bow arch.
Taking a closer look at Google Earth, it looks like I could start where Willow Creek meets HITR (Blue box) and then hike up the creek bed until I get into Willow Gulch proper (Purple circle).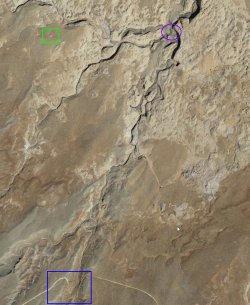 When I zoom in and follow the creek bed, it appears to be doable, but there are some shadow areas and i'd hate to hit a dryfall that I can't see and have to hoof it back to the road.
Does anyone have any experience with entering Willow near HITR or know of any other good more direct routes to avoid winding around HITR and then up BLM 276?