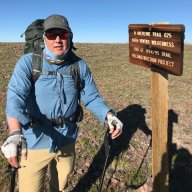 The mountains are calling and I must go
Joined

Mar 31, 2013
Messages

1,024
Wondering if anyone here has any experience floating the White River in
Colorado.

Particularly interested if you know anything about the river east of
Rangely, CO.

The White flows east to west and joins the Green in eastern Utah.

The most eastern start point I've read about is Rangely, CO.
When there isn't something online about a stretch of river it typically
means private ownership along the river and that may be the case here.

Another river I'm looking at is the Gunnison river

So if you know something about the White River or the Gunnison
I'd love to hear about it.


Thanks!
Last edited: