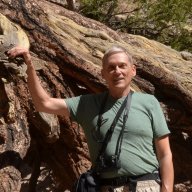 Joined

Jan 17, 2012
Messages

217
I had purchased permits for Coyote Buttes South for three days on the BLM website. It's easy to get permits this time of year, and it seems like I'm ready to go again whenever February comes around. The dates were Monday, Feb. 3 - Wednesday, Feb. 5.
For weeks we'd had hardly a cloud in the sky and I was looking to take some night time star photos with a bit of moonlight thrown in. But as the time drew near, the weather forecast became dire -- clouds, rain, and snow. This might make for some great daytime photos but it seemed that opportunities after dark would be limited.
Still I had the permits, so on Sunday I got in the truck and took the eight hour ride to Kanab, where I would have to get the tickets at the BLM office on Monday.
Every time I go along US160, as I approach Kayenta and start to see those big rocks off to the north, I think what a great place it would be to explore. But I think you have to hire a Navajo guide, so I haven't tried it yet.
After turning north on state hwy. 98 to Page, the rocks along the side of the road start to get interesting.
As I approached Kanab, there was more snow on the ground but not enough to worry about. I checked in to my favorite cheap place in Kanab, the Royal Inn & Suites.
Monday, Feb. 3
I showed up at the BLM field office in Kanab at 8 and got my permits for the three days at Coyote Buttes South. I thought that as long as I was there, I might as well hang around for the 9 am drawing for walk-in permits to Coyote Buttes North. There were 26 walk-in applicants, and my number wasn't drawn. So, off I went to CB South.
Houserock Valley Road was in good shape, and I didn't have any problems getting to the lone tree turnoff and on to Paw Hole. I stopped there and walked around for some photos. The sky was mostly cloudy, so the light was not the best.
After walking around for a while at Paw Hole, I traveled on to Poverty Flats and then to White Pocket. Many cows were grazing in the parking area to White Pocket, and some were inside the fence. I was surprised to see so many of them there. They avoided the brain rocks, going only along the sandy stretches.
The first time I visited White Pocket, in June 2010, I took a five mile hike out to the north and then back around the big rock just to the west, making a big loop around the area. I remembered seeing some nice rock formations out there, so I did this hike again but in the opposite direction. Unfortunately, it was still cloudy so the light wasn't good. But I took a few shots anyway, and occasionally the sun would peek through for a few minutes.
Here's a map of this hike:
View larger map.
As I was finishing my loop hike, the sun was about to set, and I got some good light on the brain rocks.
Then I went over to one of the classic White Pocket locations for a star shot. The clouds were still around, but this is what I got.
Then it was back to the truck for the night. The cows ran away as I approached, and they stayed away all night. I found that they had been licking my truck. The windows were especially disgusting with a thick coat of cow drool. The overnight temperature bottomed out in the twenties and the next morning I awoke with ice in my water bottle. Fortunately, I had kept my contact lenses in their solution with me in the bag so that they wouldn't freeze and possibly crack.
Tuesday, Feb. 4
I drove over to Cottonwood Cove. I had explored the area just to the north and west of the parking area several times on previous trips, but I hadn't been through the rocks just to the south and west. So I spent the morning and part of the afternoon walking around there. Occasionally a little snow squall would come through, then the clouds would part for a while.
The running man
I began to rationalize that a nice warm bed would be good for the night, and besides if I drove back to Kanab, I might get lucky in the next day's walk-in lottery for Coyote Buttes North at the BLM. So I went back to Kanab, stopping at Paw hole for some more photos.
After sunset I drove over to Old Paria for an attempt at a star shot.
Wednesday, Feb. 5
There were 16 customers at the BLM office for the 10 slots, and my number was the first one called. So I got a nice green card for entrhy into Coyote Buttes North. I've been to the Wave several times, so I thought that it would be a better use of this lucky circumstance if I climbed up Toprock starting from Cottonwood Cove. The permit was for Thursday, so I still had time to go back to Cottonwood Cove on Wednesday to take more photos.
I started out walking among the rocks to the northeast of the Cottonwood Cove parking area. The Chess Queen (also known as Totem Pole) is among the formations there.
Late in the afternoon, I went over to the more traditional Cottonwood Cove area to shoot some sunset photos and also get some star shots. These turned out rather well I think.
By the time I had finished with these shots, it was dark. I had thought to use my GPS if needed to get back to the truck, in the parking area. I consider myself quite familiar with this location and didn't anticipate any problem getting around after dark. But it was harder than I thought. In the dark the familiar landmarks became hard to find. I immediately had a problem with the GPS due to the fact that I have kept several GPS tracks of this area, accumulated over the years, on my Garmin Colorado. The lines were crisscrossing everywhere. I would follow a track for a while and then decide to follow another one, and so on. After a few hours of wandering around in circles, I decided to ignore the GPS and just head east. I knew that eventually I would come to the road, which would take me back to the truck. So I found the north star and kept it over my left shoulder. After a while I reached the road, almost at the parking area by chance. But it was after 11 pm. I had been on my feet all day.
I drove up the road a ways, past the sign that says "Dead End, dangerous sand, not recommended", etc. I have driven this many times; my favorite place to spend the night out there is in a little pull-out where I know nobody will come along. And I went to sleep.
Thursday, Feb. 6
My legs weren't nearly up to 100 percent due to the previous day's long walk, but I decided to give it a go. I drove the rest of the way up this dead end road, which goes north for a while and then turns west before it ends.
At this point a trail continues west down a little slope for about a quarter of a mile to a sandy wash that you can take to the northeast in the general direction of the north hoodoos.
As I got closer to Toprock I veered off to the north and found a place to climb up. It wasn't difficult to get on top. But once there I found that it wasn't as smooth and flat as I had planned.
I continued on to the north and northwest, which turned out be be the wrong direction for the things that I had hoped to see, for instance, Melody Arch. I did see some nice formations, however.
View from the top of Toprock looking northwest
I think somebody must have taken this skull up.
Here's a map:
View larger map.
By mid-day my legs were telling me that this was enough, so I turned around and went back to the truck. A younger me would have tried another approach around the eastern edge, but the 71 year old me was ready to call it quits.
Maybe I'll give it another try next February.
After a night in Page, I returned home on Friday. I saw these dogs curled up and keeping warm at a gas station west of Kayenta.
Featured image for home page: