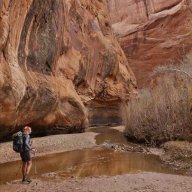 Joined

Jan 4, 2015
Messages

2,755
Note, this thread is split off from @McKee80's excellent
trip report
so we don't derail it too badly.
I would carry spray if I was in Glacier. From what I remember there was not very much on the west side of Glacier which is why I asked. I also seem to remember something about spray and the Canadian border, but that might be a "found memory".

Good to know that you can borrow it at the permit place. Last year when I went to Banff, I bought spray and then donated it to a local at the end of my trip, I'd rather save the $40
I think this is worth a broader discussion for the board.
Do you carry bear spray, and if so, under what circumstances?