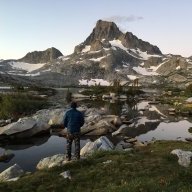 Joined

Feb 9, 2017
Messages

236
Hi,
First off, I love reading reports on here and I've learned a ton. A lot of stuff I've read on here helped make my trip a memorable and awesome experience.
I started backpacking last year as a transition from playing hockey, which seems to be kicking my butt more as I get older. I asked a friend with a lot of experience what his favorite spots were. He mentioned the place he always wanted to get to but never did was Hole in the Wall in Glacier. That got me started researching. I came across a picture of Margaret Lake that mesmerized me and added that to the list. I planned an ambitious trip from Chief Mountain to Boulder Pass and back to Goat Haunt (kind of a Northern Traverse of Glacier NP). I managed to recruit one of my friends to come along.
A note about the pictures: I had big plans for long exposures, night sky pictures, and setting up the perfect shots. I carried my tripod everywhere. I got it set up two or three times. I had to keep my RX100 in a zip lock most of the time, due to weather or general wetness. I ended up taking 90% of my pictures with my phone. I was so immersed in the 360 degree, five senses experience, that photography surprisingly took a back seat. Half the time, I couldn't even figure out a picture to take that would accurately portray the experience.
Anyway, here is the story of our trip!
September 6 – Getting our Money's Worth on Passport Fees
We flew from Pittsburgh to Calgary. Picked up the rental car and headed south. We went straight to St Mary because we knew our itinerary needed adjustment with the fires. No point in leaving a car in Waterton NP if we couldn't get there. The rangers were super cool and set us up. They ended up splitting our trip in half, we'd do an out and back on the east side, drive around to the west side for another out and back. Not ideal, but the middle northern part of the park was completely shut down..
The campgrounds on the east side were full. We saw a reference to a primitive campground and figured we could stay there. But first, booze. We had assumed we could get whiskey near the park on the east side. Not the case because of reservation land law. Back to Canada we went. Grabbed some whiskey at duty free and came back to the US. Grabbed dinner at Two Sisters (excellent). Arrived at primitive campground to find it full. We decided to try Belly River campground just over the border. Except that border closed at 6:00. We ended up looping around to Waterton, where we had a reservation as part of our original plan. This prompted a couple humorous discussions with the border control guys on both sides (didn't we just see you an hour ago?, did you drink any of the booze you came over here to get?).
Despite webcams being mostly clear the week prior, the whole east side and waterton was smoky, to the point you could smell it. Undaunted, we got set up in the dark and were psyched for the start of our trip the next morning.
September 7 – Wonder if we'll see any bears
We got some breakfast in Waterton, crossed the border (again), and headed out from Chief Mountain. We saw a lot of CDT people, since Goat Haunt was closed and this was the alternate route. Man, they travel light! They were all pretty fired up, being a couple miles from the border. We stopped near three mile camp for a break. The trail crew we had seen earlier looked like they were set up there. There were some waders hanging where we stopped. The wide shallow river reminded me of what I had always thought Montana was like.
We also saw a ranger and got our permits checked within a couple hours of hiking. He was leading some pack horses out. It was pretty hazy still, we stopped by the ranger station to eat lunch and met another group. The first day out is always the worst for me, but things started to pick up at Gros Ventre Falls. A beautiful emerald green, freezing cold pool is at the bottom. I jumped in. After the shock wears off, things go one of two ways for me: I get used to it, or things start to go numb. This time it was the latter.
Coming up on Cosley Lake, we saw some bear scat. A couple minutes of walking and making noise later, I came across two women on the trail. They were stopped and it looked like they were talking with their hands at each other. I kept motoring along saying "hey bear". When I got to them, they were like "BEAR, we were trying to signal you". I asked where and they pointed about 15 feet to my right just off the trail. I said "oh crap" and got out my bear spray. My buddy was coming up behind and I let him know. By this time, the bear was slowly meandering down the trail. Didn't seem to have much interest in us at all. I didn't even think to pull out the camera until he was on his way. This was the first the "bear ass" series. I guess it is good that pictures were my last thought.
We made it to Cosley Lake. It was still a little hazy, but the lake was beautiful. Jumped in for a refreshing (freezing) swim and we took some time relaxing by the lake with a little whiskey.
September 8 – Cosley Lake to Mokowanis Lake
We got up pretty early, as we were anxious to get set up at Mokowanis Lake. As we were getting ready to head out, it started raining pretty good. We were ready to go, so we hiked along the lakeshore until we couldn't go anymore and bushwacked back to the trail. Shortly after, my buddy yelled bear and, again, I was about 20 feet from a bear. I am not good at spotting bears, even when I am looking for them. After getting the bear spray and the conversation, the bear went to walk along the lakeshore. We decided to hike fast to get ahead of him, so he wouldn't surprise us again. We hiked to the next place we could see the lake and looked for him along the shore. He wasn't there. But he was right next to us again. We are not faster than a wandering bear, apparently.
By this time, the rain had stopped. And the haze was gone! I am curious as to why the trail by Glenns Lake doesn't go near the water. Pretty much just a pleasant walk in the woods. We stopped at Glenns Lake Head for a break and a swim.
Mokowanis Lake was beautiful. We got set up and got ready to head to Margaret Lake. There was a group heading up there when we were getting set up, so we hung around and got something to eat to let them have it to themselves for a while.
The trip up to Margaret Lake was awesome! Great waterfall, navigation was pretty easy. Margaret Lake lived up to its billing. The color of the lake was amazing and ever changing. The color seemed to change when the sun came out or went behind a cloud, or when the wind blew hard enough to make a chop. We stayed up on that little piece of land sticking out for a while. Margaret Lake was also cold, I was sensing a pattern
.
Then back to camp, and what a great camp Mokowanis Lake is!
That night, as I was going to sleep, I heard something big clomping around. It sounded like it was getting closer and I didn't know what to do. I had my bear spray in the tent, but it was pretty freaky. Eventually, I could hear it moving away. The other people at camp said they heard it, too and it peed next to their campsite.
September 9 – Sue Lake day trip (aka: It's just a ramp)
We got up raring to go. Today was a day trip up to the Sue Lake bench area. That trail up Stoney Indian Pass is beautiful. Views at every turn.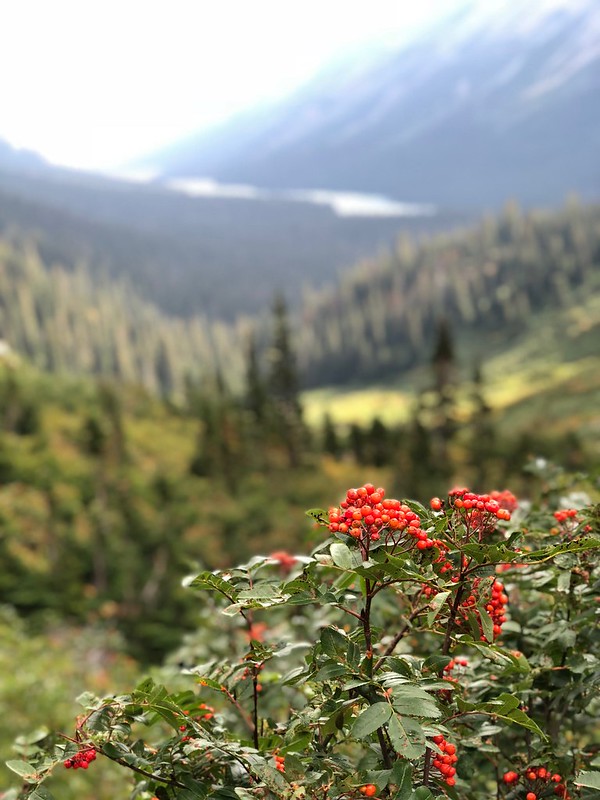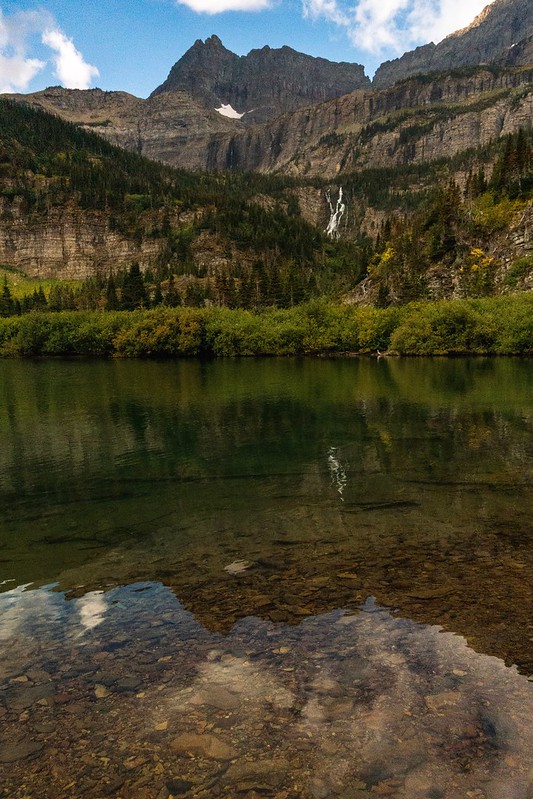 We got to the place where you go to the base of the falls to get up to Sue Lake. We couldn't find an obvious way to get to the base of the ramp. We ended up going past where the creek crosses the trail and coming back around through the rock strewn weedy area. All that was left now was to walk up the ramp. Calling it a ramp makes it sound much easier than it actually is, for me, at least. I guess it is a ramp, but one at a seeming 45 degree slope covered with huge rocks and no trail. I'm sure we could have taken a better route up, but I'm not sure it would have made a ton of difference (it doesn't look too bad in the picture, but I did not have an easy time of it).
Once we got up there, it was pretty cool. Literally. We just had daypacks and did not bring stuff appropriate for the weather change up there. It was much colder, super windy, and was looking like it was going to storm. We grabbed some lunch at Sue Lake. The weather looked bad and we were cold and tired. So, we decided to head back down without checking out Pyramid Peak or the overlook to Margaret Lake. We didn't want to be up there if there was a storm.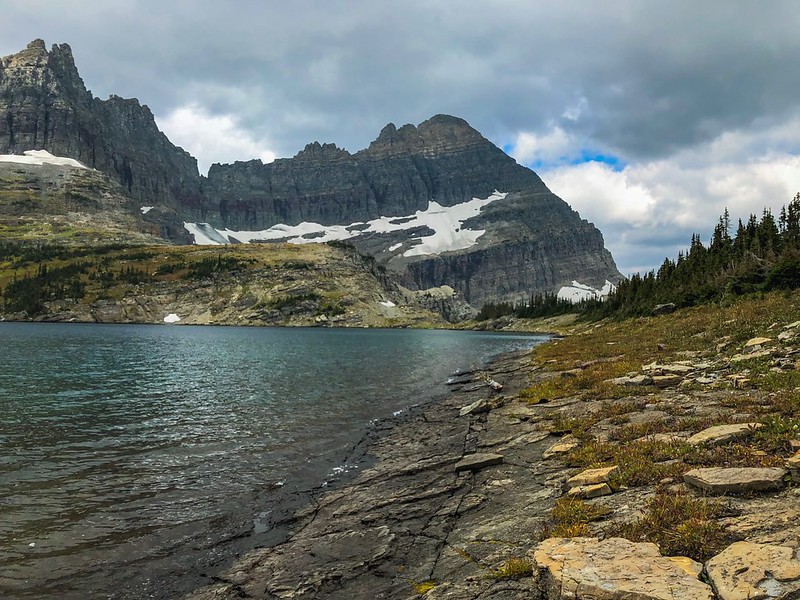 Of course, once we were started down the ramp, the sun came out and it was a beautiful day. I was thinking about going back up, but I looked up "the ramp" and decided that nothing short of one of my children being in mortal danger would get me back up there at that moment.
Then it was back to our crappy campsite at Mokowanis Lake. I saw a martin in a tree along the trail. And we saw some mountain goats on Mt Merritt from the Sue Lake bench, but they were too far away to get a picture. There was also a moose around, based on fresh tracks and scat, but we never did see it. We also were able to find the "trail" to the land jutting out of the lake just before the campsites. Oh, and I finally got a picture I liked from the bridge over the Glenns Lake inlet.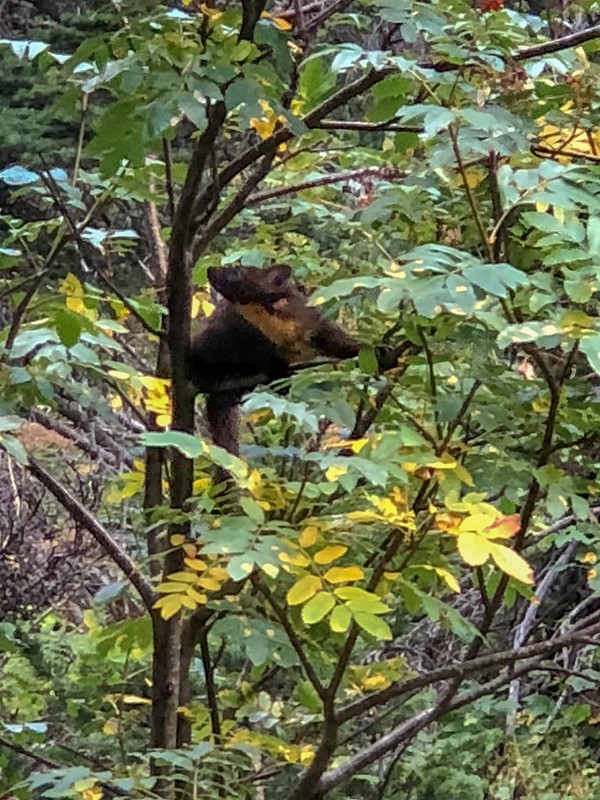 September 10 – Back to Chief Mountain Customs
We were treated to a cool pink sunrise on this morning. Just hauling our butts back to Chief Mountain. Got a couple pictures. Spent most of the climb out of the Belly River valley fantasizing about stuff I was going to take out of my pack for the second part of the trip. We picked up our second half permit. I changed it from BOW-BOU-HOL-BOW to BOW-HOL-BOU-BOW. I was getting nervous about Bowman to Boulder Pass. So, we headed to the west side and camped at Apgar. With the fire closings, there were plenty of spots in Loop A and the lake looked wonderful. We did get to have some huckleberry bbq bison burgers in west glacier.
Thus concludes the first part of our trip. We were about to dial it up a notch in terms of adventure, weather, and poor judgement. I'll try to get that part up shortly.