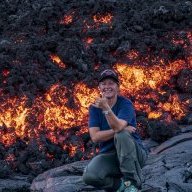 Joined

Jan 19, 2012
Messages

4,070
So this is what I bought yesterday at REI's big sale.

View attachment 121430

As you can see, I bought some new hiking poles. Now I can finally get rid of my crooked mismatched pair. No wisecracks

@Rockskipper

.

Let's see, I also got a coupe of lightweight small stuff sacks so that I can carry heavy things in them. A small green Nalgene bottle, just because I like the color. I really wanted a small mouthed 32 oz. Nalgene because we lost one on our Lookout Peak hike, but they were completely sold out of 32 oz. Nalgene bottles. Imagine that? Three pair of socks made it into my shopping bag too. Since I am taking an external frame pack into the Yellowstone backcountry this weekend, I needed plenty of straps so that I can attach a whole bunch of gear to the pack. Of course, I bought some meals too. Oh, and two groundhog stakes, just in case I have to take care of a vampire in the backcountry. Oh, and least I forget, a Flexlite Camp Chair! I'm going to be lounging

@Bob

!
Nice!!!
I also ordered trekking poles and a new pair of La Sportiva Goretex Boots for our rugged lava terrain.
My last pair is falling apart.