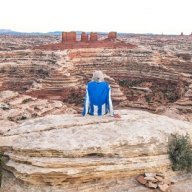 Joined

May 18, 2012
Messages

294
I've posted this on canyoneering as well as photography as really it only affects wet canyoneers.
I'm fed up missing good shots because it means taking my good DSLR, or even my compact Panasonic point & shoot, out of & back in to drybags, but wouldn't mind a good quality small under $850 camera still rather than using a phone in wet /sandy/muddy canyons.
Looking for recommendations. Reviews say for a waterproof camera – which would save me the drybagging – the Olympus range, now at TG-5 – is the best. It's around $525, but I'm wondering how much of that price is for water/dustproofing the body at the expense of quality of photos. Ie for $525 is a non-waterproof compact point & shoot a much better image quality camera?
I have a small pelican box that holds & protects a small non-waterproof point & shoot, so if dollar for dollar non-waterproofs take much better photos than waterproofs, the box is less time-consuming than drybags so perhaps I should buy a recommended non-waterproof & just put up with a bit of inconvenience. So whatever I get has to fit in the small pelican box to clip on my chest straps.