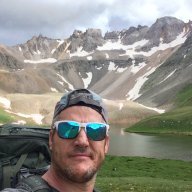 Joined

Mar 1, 2016
Messages

401
I will try to bore you with one more trip report from last summer. In August of 2015 I had the opportunity to go with some very nice people to the Beaver Creek Drainage on the North Slope of the Uintas. Trailhead starts at West Fork Beaver Creek trailhead which takes you up to Gilbert Lake and has great views of Gilbert Peak the third highest peak in Utah. This drainage is the drainage just East of the ever popular Henrys Fork which takes you to Kings Peak.
Gilbert Lake is 9.3 miles in from the trailhead. We found a nice camp about 7 miles in as it tends to gets a bit windy when you get up near Gilbert Lake.
View near camp of West Beaver Creek with Gilbert Peak in the background. All photos taken with my very fancy Iphone.
Day two went for a lovely nature hike.
This is a lovely mountain meadow with Gilbert Peak in the background.
View of Gilbert Lake and Gilbert Peak.
Sat and watched a cow moose here for a while at Gilbert Lake. Then went back to camp and got the others to head back up to Gilbert Lake and GR151 which is a 1/2 mile above Gilbert Lake to do some fishing.
This is GR151
Had a great time fishing the stream between Gilbert Lake and GR151. When we arrived at GR151, such a beautiful name for a lake, there were two cow moose in the lake and three bull moose on the other side. We had a great time watching the moose while eating lunch. Behind the moose we had the pleasure of watching some elk running by.
Cow moose in GR151 if you look close in the background you can see some of her friends.
Lovely stream above GR151
A 1/2 mile above GR151 sits the also beautifully named GR152 catchy huh.
View of GR151 from above. You can never get tired of saying or typing a beautiful name like that.
A lovely mountain brook trout.
A lovely mountain cutthroat trout.
Day three fished in the morning in the stream by camp and then headed out. Another great trip for the books exploring a beautiful area of the Uintas. Hiked 20 miles total. Saw deer, elk, and moose. Had a great time fishing and enjoying the views.