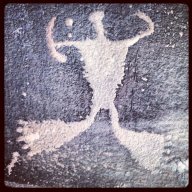 Joined

Oct 24, 2012
Messages

359
Crappy day at work folks! Please, for the love of all that is good and holy, someone post something cool, quick!
I'll start. So with the advent of Google Maps (aka backcountrypost.com maps), I've found tons of cool and weird stuff begging to be explored. So I (we) am (are) going to post some screen grabs for discussion. Then, if anyone has a pic of what the area actually looks like from the ground, please post it so we can solve these mysteries. Ready? My current theme is 'strange arcs and circles'.
Everyone knows Upheaval Dome:
But here's a cool one I never would have noticed from the ground. Note how the Behind-the-rocks area near Moab seams to circle around a mysterious focus point. Alien landing site? Energy portal? Dimensional rift? Or just a boring geological explaination? Who knows? Whatever it is, it's a great excuse to go and investigate!
Right across the valley near Kens Lake is another mysterious arc:
Needles is full of them. The Grabens:
And another double arc a bit to the East:
So have you found any wild and crazy stuff on teh map that needs to be investigated?